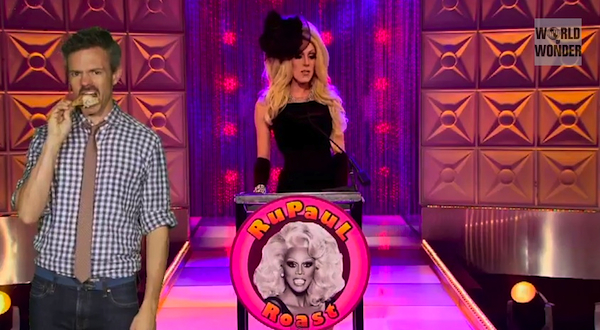 This week's "Extra Lap Recap" snacks on all the meaty bits of "The RuPaul Roast!"
I hope you're hungry... Because it's time to snack on some fresh hot steamin' ROAST! Yep, chickens... Last night saw the queens of RuPaul's Drag Race Season 5 sink their pearly whites into the first-ever "RuPaul Roast" and it was... extra juicy! Shade was thrown, and the gals let each other -- and Mama RuPaul and Michelle Visage and Santino and adorable guest judge Leslie Jordan -- have it!
Watch this week's "Extra Lap Recap" to get the 411 on who nailed it, who bombed, and who ended up delivering the most hair-pulling, wig-snatching lip-sync-for-your-life EVAHHHHHHH!!!!
Plus, major tears on the runway, a shocking elimination decision, and just truly one of the funniest episodes in Drag Race her story. Season 5 is getting twisted, folks!
P.S. If you've not seen this week's sizzling roast episode yet, grab a paper plate and head over to LogoTV.com and get fed!
Looking ahead... Next week apparently, it's gonna get smelly! And to get more Drag Race dish and inside info, visit the WoW Report.