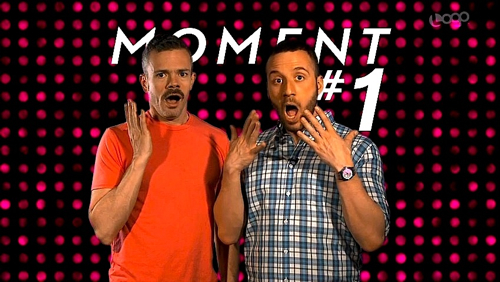 Watching last night's Drag Race episode sort of leaves you looking like this.
"Rules? What rules?!"
Fans of RuPaul's Drag Race are reeling from this week's episode, which saw singing, dancing, "frenemies" Sharon Needles and Phi Phi O'Hara forced to work together, guest judges Pamela Anderson and Jennifer Tilly in the house, RuPaul subjecting the queens to lie-detector tests, and then, right at the end, a bizarre, unexplainable elimination. WTF?!
As it turned out, one of the most successful queens of the season thus far was called out for "breaking the rules" and then immediately sent home. And we're all still waiting to find out why!
Jon Mallow and I have a few ideas of our own about why Queen X (no spoilers here; you gotta watch our video recap for that) was sent packing. What exactly does a gal have to do to get booted out of RuPaul's Drag Race? Watch and discuss.
SPOILER ALERT: In our recap, we'll ruin your week if you haven't watched yet. So, to get caught up first, head to LogoTV.com to watch last night's gasp-inducing episode.
Hmm... What do Ru and Willam know that we don't know? Arrrgh!