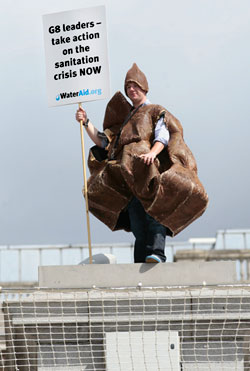 Since the G8 met last year in Hokkaido, over 1.4 million children have died from diarrhea due to lack of safe drinking water and toilets. Today the leaders failed again to take steps to address this solvable global public health crisis and flushed yet another opportunity down the toilet to put the water and sanitation challenge on the international stage. A plan to ensure safe water and sanitation for Africa intended to be announced at this week's Summit has been postponed until the end of 2009.
Khumbuzile Zuma, a South African spokesperson for End Water Poverty had this to say about the G8 leaders neglect, inaction and failure to fulfill last year's promise,
This year's G8 has confirmed many people's worst fears that so many of the world's richest countries are prepared to run away from their commitments to the poor, such as those on aid and safe drinking water, at exactly the time they are needed most.

This year they had finally promised to tackle the global water and sanitation crisis that is responsible for almost 30% of all child deaths, but in reality nothing has been done that will make a difference to the lives of people in Africa. The best they could do was give themselves another six months to think about it.

How long must Africa wait for the right to use a safe toilet and drink clean water? Without addressing this we will never make the progress needed on ending hunger, reducing child deaths or getting children into school.
Perhaps most troubling is that failing to tackle the water and sanitation crisis is undermining progress on all development, including, food, health and education.
A WaterAid spokesperson attending the Summit, Oliver Cumming, had this to say,
President Obama and Gordon Brown have both announced substantial rescue packages to boost agriculture and alleviate chronic hunger. However food shortage is not the only cause of malnutrition -- over 50% of child malnutrition is caused by repeated bouts of diarrhea. Real, lasting improvements in malnutrition -- and in other crucial sectors such as health, education and economic prosperity -- cannot be delivered without addressing water and sanitation.
Across the developing world 1 billion people still defecate in the open; 3.5 billion don't wash hands with soap after defecation; 2.5 billion do not have a basic toilet; nearly 1 billion are without access to safe drinking water; 50% of schools lack access to water and sanitation. The story behind these statistics is that 1.4 million children die and billions are debilitated by water and sanitation-related diseases. This is a life or death emergency, which clearly the G8 leaders are avoiding, including President Obama who promised in his inauguration speech to "Let Clean Waters Flow" for poorer nations of the world.
Clearly G8 leaders would think twice about attending the Summit if there were no sparkling clean toilet facilities or safe drinking water. Hopefully the leaders will think about those that don't have access to these basics tomorrow when they need go.
Photo Credit: WaterAid / David Axelbank