Can government create green jobs? (I'm thinking now of city or state government.) Well, yes, by hiring people or imposing regulations that require building owners to hire more green workers. Trouble is, the taxes to pay for the government jobs or the additional expenses for building workers may drive up costs and cause the city to lose as many private-sector jobs as it creates.
Six weeks ago I suggested another way in an op-ed, "How the Mayor Can Really Help Create New Jobs," for City Hall News. I proposed that the Mayor of New York should spend the money and time to convene meetings of green thinkers and entrepreneurs to launch new businesses. My argument went as follows:
Nearly 30 years ago, Mayor Bloomberg left Salomon Brothers during the recession of 1981-82, and he invested his $10 million severance check and Salomon shares into his insights into the value of technology to Wall Street. He grew a giant company with more than 9,000 employees concentrated in the New York City area.

Now, New York City is losing at least 40,000 jobs in the financial services sector alone. To replace these jobs, New York City needs to repeat Bloomberg's trick many times. The city has a once-in-a-generation opportunity to harness the energy of Wall Street entrepreneurs bursting with ideas as grand as Bloomberg's was in 1981, but who need partners to make their ideas a reality.

Layoffs from the downsizing of Wall Street could help advance the Mayor's PlaNYC 2030 agenda by encouraging green entrepreneurs -- whether profit-oriented or nonprofit like Solar One and GreenEdge NYC -- to make the Big Apple into the Green Apple.
The theory behind this proposal is the MIT-Stanford model of a three-way fusion of energy from business, government and university sources. Sociology Professor Henry Etzkowitz calls this the "triple helix" of innovation. It resulted in the growth of the knowledge industry on Route 128 and in Silicon Valley, as described in the NYC Comptroller's 1999 report on The NYC Software/IT Industry, which I supervised when I was the Comptroller's Chief Economist.
How can the mayor spur such growth? I said in October:
The elements of such an approach lie in the nine EDC sectors based on industry groups -- bioscience, emerging technology, fashion, green industry, manufacturing/industrial, media/entertainment, not-for-profit, professional services and real estate. Each has an EDC website page under NYC Business Climate/Industry Overviews.

But how to fast-track partnerships? What about overlaps such as a green fashion company or a digital-media startup? More broadly, how do wannabe entrepreneurs meet one other? Mr. Merrill and Mr. Lynch serendipitously met at the (former) 23rd Street YMCA. They had adjoining lockers. Isn't this a major edge for NYC? Can the process be intensified?

Mayor Giuliani's EDC sponsored full-blown venture-capital conferences for dot-coms. The startups submitted a one-page summary of their business plans. Angel investors and VCs walked through with each startup at a separate table. It was speed-dating to introduce Finance to Technology. Might the EDC or the Mayor's Department of Small Business Services try to replicate the synergy generated by the dot-com conferences? EDC staff members are themselves familiar with the professional infrastructure of each industry. What is needed is a way to bring someone with an idea in touch with other people who could help test and realize it.
For example, the city could announce a New-Opportunity Fair at which industry membership associations, like the NY Software Industry Association for the emerging technology sector, would be invited to send representatives. At such a fair, citywide passes could be given away or sold. The passes would allow the bearer to attend certain open meetings, times and places to be posted on dedicated website pages, with the URL listed on the pass. The pass might also be promoted in upscale publications like City Hall News.
Or, more simply, half of a group with something to "sell" could sit down at 20 or so tables with literature to hand out. Then a bell rings and for the next half hour, the remaining people sit down and those who were sitting down do the walking.
Such initiatives would make it easier for people with business ideas to connect with partners. They would strengthen the people-oriented component of the city's economic development programs. And they would help to create a climate for a multiplied replication of the kind of job-creating innovation that the Mayor launched in 1981.
This is what I suggested six weeks ago. Well, yesterday evening something like it happened. It was well organized and I consider it a big success. I will summarize the event in Green Edge 11.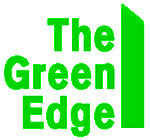 THE GREEN EDGE Every generation must make sacrifices to ensure the planet is delivered safely to the next and future generations. We Americans today must change our behavior to reduce the negative effects of our consumption - dependence on foreign oil, impairment of land, water and air, and effects on workers and the community. The Green Edge looks at what, why and how we must change. (Logo by Pat Cottingham/Genuine Imprints, Ltd.)