In the Sandy Aftermath, Governor Andrew Cuomo says New York State took a $33 billion hit and he is asking Washington for $30 billion.
Speaker Christine Quinn says New York City has suffered $26 billion in damages and is asking the Feds for $20 billion, with a special request for structures to control future flood surges.
Governor Chris Christie has promised damage numbers, maybe by today.
More than 100 Deaths
The New York Times has been tracking each death by county, posting the information on an interactive online map. New York State suffered 64 deaths, of which Staten Island sustained 23 and Queens 11. New Jersey has suffered 37 deaths.
The biggest losses of life in New Jersey were in Middlesex County with six deaths and Essex County with five. These two counties are the second and third most populous in the state after Bergen County, which had surprisingly little loss of life or housing damage. The third-highest loss of life was in Ocean County with four deaths.
Damage to Homes
FEMA has satellite maps of the affected areas that can be seen online. They show damage to houses. FEMA reports that 71,770 homes were damaged in New Jersey. The damage is classified as "Affected", "Minor", "Major" and "Destroyed", and FEMA provides examples of each.The list they released is preliminary and doesn't imply a commitment to provide compensation.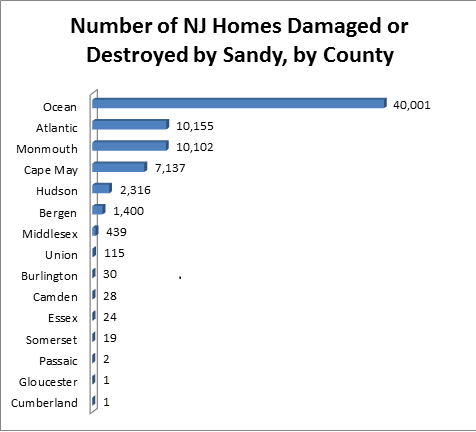 Of the New Jersey homes that were "Affected" or worse, 40,001 -- or 55.7 percent of all the classified homes in the state -- were in Ocean County, between Atlantic County to the south and Monmouth County to the north. .
Although the eye of Sandy made landfall in Atlantic County below Atlantic City, the hurricane was spinning counter-clockwise. The two counties adjacent to Ocean County, Atlantic and Monmouth, each had the same percentage of New Jersey homes -- 14.1 percent.
Cape May, to the south of Atlantic County, accounts for 10 percent of the damaged homes. These four counties account for 94 percent of the damaged homes. All four counties are on the 127 mile stretch of coastline from Cape May to Sandy Hook.

Damage to Homes Relative to Population
Ocean County had the greatest number of homes damaged by Sandy, but relative to the size of their populations, Cape May is surprisingly the hardest hit of all the New Jersey counties, with nearly 74 homes damaged per 1,000 population, ahead of Ocean County with 69 homes and Atlantic County with 37.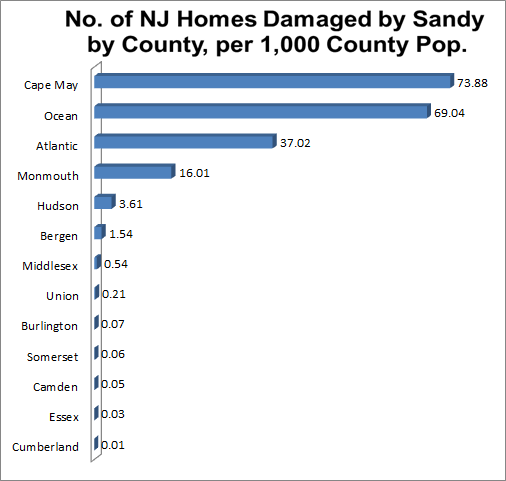 Monmouth County is next with 16 homes damaged per 1,000 population, Hudson County with nearly 4 homes per 1,000 population, Bergen County rounded to 2 homes and Middlesex County to 1. These seven counties are the only ones with a number that rounds to 1 or more per thousand population. Every one of these hard-hit counties is on the Atlantic Coast.
John Tepper Marlin is Chief Economist for the New Jersey Institute for Social Justice. He has been a green blogger for the Huffington Post since 2006. His views expressed here are personal and do not necessarily reflect the views of the NJISJ. Charts are by the writer based on data from The NY Times and FEMA.