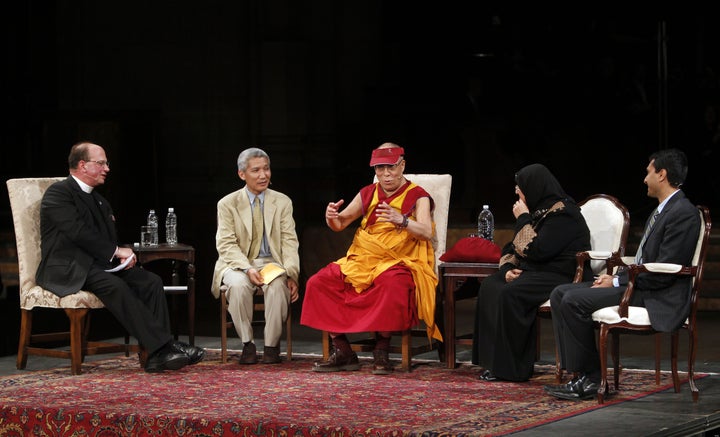 On Monday, June 7th, the White House Office of Faith-Based and Neighborhood Partnerships sponsored a meeting on "Advancing Interfaith and Community Service on College and University Campuses." At that meeting, Eboo Patel, founder of Interfaith Youth Core (IFYC) and member of the President's Advisory Council, invited attendees to ponder the following scenario: "Walk out of this room and onto the street, tap anyone on the shoulder and ask them to say something about environmentalism and human rights, and they can respond. Now imagine asking about religious pluralism or interfaith cooperation. Most would be at a loss." That is the situation that Patel and the White House Office seek to transform. Their shared goal is to transform interfaith cooperation from "niche to norm."
But why should President Obama and the White House care about this vision? As an invitee to this week's White House Conference, that was the question I was eager to have answered. As a predictable progressive committed to the Establishment Clause, I tend to become squeamish when the words "White House" and "Faith-Based" enter into close proximity.
So, how would administration officials like Joshua DuBois and Mara Vanderslice, who run Obama's White House Faith-Based Office, nuance this issue? I found the answer in a phrase repeated by several administration officials: "social cohesion."
Drawing upon the work of Diana Eck, creator of Harvard's Pluralism Project, Patel observed that America is now the world's most religiously diverse country. The question for our country is this: Can such diversity be mobilized on behalf of social cohesion rather than fragmentation? Patel asks, "Will religions become bubbles, barriers, bombs or bridges?" Can we bypass the predicted clash of civilizations?
Obama's leadership team offers an emphatic yes to the latter question. I am pleased to report that despite a remarkable assembly of Hindus, Buddhists, Jews, Christians, Muslims and humanists, there was not a Huntingtonian in the bunch!
There is a question that Eboo Patel wants campus leaders to confront: "Who gets to our youth first? Religious pluralists or religious militants?" The felt urgency of Patel's question should demonstrate that there is nothing Pollyannaish about his vision. He soberly appreciates the strange, seductive power of religious militancy. But what Patel and this White House know still better is the transformative power of interreligious cooperation.
Patel has robust reasons for his optimism. IFYC brings together thousands of young people from across the country -- Christian evangelicals next to young women in burqas, Buddhists, Hindus and others -- to work together on projects of interfaith service. Theologies differ but overlapping ethical passions motivate young people to raise money, to build homes and to tutor children. Powerful bonds are formed across religious traditions when young people work for the world's welfare and then converse about what convictions drive them to labor for the common good.
The White House's conviction that sustained connections across religious communities can foster social cohesion is neither a matter of wishful thinking nor warm-hearted anecdotes. The research of Ashutosh Varshney offers social scientific evidence. In his book, Ethnic Conflict and Civic Life: Hindus and Muslims in India, Varshney sets out to answer an important question: why are some cities in India prone to ethnic conflict whereas others are not? Varshney demonstrates that those cities that have rich networks of associations in which persons are routinely brought into relationships across religious traditions are precisely those that best resist the turn toward violence. Patel and his IFYC colleague Cassie Meyer, who use Varshney's book in their interfaith course at the University of Chicago Divinity School, are trying to do just that with university campuses as the vanguard of a larger social movement.
But questions remain. What comes after interfaith service? What about the non-religious? Here, administration officials take their bearings from Obama's Inaugural Address: "For we know that our patchwork heritage is a strength, not a weakness. We are a nation of Christians and Muslims, Jews and Hindus, and non-believers." They know that non-believers, too, are committed to serve the common good.
In a few days, I am off to serve as Project Director for the American Academy of Religion/Luce Foundation Summer Seminars in Theologies of Religious Pluralism and Comparative Theology. Here, some of the nation's leading theologians will gather for work the White House cannot do. We meet to learn how the world's religious traditions think about the meaning of religious diversity. We convene because, as teachers, we believe that classrooms, too, must be vital sites for cultivating the religious literacy that Stephen Prothero, a speaker at the conference, has long called for.
But still more, it is the conviction of this interreligious group that their traditions must develop internal theological reasons for hospitality toward and learning from religious others. Some of these reasons already exist; they are as old as, if not older than, our mutual suspicions. In the mandate against bearing false witness against our neighbors, in various formulations of the Golden Rule, and in the call to love the neighbor, religious traditions offer robust theological reasons for turning toward others without erasing difference.
I believe that vital service must be wedded to deep learning across religious boundaries. Ultimately, either project without the other is unsustainable. We cannot claim to love those whom we do not know, and we cannot know those whom we refuse to love.