OTB community member Lynn Lyons was on the ground outside Saddleback this past Saturday for Pastor Rick Warren's Faith Forum with candidates Barack Obama and John McCain. The candidates answered an identical set of questions posed by the popular Orange County church leader. On Sunday, Warren told his congregants to assess the candidates based partly on their character.
"Don't just look at issues, look at character. Look at the candidate and say, 'Does he live with integrity, service with humility, share with generosity, or not?'"
Lyons set up her photos of the crowd gathered outside the forum Saturday online here and sent the observations below (you can also click on the photo to see her slideshow.) :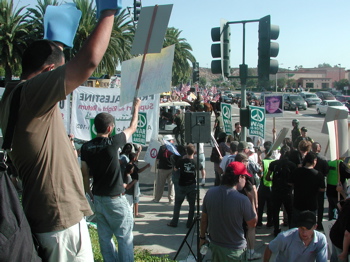 People gathered on four corners at entrance to Saddleback church campus. Different factions migrated to their own corners.


The Obama crowd was largest. I saw more signs for Ron Paul than for McCain. The other demonstrators wanted to stop abortion, end the war, or praise Bush...

The abortion protesters evoked the most emotional response. They carried large banners depicting photos of dead fetuses. One photo shows an older woman wearing a veteran's hat getting vocal with them. Personally, I only saw one shoving scuffle, which required police intervention -- they took one man to a squad car. Appears they let him go later. The crowd was chanting "Set him free."

Several loud speaker systems, drums and whistles within the groups.... Small Ron Paul gathering and diverse Obama gathering were peaceful. None of the police at-the-ready on horseback or cycles were required on their corners.