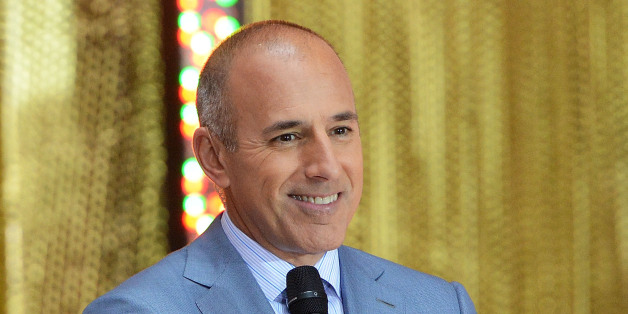 Matt Lauer of the Today show made me think of my granddaddy and dad this week by the simple fact that he's not shaving.
All the male on-air hosts of Today, in fact, are not shaving in support of "No Shave November" to raise awareness about cancers that directly affect us guys, which are prostate and testicular cancer.
It turns out that one in seven men will be diagnosed with prostate cancer in their lives, according to the American Cancer Society. That's greater than one in eight women diagnosed with breast cancer, citing breastcancer.org statistics, in their lifetimes. How many of us lads knew that? I didn't.
My granddaddy was a Maryland chicken farmer in Eastern Shore, Maryland who raised chickens for Frank Perdue. Granddaddy hated doctors, didn't believe in them, and told me when I was a boy that doctors were a complete waste of time -- that is until he started to have serious abdominal pains. It turned out the pains in Granddaddy's belly came from cancer that had metastasized from his cancerous prostate. Had Granddaddy been checked out several months before, he would have been fine with proper treatment. But by the time he got to a doctor, he was terminal. Granddaddy died four months later.
My dad, thankfully, did believe in doctors, and so when he got diagnosed, back in 1992, he went straight away to surgery at Johns Hopkins Hospital in Baltimore, MD. Dad's surgery was scheduled the week after I was married, so I spent time by my Dad's bed watching him recover during my honeymoon. My Mom had died years before from breast cancer, so he asked if I could be there for him. What's a son to say, right? Of course, Dad! Dad is still with us today, thanks to all the great advances in prostate cancer treatment.
When I was on the Today show to promote my book Stand by Her: A Breast Cancer Guide for Men, Matt came up to me after my interview to thank me, personally, for all that I did for my mom, my mom's best friend, my wife, and my sister who had all been diagnosed with breast cancer. It was so heartfelt, and honestly touching, that Matt did that.
So fast-forward to this week, and here comes Mr. Lauer back into my life again, this time fighting the good fight against cancer for guys everywhere. So, fellas, let's all follow Matt's lead and sprout facial hair of our own this month, and send in your hard earned dollars to fight for our own male cancer cause. Here's the link to donate: No Shave November Pass it along to all your buddies. It's the least you can do for your fellow man.