By John W. Fountain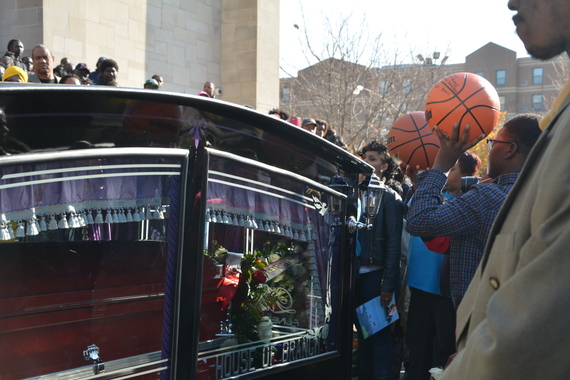 Two boys hoist basketballs outside the funeral of Tyshawn Lee, 9, outside St. Sabina, a Catholic Church in Chicago, where the boy was eulogized last November, one of the city's 473 homicide victims. Police said Tyshawn was fatally shot by men in retaliation for his father's alleged gang activity. (Photo: By John W. Fountain)
CHICAGO--Imagine Soldier Field, home of the NFL's Chicago Bears, filled beyond capacity, brimming with 63,879 young African-American men, ages 18 to 24--more than U.S. losses in the entire Vietnam conflict.

Imagine the University of Michigan's football stadium--the largest in the U.S.--filled to its limit of 109,901 with black men, age 25 and older. Now add 28,223 more--together totaling more than U.S. deaths in World War I.

Picture two UIC Pavilions, home to the University of Illinois-Chicago Flames, packed with12,658 Trayvon Martins--black boys, ages 14 to 17--nearly twice the number of U.S. lives lost in Iraq and Afghanistan.

Now picture all of them dead. The national tally of black males 14 and older murdered in America over a 30-year period from 1976 through 2005, according to the Bureau of Justice Statistics: 214,661.

The numbers tell only part of the story of this largely urban war, where the victims bare an uncanny resemblance to their killers. A war of brother against brother, filled with wanton and automatic gunfire, even in the light of day, on neighborhood streets, where little boys make mud pies, schoolgirls jump rope, where the innocent are caught in the crossfire, and where the spirit of murder blows steady, like the wind.

In fact, in 2015 alone in Chicago, records show, there were 473 homicides.

Translation: One person murdered every 18 hours--the vast majority by gunshot. Not from a white cop. But historically, in cases of black victims, records show, most often by someone black. The number of Chicago shooting victims in 2015 overall: 3,000. About eight a day. One every three hours.

This in a city that in 2014 had the highest murder rate of the nation's three largest cities--more than three times that of New York whose population more than triples Chicago's. In 2015, the number of Chicago murders and shootings victims--mostly black and brown--continued to rise, bullets whizzing on tree-lined streets in Barack Obama's hometown that some here have come to call "Chi-Raq"--one part Chicago, one part Iraq for its deadly toll.

It is, so far, an apparently ceaseless domestic war here and also in cities across urban America. Guns most often are the weapon of choice and the finger on the trigger of the gun pointed at a black male is most often another black male's.

The motive for the shootings run the gamut: From gang activity to block-to-block beefs over minutia by young men with access to guns; from social media feuds turned deadly; to disputes over drugs and drug territories; to gang retaliations, robberies or simple arguments in which a gun becomes the means to an easy solution albeit a fatal one.

Amid the decree of "Black Lives Matter!" it is not clear to me that to us--African Americans--black life matters as much when it is a black life taken by someone black versus by someone white.

The numbers alone are enough to make me cry--to wonder why--we as African Americans will march en masse over one slain by someone who is not black, and yet sit comparatively silent over the hundreds of thousands of us obliterated from this mortal world by someone black like us, like me. It is a numbing truth substantiated by cold hard facts:

From 1980 through 2008, 93 percent of black victims were killed by blacks.

Translation: For every Trayvon Martin killed by someone not black, nine other blacks were murdered by someone black.
In 2005, we--blacks--accounted for 13 percent of the U.S. population but 49 percent of all homicides.

The numbers are staggering, the loss incomprehensible.
Add to the tally of black males 14 and older slain across the country from 1976 to 2005, another 29,335 (slain from 2006 to 2010), and their national body count rises to 243,996, representing 82 percent of all black homicides for that 35-year period. What also becomes clear is this: We too often have raised killers. And this war is claiming our sons.

But that's still not the end of the story. Add to that number 51,892 black females ages 14 and older, plus five whose gender was not identifiable, and the total, not counting children, is 295,893--more than the combined U.S. losses of World War I, the Vietnam, Korean and Mexican-American Wars, the War of 1812 and the American Revolutionary War. Isn't the blood of these sons and daughters no less American?

Two hundred ninety-five thousand eight hundred ninety-three...

Imagine the Bulls' United Center, the Cub's Wrigley Field, the White Sox's U.S. Cellular Field and Soldier Field nearly all filled simultaneously with black boys, girls, men and women. Now imagine that twice over. Now imagine them all dead.

As far as I can see, that's at least 295,893 reasons to cry. And it is cause enough for reticent churches, for communities, for lackadaisical leaders, for all people--no matter our race, color or creed--to find the collective will and the moral resolve to stamp out this human rights atrocity occurring right under our noses.

Just imagine the human carnage and the toll to us all if we don't.

I can't. I won't.
Email: Author@johnwfountain.com
Website: www.author.johnwfountain.com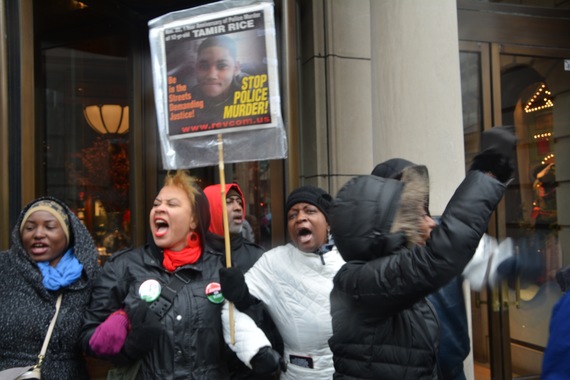 Protestors on Michigan Avenue along Chicago's Magnificent Mile rally in a Black Lives Matter march in November after the release of a video showed an officer shooting 17-year-old Laquan McDonald 16 times. The shooting has sparked continued protests and calls for the resignation of Mayor Rahm Emanuel. (Photo: By John W. Fountain)
"Chi-Raq: A Tale of Two Cities"
by John W. Fountain