In the warm, artsy town of Ojai, California, actors, playwrights and theater lovers alike, gathered at the annual Ojai Playwright's Conference for their beloved Summer New Works Festival. The festival, now in its 15th year, is filled with remarkable new plays in development, written by some of the most compelling voices in the theater world. There is always a lot of excitement and buzz as people anticipate what is to be birthed on the stage, and this year was no different.
The festival kicked off on Wednesday evening with a gutsy, Special Presentation that grabbed everyone's heart: "Giurgis, Father Greg, and the Homies: Urban Theatre in America." Stage veterans Jimmy Smits, David Zayas and Liza Colon Zayas read powerful pieces from Stephen Adly Giurgis plays, including the Olivier Nominated "Jesus Hopped the 'A' Train." The well-known actors were joined on stage at the Matilja auditorium by former gang members, who were performing real life monologues based on their time spent on the streets in some of the most dangerous neighborhoods in Los Angeles. These young stars were electrifying -- each of them delivering powerful, authentic pieces that moved everyone in attendance and left us all speechless. Local schoolteacher and theater enthusiast Sandra Diana remarked, "I can't wait for this to be on a big stage in Los Angeles, and then on Broadway. I will be there opening night."
Father Gregory Boyle, founder of Homeboy Industries, who has a combination of the articulation of Anthony Hopkins, the divinity of a Jesuit Priest and the warmth Santa Claus, has the ability to connect with, and make any audience vibrate whenever he speaks. He summed up the evening: "For me it is always the same. You want people to laugh, cry and think. The goal is to get them to a place of comfort and kinship, and in doing so, move people towards awe, and see that these kids had a lot to carry. Then we all take giant steps away from judgment. It's finding a way to get back to the truth, and get back a sense that there is no them -- there is just us." With thoughts like that, it's no wonder that for the last 20 years he has been successfully running the largest gang intervention organization in the known world.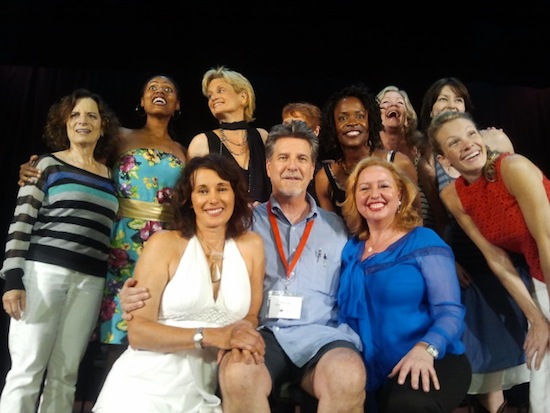 Robert Egan, celebrating his 10th year as Artistic Director, produced a piece on Thursday night entitled, Milestones: A 15th Anniversary OPC Celebration. This particular production was a performance of pieces from a broad range of female artists. Michelle Brourman, Julia Cho, Linda Gehringer, Michelle Joyner, Kim Maxwell, TD Mitchell, Nikkole Salter, Sarah Treem, Charlayne Woodard, Annie Weisman and Agapi Stassinopoulos. The shows varied from dealing with the death of a mother -- as was the case in Agapi Stassinopoulos' "Don't Miss The Moment" -- to beautiful, to dealing with one's own birth -- as was the case with Charlayne Woodard's incredible piece -- to even beautiful songs by Amanda McBroom, award-winning writer of Bette Middler's worldwide #1 hit, "The Rose." Each woman absolutely shined her light, showed her talent and moved the audience to laughter and tears.

The festival continued through the weekend with work from veteran playwrights Liza Powel O'Brien, Luis Alfaro, Robert Askins, Jennifer Haley, Matt Hoverman and Tony Award-Winner, Terrence McNally. And Away We Go is McNally's newest play that bounces through time, from Ancient Athens, to Shakespeare's Gold Theater, and everywhere in between, reminding the audience that while time goes by, theater life is always more or less the same. This sort of honesty and truth in the playwright's work is something the Ojai Playwright's Conference nurtures whole-heartedly.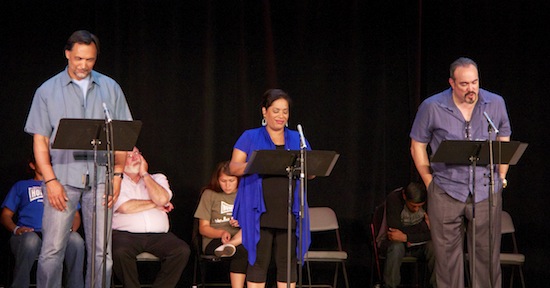 One of the main initiatives of the Ojai Playwright's Conference is to develop new projects. Robert Egan and his team are effectively farmers, taking tiny seeds and developing them into much larger bodies of work. Plays such as John Robin Baitz's Tony Award-nominated,
Other Desert Cities
, have been birthed on the Ojai stage. It is truly inspirational knowing that for the last 15 years, this festival has helped nurture works that have gone on to captivate national, and international audiences, and critics alike -- making it one of the exclusive sources for theater both nationally, and internationally. Robert Egan spoke passionately about the Festival:
We are not developing plays as a producing entity. We are an ideological aesthetic entity, that's mission is vision. So writer's that come to us they now know that our reputation is such, that our only goal is to help you as an artist fulfill your vision, there is no other agenda around it. And to care and move as deeply you can into the deep recesses of intellect, and in your groin.
The OPC brings some of the brightest and most vibrant voices in theater together every year in an intimate environment. Time and time again the event welcomes the audience into a comfortable space that helps them take a journey with each artist, and be surprised of where they find themselves on each adventure. There is nothing predictable about the works, and that is what makes it so exhilarating. To experience a play at the Ojai Playwright's Conference is to go beyond simply having a good night -- it is an emotionally transformative experience, that leaves a lasting impression on everyone who attends. Don't miss the next one. You might even think of submitting your own play. You never know...
Photo credit: Shun Takebayashi, Ojai Playwrights Conference