E!'s phenomenon in the making, #RichKids of Beverly Hills, has been trending on every form of media known to man. The hashtag-inclusive title isn't just a nod to social media; it has become a staple in a generation that continues to advance conversational simplicity. Amidst the all out media blitz of billboards, commercials, social media, print media (essentially everything shy of cave paintings) the hashtag has been front and center.

Aside from the title, hashtags are used throughout the show as a plot device. The hashtag is woven into the narrative of the story, popping up during scene breaks, before commercial breaks, and during dramatic moments. It is a brand new look and feel for a television series, reaffirming the ever-growing importance of social media in pop culture. The social media aspect of the show isn't just an adornment; it's a fundamental facet of the story, because it is a fundamental part of the lives of the subjects of this free form documentary series.
That being said, Reality Casting titan, Doron Ofir, the executive producer and brains behind the project - suggests that this isn't the only game-changing element of #RichKids:
"What is incredibly innovative about this project is the fact that it's a real show, it's practically a real-time reality experience that explores the millennial's self awareness."
Ofir, and his team of casting gurus, are known for consistently bringing the most colorful characters to your living room, plucking from obscurity the casts of beloved shows like Jersey Shore, Millionaire Matchmaker, and RuPaul's Drag Race. He elaborates:
"You can track through the timelines of Twitter an Instagram feeds during the events on the show, and verify that what you're seeing is one hundred percent honest. You're getting access to group of friends, far beyond the velvet rope, who are unfiltered, candid, and natural in a way we've never seen before."
I am privileged to work in the office where this remarkable show has come to fruition. While I didn't work on the project personally, veteran Casting Director Kimberly Giebel, has shared with me endless stories about the casting process:
"I put Dorothy on camera first, and she blew me away. The girl was funny! And she wasn't trying too hard. Her on camera introduction was, "I'm Dorothy Wang, I'm from Beverly Hills... and I'm funemployed and fabuluxe." Dorothy had her own language, and it was brilliant. This was TV gold."
The #RichKids present us with an all-new lexicon -- a slang that is dripping with status. For instance, Wang, an heiress to a billion dollar fortune, may work a blow off job, but it's only so she can stay "funemployed." If caviar and champagne is just fabulous, than it makes sense that Roxy Sowlaty might need to describe her rare truffle salad and $200,000 bottle of Dom as "Fabuluxe." If Jonny Drubel wants to keep the party "On Campus" that means he will be "Lunching" with power couple, Brendan Fitzpatrick and Morgan Stewart in the Beverly Hills triangle.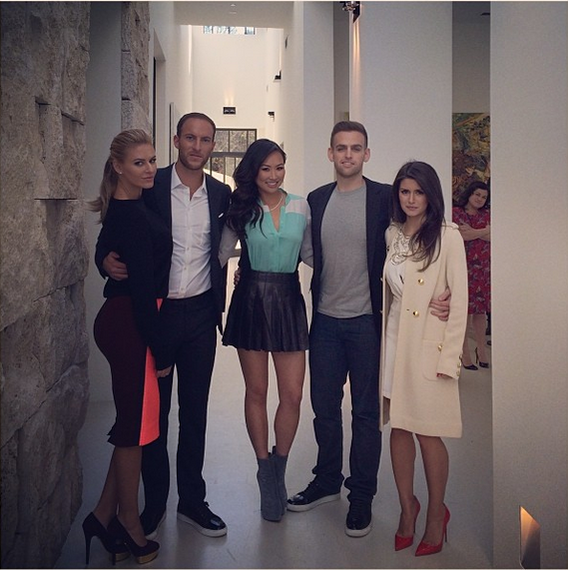 These types of characters coupled with such a unique vernacular are elements that naturally propel a television series to the upper echelon of popular culture à la Jersey Shore. Ofir's go-to project lead and Casting Director, Josh Allouche, speculates the magnitude of the #RichKids:
"What we're really seeing here is the final gap between traditional and non traditional media, RKOBH goes to show the thriving current generation that not only is their self-awareness and constant personal sharing vindicated, but every hash-tagged catchphrase has the potential to leave it's mark on pop culture."
There are so many unknowns with any television project, but in this case -- there is a certainty -- audiences are going to either love or hate the #RichKids. From million dollar shopping sprees, to hundred thousand dollar bottles of wine -- the cast lives a life that most of us only dream of. So, be sure to tune in Sunday night and decide for yourself - are these kids the next big thing?
#RichKids of Beverly Hills premieres on Sunday at 10:00 p.m. on E!