I love the term "retail politics," both for the history it conjures up (the bad old days when "retail" literally meant buying votes) and for the great campaigners it brings to mind -- legendary flesh-pressers like Teddy Roosevelt, Lyndon Johnson, Ronald Reagan, and even Bill Clinton.
But there's a new world of retail politics out there today, one where voters and consumers converge. Indeed, so powerful is this correlation between where Americans shop and how we vote that I have begun to wonder if old paradigms like Red States and Blue States have become obsolete and if the more revealing "precincts" in our lives are actually the stores we frequent - the places, that is, where we the people vote every day with our hard-earned dollars.
I first looked at this relationship between store and voter preferences in an extensive poll right after the 2004 presidential election.
Table I*: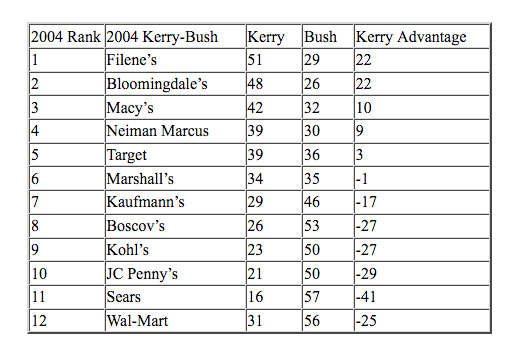 *Figures represent percentages of customers who said they would choose the store as their favorite if they could only choose one. Wal-Mart figures signify those who identified as shopping there at least once a week. Kaufmann's was taken over by Macy's in 2006.
2004 was the Armageddon election, the one in which we Americans seemed to be glaring at each other over an unbridgable cultural divide. And the figures in Table I jump right out and slap you in the face. John Kerry's preferred retail customers/voters dig in at Massachusetts' home-based Filene's. Understood. But from there, his base rode their shopping carts and carried their bags through the elitist, upscale, even snooty section of America represented by Bloomingdale's, Macy's, and Neiman-Marcus. This Democrat's base was not William Jennings Bryan's populist America, nor Franklin Roosevelt's coalition. The Democratic Party's world in 2004 was grounded in the haute couture and fashion sense of Rodeo Drive and South Beach's Collins Avenue.
George W. Bush, the guy that Americans wanted to share a beer with, was heavily represented by the downscale, bargain-shopping American voter who walks the aisles and stands in line at Sears, J.C. Penney, and Kohl's. And the middle section of the voting spectrum was dominated by two of the fastest growing retail stores in the U.S. - Target and Marshall's. Our post-election poll revealed that this retail/voting convergence was not simply a choice between two distinct personalities and leadership styles. It was clearly ideological, too. Kerry voters/shoppers were liberal in their ideology and generally extravagant in their consumption. Bush's voters were more conservative, both in the policies they favored and in the prices and styles they shopped for.
The next table is based on our June 2008 survey. (Note that this time we added fast-growing Costco to the mix.)

Table II: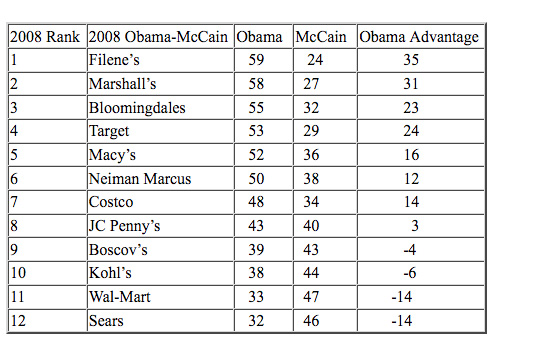 By and large most of the stores maintained their 2004 political and ideological tilt. However, "centrist" Marshall's and Target customers as of now appear to strongly favor the Democratic candidate for President Barack Obama - by 31 points and 25 points respectively. Meanwhile, the "left" spectrum stores - Filene's, Bloomingdale's, Macy's, and Neiman-Marcus - now grant wider margins favoring the Democratic candidate, while the "right" spectrum stores - Boscov's, Sears, and Kohl's - give Republican candidate John McCain smaller margins than they gave Bush four years ago. Conservative values stalwarts, the "weekly Wal-Mart shoppers", are only 14 points more likely to support McCain than Obama, in sharp contrast with Bush's 25-point margin over Kerry in 2004.
What do we learn from all this?
* Watching consumers who prefer major retailers can also reveal ideological political preferences. For those of us who are interested in measuring the voting habits of large swathes of Americans, examining the correlation between retail preferences and voting preferences can be very enlightening.
* One good way to get a handle on shifts in the electorate is to track retail customers. When customers of several of the leading and most popular shopping chains shift so dramatically from Republican or centrist to Democrat, something big could be happening -- one more indication that the vital center has moved away from the Republicans and a further and highly unique measure of how much work John McCain and the Republican National Committee has before them.
* I have never been a subscriber to one dimensional maxims like "it's the economy, stupid" because values matter a lot in voter choices. But in an election like this year's when the economic health of the nation and tens of millions of individuals is paramount, the new politics of retail helps us find a link between real economic concerns on the ground and how people may vote.
* The implications for campaign strategies are huge. Micro-targeting - the technology and practice of collecting retail, attitudinal, and behavioral details on individual voters and campaigning directly to the person - has been alive and growing for years. But looking at retail stores can be revolutionary. To be sure, stores will frown on rallies in their parking lots or any other political spectacle, but John and Cindy and Barack and Michele need to shop. The Obamas know that well-timed trips to Marshall's and Target (especially in battleground areas like Scranton, Boulder, Fort Lauderdale, and Akron) can only be a plus. It couldn't possibly hurt to show up buying a new Stairmaster or lawnmower at Sears. Similarly, the McCains need to look at Marshall's and Target, but the Republican standard-bearer is under-performing at Sears, Kohl's and J.C. Penney. Where else to buy a hammer or some deck furniture? Costco shopping sends a very special message of concern to all value (and values) shoppers who are hard hit.
* It's not all about Wal-Mart all the time, where incidentally George W. Bush's 25-point advantage is now down to a 14-point lead for McCain.
* The new retail politics also presents opportunities for aligning political messaging with the messages chains are using to draw customers. Marshall's "real value at low prices" might line up well with McCain's supposed edge in experience and his clear deficit to date in fund-raising. On the other hand, Marshall's "thrill of the find shopping experience" and "inspiring spirit" seem to fit Obama to a tee. Target always features its community service and keen environmental sensibilities - perfect themes for Obama to align with his special appeal to young voters. But McCain's maverick streak and military heroism just seems so perfectly consistent with Target's "bulls-eye." Sears has attempted to sell nostalgia for a simpler America. Nostalgia is a powerful change message for either party.
Retail politics has been an essential ingredient of who we Americans are since Old Hickory and Old Tippecanoe. But the new politics of retail truly looks as if it can become a real characteristic of the way we'll be.
John Zogby is president and CEO of Zogby International, a polling company. He is author of The Way We'll Be: The Zogby Report on the Transformation of the American Dream, published by Random House, which goes on sale on August 12.