I was one of those early adopters (my wife would use the less technical term 'idiot') who paid £150 (that's about US$240) for a Nike Fuel Band -- one of the first of the wearable devices. It tracked steps and distance traveled, compared my efforts with the rest of the Nike Fuel Band user community, told me the time and looked, well, cool. I loved it, for about a year until it broke -- just out of warranty, of course.
Since that time, prices have come down, and features have gone up on wristband wearables. Some measure your sleep patterns. Others calculate heart rate. One of the newest -- the Microsoft Band -- boasts a 'galvanic skin response sensor', 'haptic feedback' and a UV monitor, along with a bunch of other features, including voice control.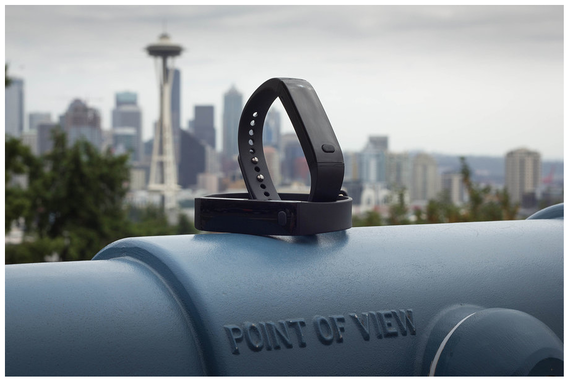 Photo by Pivotal Living (http://www.pivotalliving.com/)
But now a company out of Seattle has decided to completely smash the prevailing business model by offering a simple fitness tracker on a subscription service. Pivotal Living is launching the Life Tracker 1. Paired to companion smartphone apps, the Life Tracker 1 will help you count steps, track weight or how well you sleep. Not for $199. Not for $99. But for US$12 a year. Yes, that's a buck a month, or about 3.3 cents per day.
Not only that, but if you break it -- as I did with my Nike Fuel Band -- they'll ship you a new one.
Time will well whether the Life Tracker 1 is paradigm-shifting, but it's an absolutely fascinating (and I think irresistible) value proposition. (The trade-off I guess is that while you get a cheap wearable, they get your valuable data.) And it's perhaps one to add to the list of Davids who have tackled Goliaths with subscription services over the last few years.
The most-oft quoted is Dollar Shave Club, which sells inexpensive, quality razors direct to home. According to the Wall Street Journal, Dollar Shave Club claims a market share of 5.4 percent of all razor blades sold in the U.S. This has caused giant Gillette to introduce its own subscription service, without the charm of Dollar Shave Club (the founder's US$4,000 video is a YouTube classic), but with the considerable gravitas of shaving's most famous brand behind it.
There are many other examples of new subscription models upsetting the status quo. Spotify, with its membership-based streaming music service, flipped iTunes on its head and caused Apple to launch a radio service. Netflix forced many of the remaining video libraries in the U.S. out of existence and disrupted the cable TV incumbents.
A fascinating new challenger subscription program is Rent The Runway's Unlimited service (currently in beta). For US$75 a month, subscribers "borrow" three "statement pieces" from a choice of over 100 designers. Keep them for as long as you want, then swap any or all for new items, with free shipping both ways. Why buy and clutter your closet, when you can have access to an endless aisle of accessories?
There are numerous other clever subscription services out there. Blue Apron appeals to the time-pressed aspiring home chef with home-delivered complete meals, pre-prepped and ready to cook in 35 minutes. Meals cost from US$9.95 per person and even come with glossy recipe cards. BarkBox delivers monthly goodies for your furry friend. All You Can Arcade ships classic video parlor arcade games (think 'Space Invaders') to home for US$75 a month.
OK, so maybe not all of them are going to generate the buzz or bucks of a Dollar Shave Club or Spotify. But nonetheless, they are interesting in that they challenge the way things have always been done. As a shopper, you don't make a single purchase - you buy into a relationship, which can be good for both buyer and seller.
So, as of early December, I will say farewell forever to the busted Nike Fuel Band languishing at the bottom of a drawer, and say hello to a monthly fitness tracker subscription service. I'm betting that monthly micro-payments for services like the Life Tracker 1 will be a big part of the future of retail.
Jon Bird is not affiliated with any of the products or services mentioned in this post. But he does love gadgets, and new ways of doing business.