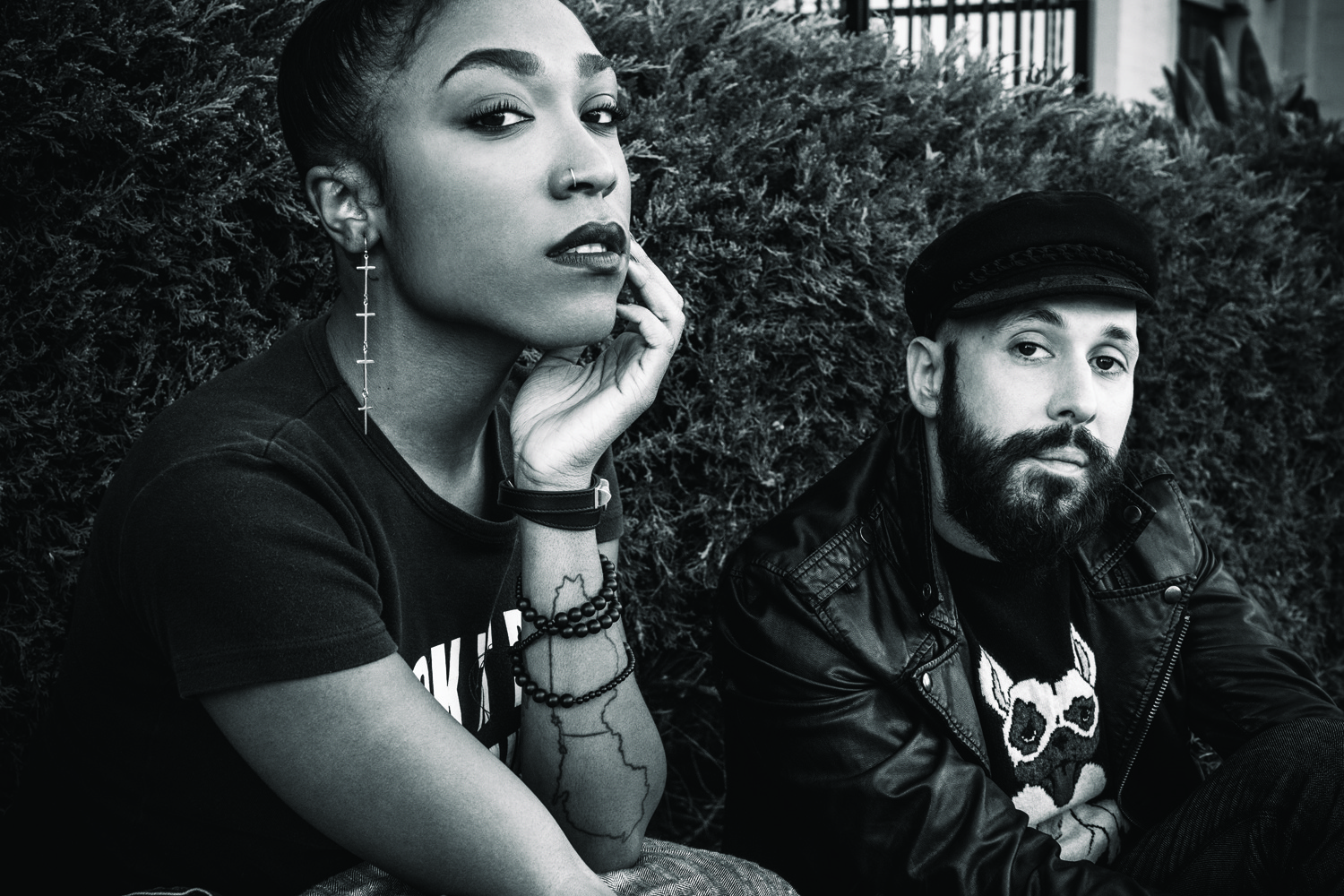 On paper, the teaming of Tim Nordwind and Drea Smith would provide you with a "WTF?" moment. He's the bassist for indie rockers OK Go, while she's the electro-pop goddess singer/songwriter for He Say/She Say. But, like all weird pairings like peanut butter and Fluff and Bing Crosby and David Bowie (I doubt anyone tried all four of those things together but I digress), the duo PYYRAMIDS go together like peas and carrots. (Hat tip to the young Jenny from Forrest Gump.) Yes, since their 2011 debut EP Human Beings, the OK Go bassist Nordwind and He Say/She Say singer/songwriter Smith have been making killer music that could best be described - by me anyway - as new, new wave indie electro-psych rock. Their debut album Brightest Darkest Day dropped a few months back, and it's among the year's best thus far. I caught up with Nordwind fittingly over email to discuss the side project that's not really a side project at all.
You guys essentially formed via email...is that accurate?
Yes, Drea and I were introduced via email about two years ago by a mutual acquaintance who thought we'd get along musically. I lived in LA and Drea was living in Chicago at the time. After getting to know each other through email correspondence for three or four months, we decided to try writing some songs together. I sent Drea basic tracks and she'd send them back with full vocal arrangements that she'd do in Garage Band. I loved her voice. Eventually, after meeting each other in person eight months and three songs later, we decided to start a full on band.
Can you elaborate on the songwriting process...
Generally, I create a basic mood out of beats, elements of production, a basic chord structure that I make using Reason and Pro Tools and then send via email to Drea. From there Drea gives notes, yays or nays things, and sends back a vocal arrangement usually done in Gargage Band. Once the vocal arrangement is agreed upon, we then let that dictate the arrangement of the rest of the song. Production is then filled in, synths added, guitars, experimental sonic elements. We mix and then share.
Getting back to the uniqueness of your partnership - were you ever concerned that the sound you were going for - via email anyway - might not translate?
Drea and I bonded over our love of minimal post punk British bands of the late 70's and early 80's like The Cure, Joy Division, and Siouxsie and The Banshees. We liked each other so much from months of pen palling that we didn't have many worries or concerns about the music we were writing. We just wanted to make music we'd both like, in the spirit of the bands we love.
What has this experience meant to you in the grand scheme of life? People will want to know if this is a side project or so much more...
PYYRAMIDS has been an amazing addition to my life in the last few years. It's not something that either one of us were necessarily looking for. It grew very organically out of a mutual respect for each other and the music we love. And as the idea has grown it's gone from being a studio project to a full on living breathing band. Drea and I will continue to make more PYYRAMIDS records while we also continue on with our other respective projects that we love. We enjoy the experience of working together and the moods we create.
Lastly...what's the darkest brightest day you ever had?
Sometimes I find that the title of our record Brightest Darkest Day refers to something you may not know in the moment. It suggests that certain experiences in your life can feel like the worst thing ever, like a breakup, but often serve as a door opening for better things to come.
A-Sides "Delve Into Twelve" Countdown
Each week A-Sides unleashes its Top 12 tracks of the week AKA the "Delve Into Twelve"based on the following contributing factors: songs I'm playing out that particular week NO MATTER WHEN THEY WERE RELEASED (think overlooked songs, unreleased tracks, and old favorites), songs various publicists are trying to get me to listen to that I did and listened to and liked (phew), posts and trends I've noticed on my friends' Facebook walls, and - most importantly - the songs my 17-month-old son gravitates toward. Yeah, you read that right. This weeks follows below (LW= last week's rank):
12. "Change" - Kopecky Family Band (Check out A-Sides live version here.)
11. "Love is Blindness"(LW-5) - Jack White
10. "The Walker" (LW -10)- Fitz and the Tantrums
9. "Awkward" (LW - 6) - San Cisco
8. "Man Like That" - Gin Wigmore (Check out A-Sides live version here.)
7."Where Will We Go" - IAMDYNAMITE (Check out A-Sides live version here)
6. "Instant Crush" - Daft Punk with Julian Casablancas
5. "Step" (LW-4) - Vampire Weekend
4. "Came Back Haunted" - Nine Inch Nails
3. "Doin' It Right" (LW- 2)- Daft Punk with Panda Bear
2. "You & I" (LW-3) - Crystal Fighters
1. "Don't Swallow the Cap" (LW-1) - The National
About A-Sides Music
Jon Chattman's "A-Sides Music" series usually features artists (established or not) from all genres performing a track, and discussing what it means to them. This informal series focuses on the artist making art in a low-threatening, extremely informal (sometimes humorous) way. No bells, no whistles -- just the music performed in a random, low-key setting followed by an unrehearsed chat. In an industry where everything often gets overblown and over manufactured, I'm hoping this is refreshing. A-Sides celebrates its two-year anniversary with a concert in White Plains, NY on Saturday, July 27 featuring Kopecky Family Band. Get your tickets here.