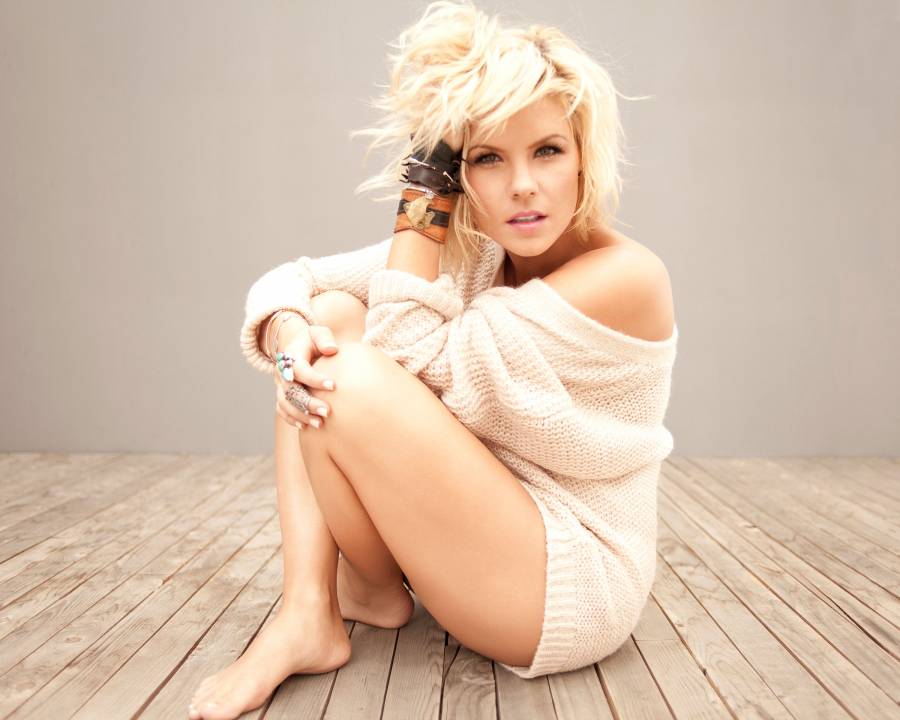 Kimberly Caldwell knows full well how it feels to be Naima Adedapo and Thia Megia. Well, not exactly. They are, afterall, three different people and last time I checked "Quantum Leap" was just a TV show. But back in 2003, Caldwell, like Adedapo and Megia last week, was sent home by American Idol voters after not gaining enough votes to stick around in the competition. Breaking the cliche of so many American Idol contestants, Caldwell has managed to consistently stay in the spotlight post-Simon. The Texan has served as an entertainment correspondent (notably with TV Guide Network) throughout the years, and on April 19 she will release her long-awaited debut album Without Regret.
I spoke with the second season Idol and former Star Search contestant (more on that later), and asked her about the new album, and how she's managed to stay in the dog-eat-dog business long after Seacrest uttered "Out."
Can you believe it's been like nine years since you appeared on Idol?
It seems like a lifetime ago! If I only knew then what I knew now...
You've stayed pretty consistent in the public eye with your music and TV hosting duties -- how hard was it to keep that momentum going at first?
The day after Idol, I was picked up to be a TV host and never had any idea it would snowball into a career. I was one of the lucky ones. I love entertaining so working just felt natural. I had to put TV aside for a bit to really give music 100 percent. I knew I had to write/record this album and get my deal so I could honestly say I had no regrets. I owed it to myself.
Speaking of which, your new album is called Without Regret. Why, and what do you regret most in your life? Be honest.
I try to think if all the mistakes I've made in my life as learning lessons instead of regrets. I try to actually use them for my own benefit and grow from them. If I told you my deepest darkest secrets I'd have to kill you then I would regret that. Ha! Not worth it!
Well, I can't argue there. "Desperate Girls & Stupid Boys" is a fun song with a funner (yes I made that a word) video. Talk to me about coming up with it.
It was the funnest. It was shot at a club in LA called Las Palmas which randomly is the first club I ever went to in LA with Ruben Studdard when I was on Idol. Crazy right? Instead of casting actors, my real life crew played my best friends in the video. My little sister, my best girlfriend from Texas, and my guy friend from LA. We had way too much fun on the set. We are actually really laughing in most of those shots. The extras played a major role and were so professional and the best "freezers" ever. Especially after 15 hours of shooting!
You appeared on Idol during the Clay vs. Ruben head-to-head. Who do you think ultimately won that battle?
Ruben and I have stayed very close and he has done amazing things since the show and really stayed humble and real, but there is no doubting that Clay has sold a ton of records and has a brilliant voice.
Safe answer! Do you still watch the show?
I hosted the Idol pre-show for years with Justin Guarini so I was at every taping until just these last couple seasons. Since I have been on the road promoting my record I haven't been able to catch every episode but I always catch up on my TiVo when I'm back in LA for a few days. I think the talent is amazing this year and the judges give Idol a fresh new face.
You're really fashionable so I have to ask -- what the hell is Steven Tyler wearing? Scary.
I heart Steven Tyler and want to borrow some of his blouses and earrings. I'd want to snag the leather pants but I'm positive I couldn't fit my butt in there!
Me either, but no one wants to see that. Anyway, are you a little bit country or a little bit rock n' roll?
I'm so both. I grew up in Texas singing country since I was five years old but when I was introduced to female rock chick music I fell in love.
You have been musically inclined since birth. You even won Star Search five times. That's impressive. Did Ed McMahon ever give you a big check?
I wish! Star Search was my Idol. It was my big goal when I was a young aspiring singer. I went from being the girl from Star Search to the girl from Idol. Now I'm just the girl "Without Regret."