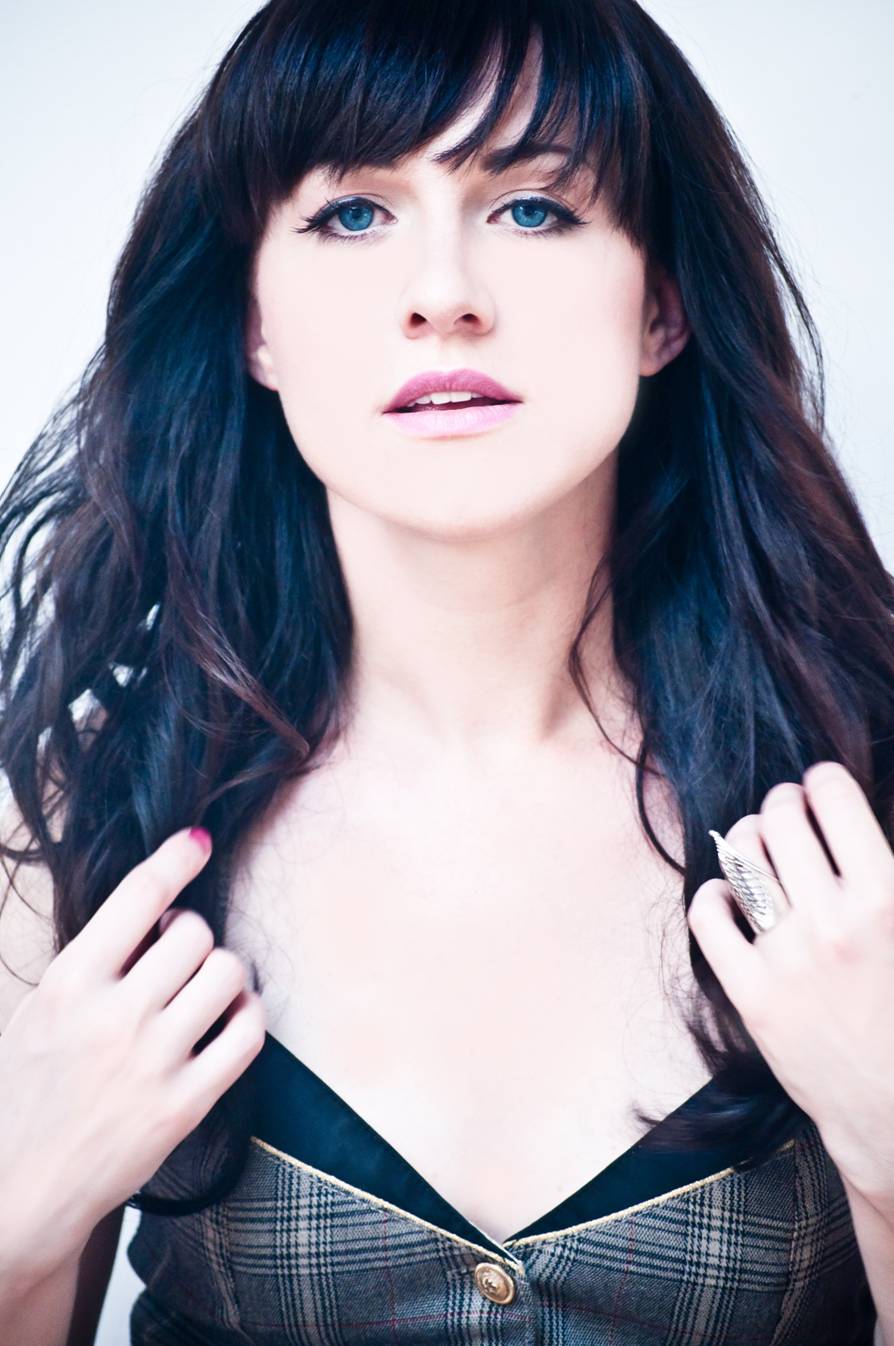 It's pretty obvious Celina Carvajal was put on this planet to entertain. As a kid, she performed for Pope John Paul II at Candlestick Park in San Francisco, toured the world as a dancer with Ballet Celeste, and studied at Young People's Teen Musical Theatre Company. By 18, she had already made her Broadway debut in Cats.
"I only know that I opened in on Broadway as Demeter in May of '99. I was just a toddler back then and the whole experience went by so fast and was so surreal that I can't remember a thing," she explained in an interview earlier this week. "All I remember is that a few months later my mom came to see me in the show and was sitting front row clutching a bouquet of flowers absolutely sobbing uncontrollably the moment I stepped on stage... which was the very first moment of the show."
In a career that spans over a decade, Carvajal continues to shine on the stage - whether it's on Broadway or fronting her rock band The Deafening, which is the antithesis of her current character on the Great White Way. In the Tony-nominated hit musical Kinky Boots, the multi-talented actress stars as Nicola, the long-suffering girlfriend of Charlie Price (Stark Sands), a man who inherits his father's struggling small-town shoe factory and turns it into a stiletto-heel mecca for local drag queens. (Say what? It's more involved than that but this piece is on Carvajal. OK - I'll say this - the show is among the year's best, has a biting book by four-time Tony Award winner Harvey Fierstein, and killer music by pop music icon Cyndi Lauper. Oh, and the dancing is amazeballs.)
Anyway, just three days before she and the "Kinky" cast perform on the Tony Awards, I caught up with Carvajal and asked her about her current show, and the back story on her NYC rock band. Read it, and love her.
You're an accomplished singer - fronting the band The Deafening and appearing in a bunch of on-and-Off Broadway shows - what drew you to Kinky Boots especially since your role doesn't call for much singing?
The last show I did prior to this, I was the only singer. I sang 13 songs, 10 shows a week in every style imaginable so I was happy to not have to stress about my voice for once. I was drawn to Kinky Boots because of a few different factors. a.) Cyndi Lauper is one of my all-time idols so to work with her on anything would be amazing b.) I've always wanted to work for Jerry Mitchell and Harvey Fierstein, and c.) I remembered the movie so I knew that a musical version would be awesome and I would be lucky to be a part of it.
It's really a terrific show, and it's been welcomed on Broadway with wide open arms - did you have a gut feeling the community would embrace it like this?
I kind of had a feeling deep down that it was going to be a hit but every once in a while I would second guess myself. Once we started rehearsals for Broadway... there was just this feeling of joy from everyone every single day.
Talk to me about The Deafening - when did the band form, how does it play a role in your Broadway life?
I auditioned for the band in 2007 (which was called Cocaine, the band - a parody band full of big 80's hair metal, over the top lyrics and silliness all around). They had been a band for a while and their old singer just up and disappeared so I replaced her. It was a blast but the humor wears off after a while and you find yourself trapped as a novelty act. We decided a year or so later that we were going to change our sound and vibe and be a "real" band so we changed our name to The Deafening. We released two EPs which were maybe a little too dark and serious, so we played around with our sound and found this great balance of hard rock tongue-and-cheek, which I think is reflected in the new album Central Booking really well. We call ourselves a hipster rock band... How ironic is that?

Being in the band has completely changed my voice for the better. I have a huge range now and total control. I can go from dirty, gritty Janis Joplin sounding vocals to clean, ethereal pretty soprano no problem. When a show wants rock vocals they come to me, but sometimes I'm a little too gritty and they think I must be hurting my voice. I've proven time and time again that I have vocal chords of steel and I have the doctor who can prove it. "Show tested, rocker approved!"
Still, there's definitely a contrast between Deafening's sound and showtunes --- I'd assume your taste in music is varied to say the least?
Growing up my parents would have classical music on all the time. Or they would play Joplin, The Beatles, Hendrix, The Who, The Doors... as well as some really weird music that had to have been composed while high on acid or something. I have all that kicking around in my head as well as a true love for guitar driven rock music. You know you love something when it still gives you goose bumps years after the first time you heard it. I still get that way and it's what The Deafening is all about. Sending up all the great sleaze, punk, and classic rock bands I grew up loving.
What's the songwriting process like for the band?
It's pretty cut and dry. We come in with new material and ideas, insult each other, and then put a song together. It's great to have a project you have complete creative control over. Lately we have been focusing on music videos. We have all these great ideas and nowhere near the kind of budget we need for them, which is sad...so if anybody is interested in working with us we aren't hard to track down! (wink wink nudge nudge )
About asidesmusic.com
Jon Chattman's "A-Sides Music" series usually features artists (established or not) from all genres performing a track, and discussing what it means to them. This informal series focuses on the artist making art in a low-threatening, extremely informal (sometimes humorous) way. No bells, no whistles -- just the music performed in a random, low-key setting followed by an unrehearsed chat. In an industry where everything often gets overblown and over manufactured, I'm hoping this is refreshing. Support A-Sides' Kickstarter campaign here!