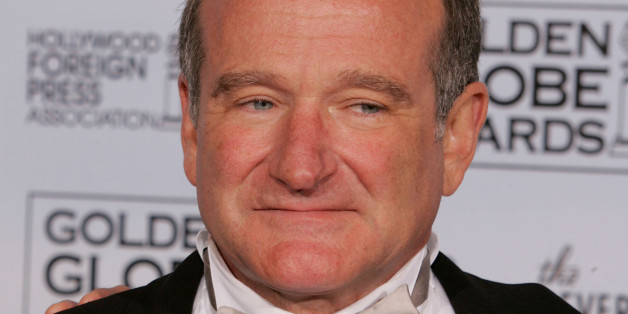 Like so many of us, I'm still reeling from Robin Williams' death. Like so many of us, when the news first broke, I was shell-shocked and prayed it was another Internet rumor. When his passing was confirmed, I felt so overcome with emotion that it felt as if I just lost a family member. On the verge of tears in the few minutes after reading the reports, I posted countless messages on Facebook and Twitter noting how much I was hurting. No stranger to losing loved ones from suicide, it just crushed me to the point of speechlessness.
Yesterday morning, I found myself wanting to express in words how much Williams meant to me and my family. But I didn't. I sat in front of my computer and drafted my salute to a genius but I couldn't continue it. There were countless tributes pouring in (they continue to) and I thought who needs my two cents. I was simply feeling what everybody else was. That sentiment changed after I read a blog post by actor Dante Basco, who portrayed Rufio alongside Williams in Hook. He said so eloquently what I was feeling that I felt compelled to write something. Here's a passage that struck me: "...with his passing...I can't help feeling like it's the death of my childhood. I guess we can't stay in Neverland forever, we must all grow up."
It's true. Williams' humor filled my home and my life for all of my 38 years. When I think of Mork and Mindy, I think of watching it in my pajamas with my sister anticipating what he'd say in his "call to Orson." I also recall watching the reruns after the series reached the end of its run with Jonathan Winters as Mearth. Mork from Ork was my introduction to Williams, and from then on, he was a huge part of my family. My family saw him in Popeye, and while it was considered a bomb, I loved every minute of it from the music to Williams' portrayal of the spinach-loving muscle man. When the movie was released on video, I remember playing it over and over on my Betamax player -- so much so I'm surprised smoke didn't billow out of it. Similarly, when I first got HBO, I felt like I must've watched his performance as the Frog Prince in Faerie Tale Theatre around the clock.
My love for Williams grew as I grew. I remember my parents taking my sister and I to see Moscow on the Hudson -- probably because we were too young to see it. I remember renting Club Paradise for the sole reason he was in it. As I got older, I discovered there was more to Williams than film and TV roles. I listened to his stand-up cassettes (one, in particular, served as the soundtrack to one of our family Cape Cod summer trips), and found myself watching (often to the wee hours of the morning) each and every Comic Relief. I watched for him first, and the other comedians a distant second. I taped each one, and rewatched them with my family. Similarly, I stayed up late with my parents any time Williams hit the talk show circuit. His spontaneity and edginess always made it a must see. Live TV was created for Robin Williams.
Williams humor always resonated, but again, so did his films. I'd say he's probably one of the most underrated actors we ever had. Sure, he was the funniest comedic geniuses of our time, but his acting was right there as well. The mid-to-late-'80s to the late-'90s were sort of the golden era of Williams' film career. Good Morning, Vietnam really got his acting career blazing, and rightfully so. Guess who I saw it in the theater with? Dead Poets' Society was a master of acting, comedy, and poignancy. His performance made you wish you had a teacher as inspiring, cool and comforting.
For me, Awakenings remains his finest film performance. It's his most vulnerable work, and a master class in restraint. His portrayal of Dr. Malcolm Sayer is the film's soul. You felt his performance. You felt the movie. I still feel it. I still feel for Dr. Sayer when Robert De Niro's character shoves him to the ground. I still remember Williams' face during that scene, and how he slowly picks up his glasses after falling. I've seen Awakenings arguably the most out of any of Williams' films. Whenever I think about it, I remember watching it for second and third times (maybe more) with my mom alone in our living room. There's nothing better than a grown son bonding with his mother.

Look, I could go on and on about Williams. I don't even know where to stop this post.
I could namedrop his guest starring role as a killer in Homicide: Life on the Street, which I watched for him only. I never watched that series, but I watched that episode.
I could mention how I rushed to see Toys even though critics panned it. I liked it, by the way, because of him. Watch his teaser trailer for that film, by the way, and you'll miss him even more.
I could mention how I kept track of his list of upcoming films in a non-IMDB world via Variety, and got excited at the prospect of what he'd do next.
I can ramble on about how Mrs. Doubtfire cracked me up and unexpectedly made me feel something much deeper when the credits rolled.
I could mention how my sides hurt after watching Aladdin, and how disappointed I was he didn't get an Oscar nomination despite not physically being on screen.
I could mention the power The Fisher King had over me, and how his performance drove me to tears.
I could mention how the first movie I saw with my wife (then girlfriend) was Good Will Hunting, and how I lied to her and said I never saw it just so I could see it again for the bench scene.
I could mention so much about this "family" member I never met. Just over a decade ago, I had an opportunity to interview Williams when he was promoting his extraordinary performance in One Hour Photo. Sadly, it fell through. I remember vividly how the publicist told me a "phoner" might be possible but I declined. I regret that now, but I just told everyone at the time "what fun is there interviewing Robin Williams if you're not in the same room as him?" I remember thinking even if it was for five minutes, being in the same room with him would've made me feel like I had finally "made it."
You know Williams is out of focus in Woody Allen's Deconstructing Harry and I've been thinking a lot about it lately. It's fitting. We could see him as a lovable clown who made us laugh, but deep inside he probably didn't have enough energy left to love himself. He loved us all so much, and wanted so much for us to be entertained. He was put on this planet to make us laugh, and to make us not just enjoy his talent but to feel it. We saw his talent, we felt his heart.
I will forever wonder what his career resurgence would've looked like. Perhaps Mrs. Doubtfire 2 would've sparked it again or maybe a TV series worthy of his talents would have come by. It was inevitable. You can't contain that talent. In time, I will get over the nature of his death but never the loss. He ended his life on his terms and I'm starting to actually find it fitting. He put us first for his entire career -- he was so selfless. That said, I will always wish he got the help he had longed for, trucked on, and continued to make us laugh, and more importantly, feel.