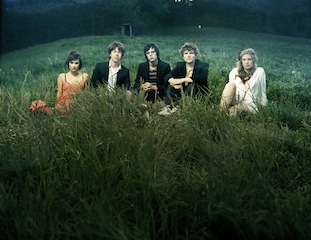 If you like Vampire Weekend, you'll love Ra Ra Riot. That's a tag line that's probably followed the latter indie rock band wherever they go, unrightfully so. The two bands, who both broke through the indie rock scene two years ago or so, have some songs that sound similar but other than being young and indie, that's where the comparison dies. New York Magazine got that, calling their sophomore effort, the August-released The Orchard, "poised to become the soundtrack of your life." True that, but my job isn't to plug the band. It's to chat with them.
Last week I spoke with the band's lead singer Wes Miles and bassist Mathieu Santos (the rest of the mostly Syracuse, NY natives include guitarist Milo Bonacci, drummer Gabriel Duquette, violinist Rebecca Zeller, and cellist Alexandra Lawn) and asked them about touring (their extensive tour of duty has already included Japan, California, and New York City), what the new sounding record represents to them, and the songwriting process.
You guys found success fairly soon after forming. Did this give you a false sense of accomplishment or were you pretty level-headed?
Mathieu: Well, when the band first formed, no one expected it to last beyond that one semester while we were still all students at Syracuse University. However, after the year was over, we had had so much fun and had gotten nothing but positive feedback within the school community, we decided to try going on a short tour that summer. Basically, we've been continuing like that ever since: each step in our career has basically been a bigger and bigger experiment to see how far we can take it, and so everything has really come as a pleasant surprise that none of us really take for granted.
The new album, at least some of the tracks, have a nice, new sound that contrasts -- at the very least -- with your first album The Rhumb Line. Was that a conscious decision?
Wes: Our environment changed so much from the writing of The Rhumb Line to the recording of The Orchard. When we first started, we played a lot of house parties, and making dance-y, upbeat music that was very loud was a priority to maintain the attention of people at a loud party. We still like to be loud and rowdy at our shows, but recording The Orchard was pretty different from that. We wrote a lot of it in secluded, rural, upstate NY, and trying to fill every possible space with sound wasn't as much of a priority -- possibly in part because we could hear so much better.
Keeping with that, what was the songwriting process like for The Orchard? I'm especially interested to hear about how "Massachussetts" came together.
Mathieu: Each song has a pretty different process, so it's hard to say. Usually, someone will bring in a demo that they made on their own, which can either be a chord progression, just a vocal melody, just one riff, a nearly complete song, or really anything. Then, as a group, we'll all work on it together -- adding our own parts and tirelessly tweaking the arrangements until everyone is more or less happy and proud of the result.
In the case of "Massachusetts," that was a song that I had written, and it was the first time I had brought a song to the band, which was exciting for me. At first, it was just a drum loop with only my bass line and the three-part vocal melody. It was basically an extended groove that was pretty stripped down. Wes had another demo of his own, which we were having a hard time figuring out what to do with, until we figured out the two ideas were in the same key. So, we turned that part into the bridge of the song. After the rest of the band had come up with their parts, we sort of left it alone until we got into the studio, hoping that it would take on a life of its own and shape itself, which is more or less what happened.
The drums and bass were ultimately both done in one live take -- one of the takes was nearly 12-minutes long and had a lot of yelling and chanting and more percussion. It was a lot of fun to leave some of it to chance, which is not something we normally try or feel comfortable doing.
Would any of you ever sell out, record a commercial pop song just to make a lot of money? Be honest.
Wes: Well it depends on what you mean by "commercial pop song." I certainly wouldn't try to emulate the most generic popular music of the day just so I could make money. But, I wouldn't be afraid of writing a song that I thought could become popular. As long as I make music that excites me and engages people, I will be happy.
Well played. What commercial artist would you channel if that's the case.
Mathieu: We'd probably try to channel all of our favorite, timeless pop heroes who've found that elusive balance of accessibility and integrity -- something that was definitive of a time, but also timeless, and something that was new and exciting but also able to touch a lot of different people. I think some artists who everyone in the band collectively admires would be U2, The Police, The Beatles, The Beach Boys, Paul Simon, Phil Collins, things like that, that we all grew up with.
You tour fairly often. What's the perks of a tour bus? What sucks about it?

Wes: We haven't toured in a bus at all yet, but hopefully we will get there soon. Our van is a little cramped now with eight people in it. And especially on the long drives, it can be easy to get cabin fever, but we do our best to get out and kick a soccer ball at rest stops, or get some reading done, etc. Touring can be a lot of work, but it just makes the actual performances that much more exciting.
Word. You've opened for some interesting bands when you were starting out. Do you find pleasure in choosing opening acts for your headlining stops?
Wes: Sometimes it can be a daunting task picking bands for our headlining tours, but we're lucky that we have so many friends in good bands that have toured with us, and vice versa. Hopefully we can continue having exciting bills for fans to see new stuff when they come to our shows.
Photo/Doron Gild