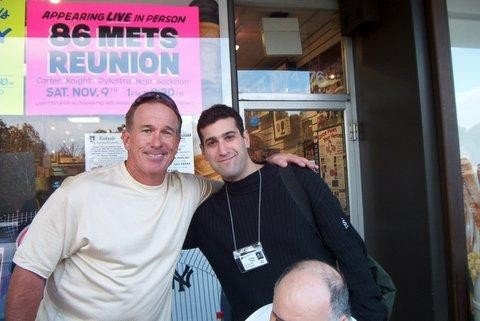 He was among the best catchers in Major League Baseball history. He became a star in Montreal, and his single during the 1986 World Series as a New York Met fueled one of the biggest comebacks of all time. He was an 11-time All Star and a three-time Gold Glove winner. But, for me, Hall of Famer Gary Carter will always be the man that took the time out to respond to my Bar Mitzvah invitation.
When my "Coming of Age" ceremony was set, I sent invitations to just about the entire 1988 New York Mets. I think I even invited General Manager Frank Cashen, and I didn't really care or know of him at all. My expectations were pretty low that anyone would respond especially when I considered that I wrote many of the invitations on my computer and printed them on my lackluster printer. I'm glad I didn't expect anything, because what arrived in the mail one day blew my mind.
Some six weeks after sending multiple letters to Flushing, I received a letter addressed to me from the Mets. Typically, around that time, I had always checked the mail on my way home from a dreadful day at middle school. Seventh grade, for me, was the worst. I was chubby, had very few friends, and my self esteem was fairly low. That all changed that day. I opened up the letter, and to my shock and awe, a signed photo postcard of "The Kid" was in it. There was no letter -- the postcard was personalized. Keep in mind, I would've been satisfied with just an autograph, but I got so much more. The Kid congratulated me on my upcoming big day, and apologized for having to miss it. I remember to this day running up the stairs to my apartment, and showing my parents and my sister. I bragged about it in school, and to anyone who'd listen. It just meant the world to me. It still does. As a matter of fact, I still have that postcard framed in my room, and even scanned the picture and printed it onto a T-Shirt and wore it to Montreal when I saw him be inducted in the Expos Hall of Fame.
Eventually, I'd meet my childhood hero when I was a 28-year-old local reporter covering an event at Last Licks in Scarsdale, NY. The place had been synonymous with bringing in local sports talent to sign autographs, and they had many of the 1986 World Champions signing bats, balls, and anything else one day. I jumped at the chance to interview them -- Carter especially. I remember being in heaven that afternoon -- joggling my journalistic credibility with my undying love of that team. I interviewed fan favorites Lenny Dykstra, Howard Johnson, Ray Knight, and Wally Backman, but while Carter was there, his handler didn't seem to want him doing interviews. I remember being patient and kind, telling him I'd only be a minute or so. He didn't care and essentially told me to leave. Thankfully, Carter had other plans for me.
After signing countless autographs, my childhood hero told me to wait for a few more minutes and he'd get around to answering a few questions. His handler was an arrogant, nasty person but The Kid was kind, and kindly spoke to me about the 1986 team and the current roster. It seemed fitting that the final thing I asked him during the interview was to verbally invite him my upcoming wedding. I remember the conversation like it was yesterday:
Me: "Gary, since you couldn't come to my Bar Mitzvah, can you make it to my wedding?"
Gary: "Are you sure you want to get married?"

That comment was followed by a laugh and signature Carter smile. When I mailed my wedding invitations a few weeks later, I sent one to Carter's office. He never responded, but he didn't have to. "The Kid's" kindness when I was a kid meant everything. And when you factor all the magic he created on the field and for New York in the 1980s -- and the Foundation in which he created to help so many children, he really signified what it meant to be a real American "hero."
That notion continued all this year. He's battled so hard following his diagnosis with a malignant brain tumor last spring. The Hall of Fame catcher passed away yesterday at just 57 years old. I didn't know him, but this one hurts. I hope what I'm saying isn't coming off as just rambling. He meant a lot to me, and to any Mets fan. The team is currently in a sad state, and have been in awhile but I know I can always look to footage of Carter and his teammates to lift my spirits. I hoped one day he'd be in the dugout again managing or coaching the team, but that was not to be. No matter... his memory will shine on forever... and on top of my dresser where that postcard has and will always remain.