My name is Jon Hotchkiss and I make TV for a living. In fact, I created, wrote, produced and edited a new six-hour TV series... in the garage at my home. It's called: This vs That and our motto is: No bias. No bullshit. Just science, fact and funny.
But, first. I began my career as a writer on Politically Incorrect with Bill Maher, where I spent four years. As a result, I get one question over and over about Bill: "Is he as handsome in person as he is on TV?" Although I tell them "Yes," the real answer is: "Even more so."
Since then, I've had jobs I loved: running Bullshit with Penn & Teller, creating/running the TLC series, Invasion of the Christmas Lights, creating/running the NBC series, My Dad is Better Than Your Dad and creating/running the series The Truth About Sex for Playboy TV. I've made family shows... and naked ones. The naked ones don't pay as well. On the upside is that they're more fun. Perhaps less so for my wife. My girlfriend, however, thinks they're "neat."
I've also had TV jobs I hated, like writing for Craig Kilborn. I left The Late Late Show after two years when Craig discovered I referred to the show as a "soul sucking shit-box." Also, I probably shouldn't have set up the website: www.KilbornSoulsuckingshitbox.com/lazyhack.
Cut to: 2013
Why do you think so much TV feels so homogenized? So watered down? So "non-threatening?" So much like just plain, ordinary chocolate ice-cream.
Here, I'll tell you.
When TV shows are dreamed up by their creator, they're like Rocky Road Ice-cream. They have chocolate chunks in them, bite sized marshmallows and bits of nuts. However, before the show gets to your living room or phone or iPad, the people at the TV network go through and meticulously pick out all the chocolate chunks, the marshmallows and the nuts because they don't want to offend, upset or alienate viewers. They especially don't want viewers to break a tooth. Or get diabetes. Or go into anaphylactic shock. Because toothless diabetics with swollen throats can't go out and buy soap. Or breathe.
Think about a few of your favorite shows: Community, The Walking Dead. Their creators, Dan Harmon and Glen Mazarra wanted Rocky Road. So, the networks fired them. And this happens a lot.
Oh. Before I forget: the networks would be even happier if TV was vanilla. They just haven't perfected the method of extracting the chocolate yet. But, they're working on it.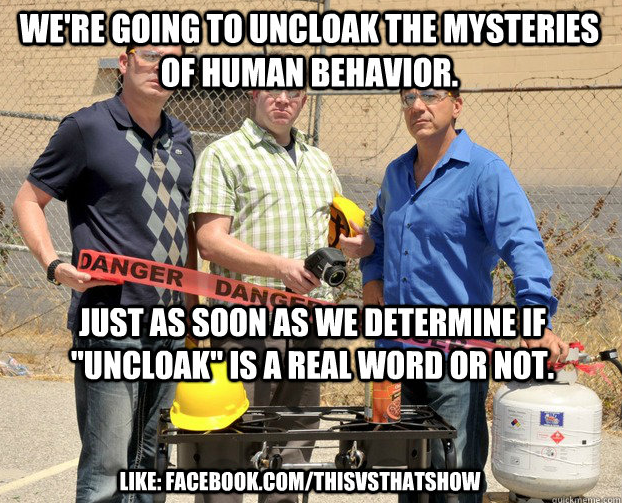 Cut to: 2012
After working on, creating and running series for Showtime, NBC, Discovery, Playboy TV, Comedy Central... I wanted to make Rocky Road. So, I decided to make a TV series without the involvement of a TV network or advertisers. And I'd keep in the marshmallows, the chocolate chunks and the peanuts. And I'd add other stuff I like too, like caramel and Baby Back Ribs... This metaphor is going on too long, right? You get it.
I created This vs That. I paid for it, too. I produced it. I directed it. And I wrote it. Not entirely myself, of course. I had the generous help of many talented friends and colleagues -- not the least of which are the show's terrific hosts: Mark DeCarlo, Chris Tallman and Brad Sherwood. Without going into more detail, I love working with two of them.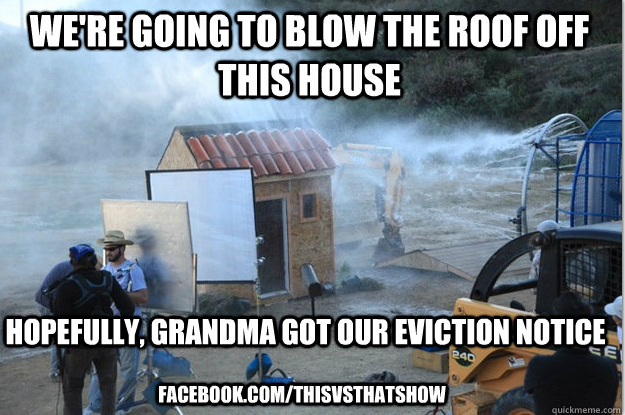 Anywho. If there has been one theme in much of my TV work, it would have to be my zeal for needlepoint. Well, that and the search for honest answers, truth and facts. I'm interested in how we navigate through the world, why we make the decisions we do and how things work.
This vs That is a series that uses science, scientists, professors, doctors and researchers and dynamic experiments to investigate questions everyone has, but can't seem to answer.
Questions like:
• What's the fastest way to navigate through traffic, weave in and out of cars, stay in your lane or take surface streets?
• Which flotation device is more likely to save your life if you survive a plane crash in water, the life vest or the seat cushion?
• Which is smarter, dogs or cats?
• Which vehicle really gets better gas mileage, a hybrid or a car with a combustion engine?
• Which is really worse for the environment, paper bags or plastic bags?
• What's the safest type of roof to have on your house if you live in a hurricane zone, a very steep roof or a low roof with a gentle incline?
These were some of the questions I didn't know the answer to. And I assumed that other people had the same questions, as well. So, I did what I do. I made a throw-pillow. Oh, and I made a TV Show that provides the answers.
This vs That premieres on March 1st @ thisvsthatshow.com.
All six one-hour episodes will be posted on day one. No waiting around a week -- like you do with chocolate ice cream -- to see more of what you like. And the shows will be available 24/7 for every device you own. We're even working on beaming the show right into your head. Unfortunately, the same scientists working on this project, are also working on removing the chocolate from ice-cream. So, who knows when our technology will be ready.
I hope you'll support this adventure because TV can and will be better. Bolder. It will come from creative people with singular visions who don't have a network or advertiser lording over their work with chopsticks and a melon baller. Yup. A melon baller and chopsticks. That's what TV networks use to destroy what you love.
This vs That isn't homogenized. Or watered down. And as proof, Toyota will not be pleased when we reveal the results of our Hybrid vs Combustion engine challenge. Nor will the airline industry with the revelations from our flotation device experiments.
Whoever said the revolution will not be televised, was right. It's going to be live-streamed.
Thanks to WiFi and my MacBook Pro, distributing This vs That around the world is now possible... from my garage. It used to be you needed a media-conglomerate and a melon baller to make and distribute TV shows. Those days are over.
Please like us on Facebook. Seriously. That's what we need right now. We need you to like us on Facebook. Why? So you'll be first to know the details of our coming premiere... and we can share the success of this adventure together.
Jon Hotchkiss is the executive producer and creator of the new series, This vs That. He invites you to like This vs That on Facebook. For a third time. Which is a little much.