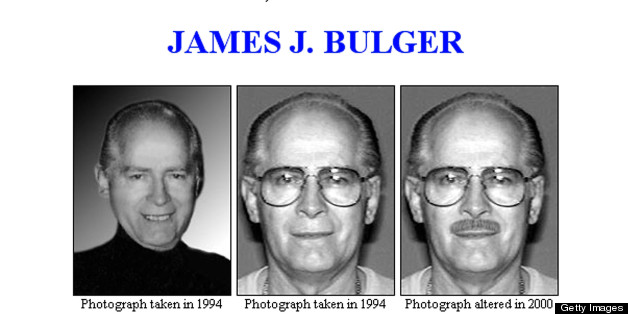 It was a landmark day in the Whitey Bulger case for many reasons but for us as the co-authors of the upcoming book The Gavel Strikes on Whitey's trial it was remarkable in many ways.
Jon:
The hearing on Friday April 26, 2013 was the first time I had ever seen James J. Bulger in the flesh. Oh yes, I went around the world with the FBI searching for him while I was a correspondent at America's Most Wanted but this was different. The "Whitey" I knew was described to me over the years as a "cold blooded killer" -- a man who ran South Boston with an iron fist. The Whitey I knew was more a figment of my imagination than a real man. This, for me, made him a real man.
A smattering of victim's families looked on at the man who prosecutors say took their loved ones from them without so much as batting an eyelash. I looked on and I saw a man who appeared much different than the man I helped hunt for years. In front of me I saw a cleanly shaven, thin man who occasionally cracked a smile and took notes. I saw a man who turned around and saw a section of seats labeled "Bulger family" but the section was empty. I saw a man that indeed was real -- just as real as the pain still felt by all of the victim's families decades later.
Margaret:
I felt it in the hallway outside the courtroom: that tension, the anticipation of something big about to happen. Several Marshals guarded the locked double doors, there was an official sign-up list to gain entrance, and inside, benches were labeled: U.S. Attorney, agents, media, victims, Bulger family, and the public.
I've prosecuted many criminal cases and sat through a fair share of high profile murder trials. The U.S. v. James "Whitey" Bulger is going to go down in history as a landmark case detailing decades of government corruption and secret deals. This is much more significant than your run of the mill celebrity murder trial that gets dragged out on television. When the gavel strikes on June 6th in Boston, the jurors will begin to hear a tale of how criminal empires are forged and allowed to prosper. They will learn about the FBI's top echelon informant program, racketeering, IRA gun-running, and 19 brutal murders.
I made eye contact with Whitey Bulger when he entered the courtroom and surveyed the audience. I anticipated seeing a defeated elderly man, but it was quite the opposite. Those cold blue-gray eyes revealed a man in control, a criminal mastermind who plans to take the stand this summer and share secrets -- secrets some had hoped would be forever buried along with the dead.