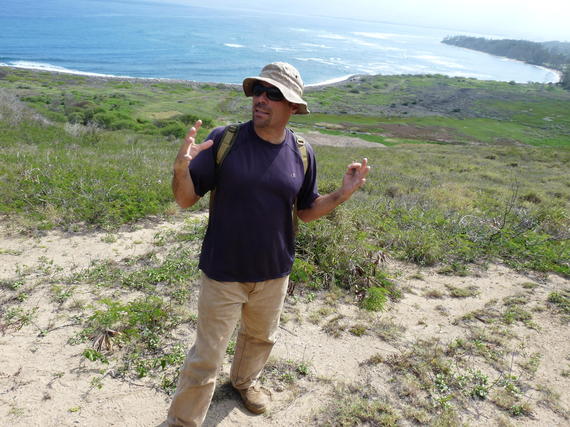 Hawaii is not the smallest state, but it certainly has the most clearly defined boundaries. Even on the Big Island of Hawaii, the vast sweep of upcountry open ranch land of Kohala and densely forested valleys along the Hamakua Coast soon give way to shorelines that mark land's end.
Each year, it seems, the race to grab remaining undeveloped land accelerates as the islands fill up with new subdivisions, bigger office buildings, higher towers, more retail centers and wider roads. Hawaii is "hot property" and everybody wants a piece.
Meanwhile, kamaaina and residents of every stripe bemoan the loss of open spaces and wild places, dreading what kind of Hawaii we are leaving for our keiki and theirs in the years ahead.
One organization working feverishly to counter the relentless waves of development is the accredited non-profit Hawaiian Islands Land Trust (HILT). Formed in 2011, HILT grew out of what had been four separate land trusts representing Hawaii, Maui, Oahu and Kauai.
The purpose of HILT is to protect and sustain Hawaii's natural and cultural heritage, now and forever. It does this by identifying vulnerable open lands and collaborating with property owners who recognize the value of keeping the land in a natural and pristine state.
HILT partners (always voluntarily) with small and large landowners like local farmers, ranchers, community groups and individuals to create conservation and agricultural easements. The easements restrict land use by prohibiting development and thus reduce crushing tax burdens for land owners, allowing them to retain full possession of the land so it can remain undeveloped.
These conservation projects range from huge -- Ulupalakua Ranch on Maui is over 11,000 acres -- to as small as just a few acres as in the Kipuka Mosaic Project in the areas around Volcano on Hawaii Island. In this case, HILT is seeking to create kipuka (oases) that will form protective bridges of intact native forest between state and federally protected lands which might otherwise be developed and adversely impact native plant and animal wildlife.
HILT has 24 such conservation projects on five islands with more in the works including Maui's iconic Honolua Bay. These easements protect coastal wetlands, native forests, and estuaries rich in biodiversity. Besides vital natural habitat, Hawaiian cultural heritage is also protected in places where important historical sites can remain undisturbed as they have for generations.
Healing the land
Who benefits from these efforts? Everyone does, from the flora and fauna to property owners who want to responsibly steward the land for future generations to all Hawaii residents and visitors -- anyone who wants Hawaii to remain Hawaii.
HILT's director of conservation Dr. Scott Fisher explains, "What we're trying to do is change the overall paradigm of how people relate to land." Citing an olelo noeau or Hawaiian proverb: Ua lehulehu a manomano ka ikena a ka Hawaii (Great and numerous is the knowledge of the Hawaiian people), Fisher says that HILT strives to do what Hawaiians did for centuries -- to live sustainably, respectfully and in harmony with the land and natural systems.
In an age when most of us find that technology and industrialized society have overshadowed or completely wiped out our relationship to the land, reconnecting starts one forest, one beach at a time.
I saw this first-hand last year when I accompanied Fisher on a guided walk through the Waihee Coastal Dunes and Wetlands Refuge on Maui. Fisher, who grew up on Maui since birth, frequently visited the windswept coast that is home to nearly one hundred state-listed archaeological sites. He speaks lovingly about the untold numbers of living creatures that depend on Waihee's unspoilt dunes, wetlands, riparian, marine shore and near-coastal reef ecosystems.
Recounting his youth when he fished for octopus off the waters of Waihee (literally 'octopus waters'), Fisher tells of how the land had become badly degraded, native fauna diminished and, by the late 1980s the entire 277-acre stretch of wilderness was (unsuccessfully) slated for development into a private destination golf course. Today, however, Waihee is a place where volunteers help repair and care for the land and anyone can visit freely any time.
Fisher says HILT sees land conservation not as a way to keep people off the land but an opportunity to reach out and say, "Hey, you belong here. This is your heritage, whether you are a malihini (newcomer) or your family goes back generations, this land is who you are."
You too can visit Waihee, as a volunteer, on a free tour with Fisher, or just go on your own. Experience what HILT is saving and see why Fisher says, "We can actually begin to heal the land, and while we do that we're really healing ourselves."

Learn more about HILT and how you can help #SaveLand at http://www.hilt.org
Full disclosure: I wrote the above profile of the Hawaiian Islands Land Trust (HILT) in advance of their upcoming Buy Back the Beach benefit luau in Lahaina, Maui on January 25. Asked to voluntarily help raise awareness of HILT and the land conservation work they do, I gladly accepted the invitation.