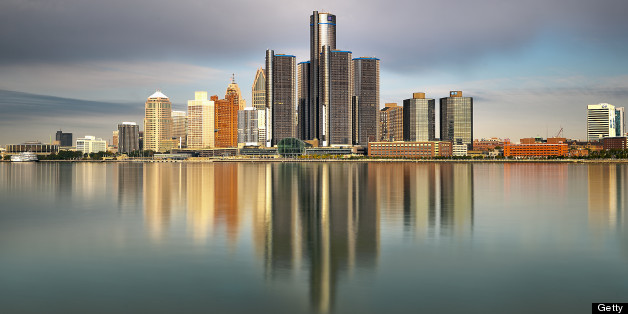 The recent announcement that Detroit is officially a bankrupt city comes as little surprise. Long known for its high crime and poor social services, the population has fallen by half since 1990, as its title of The Motor City has become little more than a nostalgic tagline. Interestingly, Detroit also ranks as one of North America's most unhappy cities, based on crime, depression, divorce and suicide data. It also averages 185 cloudy days a year, which can't help.
This unhappiness raises the question: What does make a city happy? If we can understand this, it might be possible to design cities that are happier places to live, work and visit.
During the London 2012 Olympics, there was a fever of excitement that had the effect of making even the grumpiest Londoner a little bit giddy. Trust me, Tube staff high-fiving passengers is not normal. On a recent return visit to London, I was struck by the continued positive energy. Like any big city, London suffers from crime, unemployment and a shortage of affordable housing, but this summer's unseasonably warm weather and the imminent royal baby may have added to the positive vibe. Or is something else going on? Could it be a belief in their future played out across the arts, culture and commerce? A sense that it's possible to change the status quo for the better?
A recent study by GFK Custom Research of the world's happiest cities ranked Rio de Janeiro, Amsterdam and Sydney at or near the top. These are cities that are diverse in culture, have a rich and thriving enterprise community and are designed to encourage freedom of movement. They rank highly on communal spaces too -- parks, cafés and shopping areas. All places where people gather and socialize -- an important happiness factor. San Francisco, a regular entry on happiest city lists, boasts a thriving entrepreneurial economy that literally launched the modern technology era with Shockley Semiconductor and Fairchild Semiconductor. Fueled by post-war military and the vision that became NASA, today Silicon Valley is home to the world's largest tech firms including Apple, Google and Intel.
Detroit will emerge from bankruptcy, and this may well be seen as a watershed moment as it moves away from a single auto economy to a rich, diverse community. The roots of this are already beginning to show. The Sunday Dinner Company is a restaurant turned community center staffed by returning citizens who raise funds over dinner for community investment projects. And the wonderful Detroit Bicycle Company, which is building on the city's transportation heritage with stylish, well crafted and desirable bikes.
Lastly, The Heidelberg Project takes art to the streets in one of Detroit's most troubled communities.
Founding artist Tyree Guyton describes his vision for the project, "I want this to be part of that great comeback for the City of Detroit. And I believe it will come back."
Now if we can help the people of Detroit believe in a happier future, it may ensure they have a better economic one too.