It looks like the 2012 box office may very well be the biggest of all-time. I wrote earlier this year that despite the predictions of the demise of movie theaters from market analysts, it looked like that the movies were set for one of their biggest years ever at the box office and the second-half hasn't let moviegoers or the movie industry down.
With only 15 days to go and a box office of $10.225 billion, my guess (and this is really just a rough back of the envelope) is that it will add at least another $300mm or so meaning it will end around $10.5 billion. At $10.5 billion that will mean it will end up just a little short of 2009's record total of $10.6 billion while dwarfing 2007 and 2008's $9.6 billion and clearly surpassing the 2011 total of $10.2 billion. (However, it's easy to see the last two weeks bringing in enough revenue to allow 2012 to surpass 2009 and be the biggest of all-time). It's worth noting that this year's box office is hitting these levels despite a huge drop in G-rated revenue at the box office (they accounted for $800mm in receipts in 2011 and only $148mm so far in 2012).
Even better news for those who rightly want to dig a little deeper beyond box office revenue to attendance (and thus exclude the impact of ticket price increases), 2012 attendance is on track to reach 1.33 billion moviegoers for a 3.5 percent or so increase in attendance vs. 2011. And if you exclude G movies, it's up a staggering 11 percent. As a point of comparison Major League Baseball attendancewas up 2 percent in 2012 vs. 2011 to 75mm (I find it worth pointing out that movie attendance is 18x that of America's Pastime!).
This fact even more so than box office receipts is a key for those of us interested in whether Americans are more, less or equally in love with going to the movies than they have been at other times in recent history.
To answer this question, I looked back at the last 20 years of attendance figures and what I found is that basically attendance grew steadily from 1992 to 2002 and since 2002 has been in a jagged decline with a decrease between 2002 and 2008 and pretty much flat attendance since then. (2002 was a great year for franchise films Spider-Man, Lord of the Rings, Star Wars, and Harry Potter but also in the top 10 were My Big Fat Greek Wedding and Chicago)
In 1992 attendance was about 1.17 billion compared to this year's attendance which will end at about 1.33 billion. This means over the last 20 years attendance has grown roughly 0.6 percent per year. (However, from the peak in 2002 when attendance was at 1.58 attendance has declined roughly 1.7 percent per year).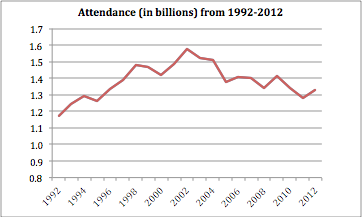 When I wrote back in May, I mentioned a number of factors that I thought were positive signs for the theatrical business going forward including marketing efficiencies that come through social media, the rise of experience innovation through theater owners like Alamo Drafthouse and new players in the theatrical space like MoviePass (think Netflix for movie theaters) and Tugg and Gathr(think on-demand publishing for movie-going) which are all addressing the inherent barriers to even greater success in the industry.
I still think that the big chains need to open up more widely to the idea of allowing "Day and Date" VOD for at least smaller, independent films. In 2012 Richard Gere's Arbitrage surpassed Margin Call generating an estimated combined $18mm from theatrical and VOD through a "Day and Date" release compared to Margin Call's estimated combined $11mm (see LA Times article) proving that simultaneous release need not take-away from box office performance.
With all that said, it's no surprise that with 2012 now coming to a close and the picture clear that 2012 will be a strong year for the box office, the analysts are already predicting a down year for 2013 -- the latest prediction: down 3 percent.