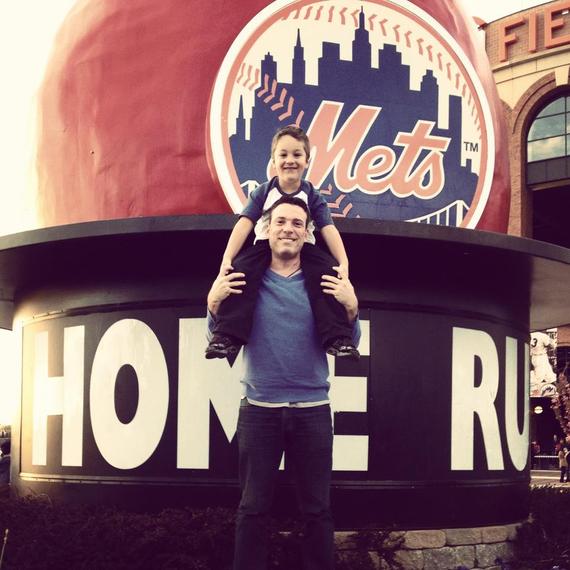 For the third time in five years there will be a World Championship parade in my adopted hometown of San Francisco. The Giants aren't my team but I root for them nonetheless. They encapsulate what makes this city so wonderful: we're quirky, offbeat, unpredictable, creative, and we never give up on ourselves or each other. The city is quite deserving of a world championship team.
Earlier this week, when every tortured eyeball was glued to game seven, I was sitting in front of a muted TV with my 7-year-old son, watching the Mets in the 10th inning of game six of the 1986 World Series on my laptop. It reminded me how invigorating and euphoric it is to watch your team win. I guess I wanted to feel the same excitement that all my friends here were feeling -- it didn't matter that I had seen Mookie's ball roll under Buckner's glove hundreds of times.
I met the Mets when I was about my son's age. Growing up in New York City it was not unusual for people to ask me, "Why are you a Mets fan?" For much of my life I answered that question with another question: "Why are my eyes brown?" or "Why am I gay?". Because I was born that way. But being on the sidelines for three championships over the past half-decade has forced me to be more introspective about my allegiance. My Met story is a little more involved.
It dates back to when I was three years old my family emigrated from communist Hungary. My mom, dad, and sister escaped the oppressive regime in order to make a better life for ourselves in America.
I didn't speak the language and didn't have many friends, but I quickly discovered the magic of baseball and its power to grease the assimilation wheels. But if I was going to be "one of the guys," I needed to understand the game. I wanted to fit in and I knew if I didn't learn this complicated game, I would be relegated to Mrs. Glazer's Art and Crafts club.
So I did what every other New York City boy did in 1976 -- started rooting for the Yankees.
It was a good year to be a Yankees fan, as they were World Series bound. But what I didn't realize was that by choosing a winning team, I had greater responsibility. I needed to know who was who. I needed to understand the difference between Puff and Little Willie or Goose. I needed to know who they were playing and what the significance was. Rooting for a winner was exhausting and inevitably a losing proposition for me -- I was going to be exposed. At six years old I was drowning in fraud.
I needed a new strategy. I needed a team that no one cared about. Perennial losers. A team that was indefensible. Lucky for me New York had another option, and the rest is history.
It took me a couple of years to really understand the game and by then it was too late. The Mets were mine and no matter how hard I tried to shake them, I simply couldn't. We were one. Losing became comfortably familiar. And as I started to better understand my sexuality, the Mets became even more important. We were both outsiders. We were both underdogs. I always believed that one day, things would change for the better. One day the greatest city in the world would root for us.
Of course that day was the mid-'80s and they were glorious. But that was nearly 30 years ago. Lots has happened since then: communism fell, Nelson Mandela was freed, we have an African American President, the Royals were back in the Series, and gay people can marry in over half the Union. Yet there hasn't been another championship in Flushing.
Today I am a Bay Area resident with over 20 years under my belt. I support the local teams. They are two of the most exciting teams in baseball, but they are simply not mine. My heart is still with the Mets. And as hard as I have tried, I just can't quit them. I love them -- they are my team.
Let's Go Mets!