It was November of 2007, and I was at the top of my game running digital at Visa Inc. as Vice President of Advertising and Emerging Media. That month, I was given the prestigious American Advertising Federation Hall of Achievement Award. It was an incredible honor that is only bestowed on a handful of marketers each year. My passion and determination to bring digital marketing to the forefront was my entre into this exclusive club.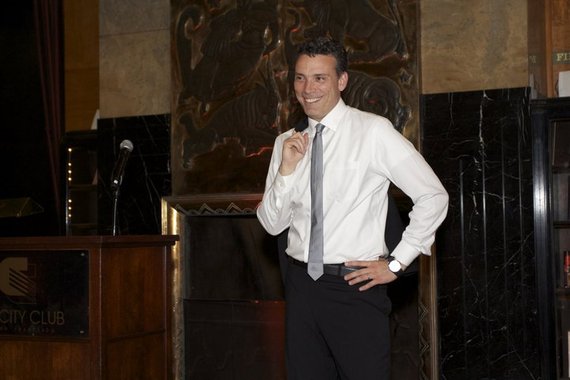 I joined Visa in 2000 after agency life as an account guy where change was slow, agency life hectic and it was hard to make an impact. From this vantage, digital marketing seemed to mature in slow motion.
Life on the client side at Visa was good. The day had finally come, and digital not only had a seat at the marketing table, but there was budget! I had a sense of vindication after spending so many years advocating for dollars to invest in the medium.
But as a student of both marketing and digital advertising, that November I felt a sea change about to happen. Digital was being infused into all types of advertising and data was becoming more and more important. Companies needed a guide through this new landscape and as the partner closest to the data, media companies were poised to take on this responsibility. I believed that the clients' media partners would be riding shotgun across this new frontier.
So, after a successful tenure at Visa, I jumped back to the agency side. I joined one of the largest and most respected media agencies in the country as their first Chief Digital Officer. Media companies hadn't secured their leading role in the advertising ecosystem yet, but this was my time to buy low and sell high.
Media had always been the neglected stepchild in the advertising world. Even in 2007, media people had an inferiority complex due to the decades of perceived mistreatment that dated back to before the Mad Men era.
While no client would outright say media wasn't important, it was always the creative agency that had the client's heart and mind. Creative work was sexier and frankly, creative agencies had account management that was far superior to what you would find (if anything) at a media agency.
But everything was about to change, driving clients to value their media shops more than ever. Media already captured the billion-dollar idea -- data. They weren't going to replace their creative shops -- they were going subjugate them to irrelevance.
When I left Visa, I knew what I was giving up but I envisioned the upside -- being on the front lines of this revolution. Although an account guy at heart, I was the right person for this job because I didn't have the same issues as many of my media comrades. Having not previously been in the media ranks was not going to stop me for evangelizing a new era of advertising based on accountability, measurement, and insights.
It didn't take long for me to realize how wrong I was. Media companies were not well-positioned to take on these new responsibilities, nor should they be. Media companies should be a trusted partner to their clients -- giving them solid strategic advice as well as finding them the best inventory at the best price.
But the truth is, media today is a very tough business where margins have been eroding faster than print RFPs. Simply planning and buying media was no longer a profitable enough business. Media companies needed to position themselves as the clients' most valuable partner in order to stay relevant. They felt that they needed to do more or risk being marginalized.
Don't get me wrong, my agency was still top tier and was being recognized for the outstanding work they were doing. From a day-to-day perspective, things at the agency were never better. What was obvious to me though, was that a media agency could not act as both a trusted advisor and go much beyond their intended scope.
Many media shops began creating their own trading desks, which were being sold as incredible cost saving opportunities for their clients. What they actually were was a new business unit created by agencies' holding companies to make huge profits at the expense of their clients. They were now both the buyers of their clients' media and the sellers too. And, adding insult to injury, these trading desks (with some exceptions) were not transparent, making it impossible for clients to know how much the agency was profiting from this. To say that it was a gold mine for agencies would be an understatement.
The trading desks opened up a new avenue for media agencies and their holding companies, which was measurement. These "independent" measurement companies would now be assessing the effectiveness of the media that the agency was buying (from themselves) for the client. While it sounds absurd, many clients were compelled to participate due to political pressure or lack of confidence to question these practices, or they were roped into using them based on fine print in the agency contract. (Always read the fine print!)
It had gotten to the point where many agencies were profiting from the currency of confusion. (Does the term "Big Data" ring a bell? Try having an agency explain what that really is.)
My dream of being the trusted partner to help other companies navigate the digital world was shattered. I thought I was going to be a part of an amazing revolution, but realized I would be a foot soldier in what I believed would be the wrong side of history. What agencies have done to squeeze out profits, have cost them the trust of their clients and have relegated them to the world of glorified vendors. The work that agencies do today is still vital to the success of their clients' businesses, but there needs to be some serious oversight.
Fortunately, my worst career move turned out to be my best, as today I have my own firm that helps clients thrive in this ever-changing agency landscape. My company helps empower clients by helping them be active clients -- clients who understand that trust through transparency is key; knowledge creates confidence; and, with trial there is error, and error is sometimes what is necessary for progress -- it certainly has been for me.