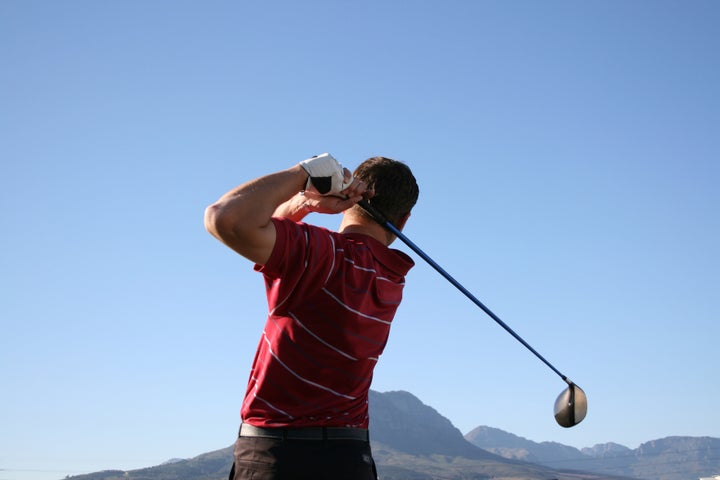 The story of Rory McIlroy's rise over the last few years can teach us some essential lessons about managing stress. Today, he's the No. 1 golfer in the world and just signed a mega-deal for hundreds of millions with Nike. But in 2011, he had one of the most famous meltdowns in golf history.
At third round's end during the Masters, the golf tournament every professional player wants to win, he held a commanding four-shot lead. In golf, that's like going into the fourth quarter of the Super Bowl up 17 points. If he played solidly, he was going to wear the victor's green jacket.
He held it together for the first nine holes the final day, but as he made the turn to the back nine, he hit his tee shot so far left no one had ever seen a ball there. The rest of the afternoon he missed more putts and played more awful shots than in any similar stretch in his professional career.
But a few months later at the U.S. Open, another of golf's four coveted major tournaments, he again held a commanding lead. Would he crumble again? Would the stress hijack his brain? Not only didn't he melt down, he went on to win his first major in record fashion. Since then, he's won seven more times and helped Europe win the Ryder Cup on his way to being top golfer on the planet.
What did he do to overcome the choke at the Masters? With the mental challenges of travel, the media, sponsors and fans, not to mention playing an incredibly stressful sport, how has he continued to be so successful? Can we learn to manage stress like Rory?
Rory does three things each of us can focus on to manage stress better and be more successful at what we do.
1. Hum. On the course, he focuses on one thing at a time. It sounds silly, but to stay relaxed and at your best, your brain can only concentrate on one thing or your performance level will drop. To stay focused, Rory hums. At the Masters, a million thoughts probably spun through his mind at once: pride about winning for his country and family, excitement like "How great will it feel to win," and the inevitable doubt about his ability to finish the job. At the U.S. Open, Rory simply walked around the course, hitting the shots he knew could pull off, humming Adele. He played some of the best golf the world had ever seen. His choice to hum may have helped him focus and enjoy every shot, even on the biggest stage.
Darren [Clarke] is about 10 years older than me, and I'm 10 years older than Rory. Darren showed me the ropes back in the day, pulled my chain a few times as a rookie, which helps you settle in and play with some of the best guys in the world.
I sort of view [Graeme McDowell] as a big brother in a way, more than a buddy. He was always really good to me, taking me under his wing. It was great for him to do that, and from there, we developed a really close friendship.
There is nothing worse under pressure than feeling alone. There is nothing better than having a friend who can guide you, tease you, and show you what to focus on so stress doesn't run away with your mind.
3. Value love most of all. Maybe Rory wouldn't put it that way, but his actions tell the story. McDowell's only complaint about his pal Rory over the last year: He's been logging frequent flier miles chasing his girlfriend, star tennis player and former world No. 1 in her own right, Caroline Wozniaki. When the press was criticizing him for traveling all over the world to see his girlfriend, Rory didn't stop. It may have contributed to a few poorer performances on the course, but it has led to a whole life where he is happy. He doesn't sacrifice time with the people he loves, including his parents, who he flies to catch a dozen of his tournaments a year as he continues to impress the world of golf.
Rory seems to know what's most important to him. He doesn't seem to try to satisfy others' expectations or listen to the critics. He's become so successful in his early 20s because he has his formula for being the best in the world, even as he has have every reason to be stressed. His pillars can work for you to stay focused on what you care about most too: Hum, find trusted friends and mentors, and value love most of all.