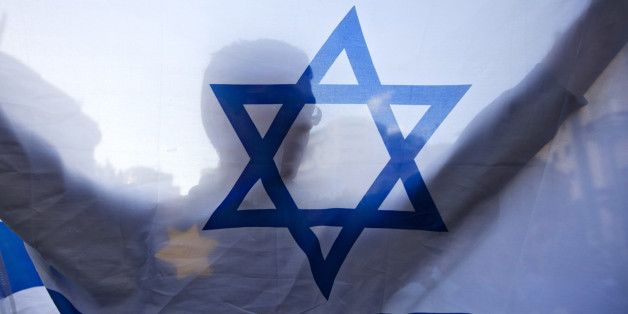 Following the non-binding British Parliament's recognition of Palestine, it has been written a lot about Israel's inaction regarding the peace process. While reporting on Israel's politics and policy, it is important to draw the full picture -- most Israelis want peace.
Since Israel's very early existence, Israeli leaders have always believed that we must shape our future by ourselves. The best and most memorable example, of course, is the Israeli declaration of independence, made by David Ben-Gurion in 1948. Ben-Gurion knew that the decision was fraught with risks, and yet decided to go on with his belief, taking into consideration the many chances and risks and prepared in accordance. Another example, this time a staunch right-wing leader who had opposed giving up any parts of the Jewish homeland -- Begin, finally and bravely made peace with Egypt as PM. Remembered are also the Oslo Accords, led by Yitzhak Rabin and Shimon Peres on the Israeli side. Those leaders had known to defend Israel when needed and to search for peace when possible.
This kind of pragmatic leadership is very much missed in Israel. Many Israelis hope for a new leadership which would prefer the country's benefit over its own political one. The lack of progress in the peace process as well as the increase of food and housing prices have caused the Israelis to believe very little in their leaders. The excessive influence of extreme edges of the Israeli political system has not contributed to public confidence in the political system either. The current leadership is seemed by many as a hesitant, having no vision in front of its eyes.
Despite this kind of leadership leading the country for over five years now, there are large segments in Israeli society which are trying to make a difference. Those elements believe that Israel's supreme goal is reaching an agreement with the Palestinians. In their view, a peace agreement would preserve a Jewish majority in Israel and would ensure secured and clear borders once and for all.
The Israeli labor party, led by Opposition leader Yitzhak Herzog, purports to be an alternative leadership which would promote a peace deal based on the Two-State solution. Even within the coalition, there is the very brave Justice Minister Tzipi Livni who has been fighting against right-wing elements for the sake of a peace process. Livni has put all of her political weight in order to promote dialogue and progress with the Palestinian Authority.­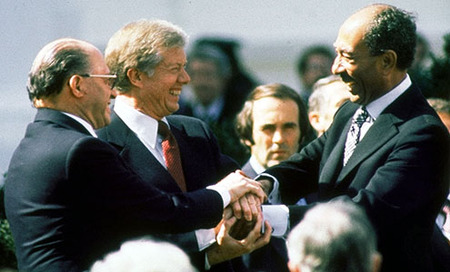 Carter, Begin and Sadat after signing the peace treaty. Credit : Bettmann/Corbis
A new poll, conducted by the Geneva Accord, exposes the true face of Israel as well as the incompatibility between the Israeli political system and the public will: Most of Israeli public believes that PM Netanyahu should initiate a peace process leading to the Two-State solution. Even in the Likud, the PM's own right-wing party, 53 percent of the voters believe that a peace process should be initiated. Additionally, 67 percent of the Israelis believe that the status-quo endangers Israel's future. The deep desire of most Israelis has yet to be translated into action.
I am a young Israeli and as such I can say with great confidence that the young generation is keen to see steps toward peace. Many Israelis believe that this is a crucial time for Israel, a time when the people's voice must be heard. We believe that pursuing peace is a strategic imperative for Israel's future and also a Jewish-moral one stems from our heritage: since the Exodus from Egypt, through our ancient prophets who sought peace; to the days of modern Israel, which has made some painful concessions in order to fulfill this higher purpose.
The poll well demonstrates the frustration of the young Israelis by the reality which former Israeli generations (and Palestinian as well) have led to: 85 percent of the Israelis between ages 18-24 believe that another violent confrontation is the most plausible scenario in the absence of progress in the peace process.
When criticizing Israel, it is important to distinguish between the government (which does not represent Israel fully and accurately) and the people. Most Israelis might feel that the food costs are more urgent to solve, they might feel that peace is not within reach, but one thing is indisputable -- their hope for life of genuine peace.
In order to promote a future peace agreement, all of us have some obligations to fulfill: we -- the Israelis -- must replace this government with a better one, one that will work on the important challenges Israel's facing and not just on those which may seem more urgent and more influencing on the daily lives. The Israeli sane majority must carry more weight in politics and policy making, and not let the extremists lead the country towards a messianic vision. And what about the world? The world should support and call for direct negotiations and avoid any unilateral steps (such as recognition of a state that can only be established through negotiations). Such steps can only damage the peace process and make the Israelis be more prudent and uneasy as they consider further major steps for peace in a turbulent and raging Middle East.