This past December, a major U.S. newspaper featured me and my collection of rare and valuable menorahs in a piece about the meaning of Chanukah. Shortly afterwards, I got an email from a very nice woman on the Upper East Side of Manhattan stating that she read about my work and had some Jewish religious objects that descended through her family. They were brought to America when the family immigrated here about 100 years ago.
She was no longer interested in keeping them -- while her father was Jewish, her mother was not, and these holy objects hadn't been used in years. Most touching of all, she made clear she'd be more comfortable if they were with a family or collector that would appreciate them. Finding a home for holy objects which had been sitting idle for years with people that would love and cherish them? Right up my alley.

Expecting to see a collection of knick-knacks, upon receipt of images of the items, I was astounded to find that the woman had both beautiful and valuable pieces: two menorahs, two cups and a spice box. One of the cups in particular intrigued me, as it is specifically made for Passover, which is coming up in a few weeks.
The cup the woman had was made in Nuremberg by a maker with the initials "IN" (I haven't been able to find him in any known reference book yet). It was made in the 1750s and is engraved, "For seven days you shall eat matzo." Imagine, 260 years later, across oceans, wars, anti-Semitism, the Holocaust and countless other atrocities, this cup will be used this Passover. The story and journey of this cup is symbolic of the Jewish people, and therefore strongly symbolic of the Passover holiday itself.
Silver Passover cup, Nuremberg, c. 1750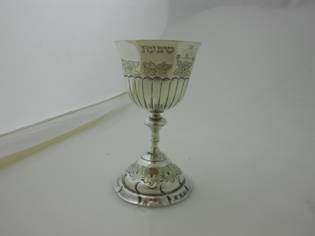 Inspired by the first Passover cup I had seen of its kind, I decided to pull out two other favorite cups of mine when I arrived back at the gallery. The first to come out of storage was made in Poland, about 1810. Clearly, it is meant to be a Kos Shel Eliyahu, or cup of Eliyahu. It sits on a round base and is almost twice as large as most silver cups of the period. On one side it is decorated with a house, another side features two flowers. The main cartouche is engraved in Hebrew, "This is the cup of Elijah of Good Memory." It is marked with an 84 silver standard mark. Cups of Elijah are exceptionally rare since Jews everywhere, but especially in Poland at this time, were extremely poor people. Only someone relatively wealthy could have afforded to have a cup that would only be used once a year. The value of this cup in today's marker would be $4,000 - $5,000.
Silver Passover cup, Poland, c. 1810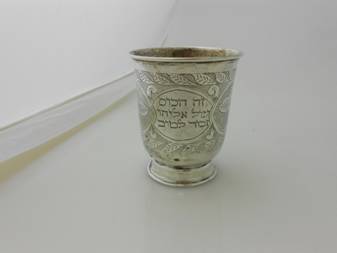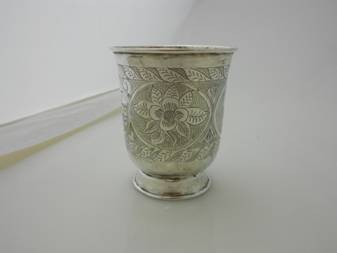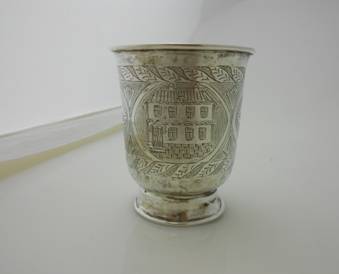 Finally, I pulled out the last of the three. Made in Germany in 1745, the cup especially interesting because it is gilded. Gilding is a process involving gold plating on silver, where the silversmith would put gold dust on the silver and heat it to the point where the gold would melt onto the bottom layer of metal. Gold melts at a lower temperature than silver, and the result is a golden finish. The cup is engraved in Hebrew with the biblical passage where G-d reminds us that he took us out from under Egyptian hardship. A cup of this size and quality is quite rare, and would sell in today's market in the $35,000 range.
Gilded Passover cup, Germany, c. 1745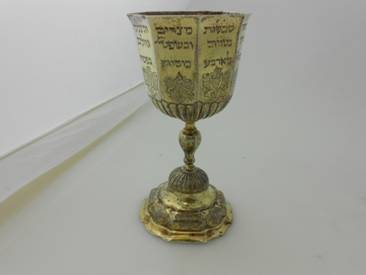 Bet you didn't know that there was another -- equally important -- object used for Passover other than Seder plates, did you?
Chag Kasher V' Sameach.