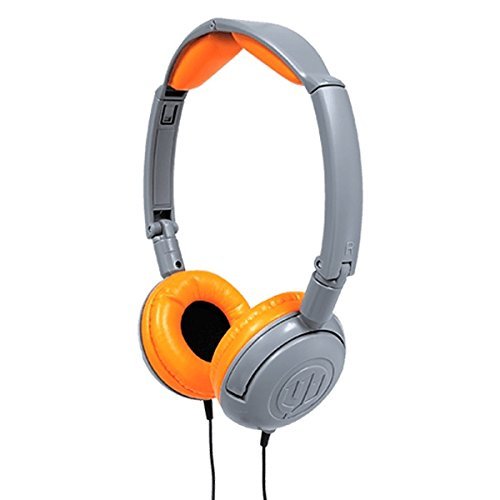 They look cheap, feel flimsy and sound muddy, but at under $30 for an on-ear headphone you could do worse.
That's the downside for the Wicked Audio Raven. The upside? That low price and the fun colors. I rather liked the
gray/orange
(gray plastic housing and orange cushions) colors of the unit I tested, in spite of the fact that those hues seem designed to harmonize with prison garb from most jurisdictions. You can also go
black/blue
for a more aggro look or
white/teal
if girly is your thing.
Everything about these headphones is plastic, even the headband, except the metal rivets at the three hinge points, which allow these puppies to fold up flat and compact, to slip in your backpack or briefcase (if you have a briefcase, you're out of the target demo). They're light too, and are reasonably comfortable, although the cushions (on the earcups and the underside of the top part of the headband) are rather stiff and fairly unyielding.
Another comfort minus: there are wires from both earcups, not just one. And, notably, there's no mic on the cord (or the earcups). Just tell your friends to text you.
About that sound again: it's very bass heavy, to the point where mids and highs get kind of lost. If you care what your music sounds like, these 'phones won't make you happy. But if you just want something cheap and colorful that pumps a semblance of tunes into your brain, they might be right.
Full disclosure: the manufacturer provided review product.
Check out "The New Zealand Hobbit Crisis," available

on Amazon in paperback, Kindle and audiobook.

Visit my website (

jhandel.com

), follow me on

Twitter

or friend me on

Facebook

or LinkedIn. If you work in tech, take a look at my book How to Write LOIs and Term Sheets.