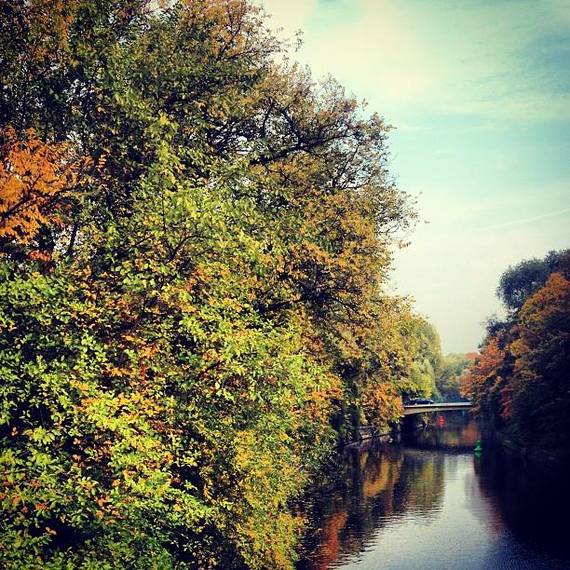 You may have heard of it. A friend of yours might have visited one day and never come back, leaving behind an intact apartment, their mail piling up on the desk. It's spoken of softly like a trade-secret, and the name lingers in the air of metropolitan hotspots on saturday night from coast-to-coast.
Across the ocean, far away there lies a magical city that puts Brooklyn, San Francisco and all other major capitals of hip-ness to shame. Some call it paradise. Others the new Shangri-La. But in common parlance it's known simply as the capital of Germany. You can call it Berlin.
There are a lifetime's worth of reasons to go to Berlin. Here are five (mostly culinary) reasons why Berlin is the best: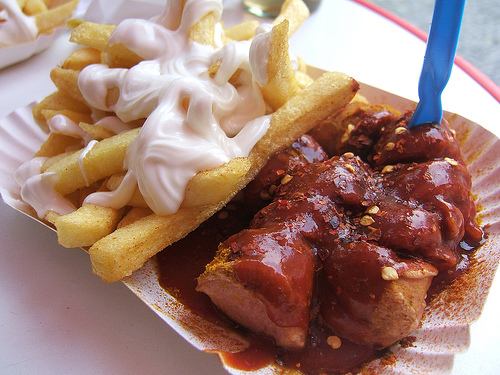 photo by Jessica Spendler/creative commons.
1) Currywurst: Berlin's greatest culinary contribution: pork sausage steamed and fried, dusted with curry powder, sliced into bite-sized bits and served with curry ketchup, mayonnaise and fries. While the occasional hankering for a burrito or pizza may linger, it will soon settle into a distant memory after your second or third helping.
2) Teufelsberg Spy Tower: Located an hour's train ride from the city center overlooking the Narnia-esque magic woods of Grunewald is the Teufelsberg Spy Tower, which is German for "Devil's Mountain." A former U.S. intelligence station, the complex has long been inactive, and the site itself is viewable via scheduled tours. Dramatic views of Berlin and beyond make this one of the most unique and stunning forest adventures you'll ever embark upon.
3) Rotisserie Chicken: Who needs soup when you can order the whole bird? A necessary cure-all rainy days or a hangover. Nothing quite compares to bite after bite of perfectly roasted chicken with creamed garlic sauce, mayonnaise and curry ketchup. Huhnerhaus 36.
Instagram: rootverse
4) Tempelhof Airport Park: Perhaps what makes Berlin so special is it's newness. Out of the ashes of a complicated history has emerged a vibrant and dynamic culture. Nowhere is this more evidenced than in the creative repurposing of space. Located in the Neukolln neighborhood of Berlin, Tempelhof Airport has been converted into a multi-purpose public space with community gardens and running paths. The space has been used for public events and festivals, including the internationally renowned fashion trade show BREAD & BUTTER.
5) Burgers With Hashbrowns In Them: Is there anything left to say? Berlin Burger International will steal your heart as it thickens your arteries. But one time is unforgettable. Maybe two.
If the art, culture, nightlife, food, and energy of Berlin hasn't convinced you that a visit is in order, consider the fact that you probably already have friends that have made the pilgrimage for the cooler pastures of the German capital. They're waiting for you. Try it. You may never come back.