Global cancer rates are on the rise, with the World Health Organization estimating that cancer rates could rise by as much as 50% by 2020 unless governments and healthcare providers start more aggressive campaigns to promote healthier lifestyles. But you probably already know that cancer is on the rise, even if you haven't read any reports or studies. Because if you're like me, you probably know an alarmingly large number of people who have had or are currently facing cancer, whether it's a co-worker, the parent of a friend, a family member, etc.
The film 50/50 is about a man facing cancer, but this is not your standard terminal illness/embrace life tearjerker. It's based on the true story of 50/50's screenwriter, Will Reiser, who was in his early twenties when he was diagnosed with a rare form of cancer. The idea of asking a young person whose adult life has hardly started to accept their imminent, seemingly arbitrary death would make 50/50 novel enough. But throw in the fact that 50/50 is an often hilarious comedy co-produced by and co-starring Seth Rogen (who worked with Reiser on Da Ali G Show while Reiser was undergoing treatment), and you have a very special, refreshingly personal movie that will make both men and women laugh (without being silly or gross) and cry (without being maudlin).
Listen to my ReThink Review of 50/50 for the Uprising Show by clicking on the image below.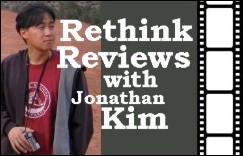 Transcript:
Cancer isn't something to laugh about. And when we think of movies about people with terminal illnesses, we mostly think of inspirational tales about appreciating life and the indomitability of the human spirit or weepy tearjerkers about love conquering death. The film 50/50 takes the terminal illness movie into new territory. First, by combining it with an only recently identified genre -- the bromance comedy. And second, by the fact that 50/50's afflicted protagonist is barely in his late twenties, an age where it's hard enough to get perspective on your life, let alone face its early end.

Joseph Gordon-Levitt plays Adam, a soft-spoken, unadventurous, unremarkable guy living a comfortable, relatively average life working for a radio station. Adam's relationship with Rachael, his attractive artist girlfriend played by Bryce Dallas Howard, is progressing to the next level, and for entertainment, Adam has his buddy Kyle, a juvenile but hilarious lothario played by Seth Rogen.

After noticing a persistent back pain, Adam goes to a doctor, where a scan reveals the shocking news that Adam's pain is from a tumor along his spine caused by a rare form of cancer, and the prognosis isn't good, with only a 50/50 chance of survival.

As someone who has traded a more interesting life for a mundane one he can control, Adam does his best to absorb this horrible news and not make a big deal of it. Unfortunately, Adam's mom, played by Anjelica Huston is an over-involved worrier, a job she's grown used to while taking care of a husband with Alzheimer's. While Rachael initially pledges to stand by Adam, it soon becomes obvious that being Adam's primary support is more than their relationship can handle. Meanwhile, Kyle thinks Adam should use his cancer to score sympathy points with women and get them both laid, and the therapist assigned to help Adam deal with his condition, played by Anna Kendrick, looks to be barely out of college.

50/50 is based on the true story of Will Reiser, the film's screenwriter, who also was diagnosed with cancer while in his 20s. At the time he and Seth Rogen were working together as young writers, and Rogen watched, as his character does, as his friend deteriorated in front of him. As a twenty-something ready to take on the world, Rogen could only respond to this by falling back on what he knew best, movies and comedy, joking with Reiser about his condition and encouraging him to write a script about it.

Since then, Rogen has become Hollywood's clown prince based on his roles in Judd Apatow's manchild comedies, and he's a producer on 50/50. This might be what gives 50/50 its wonderfully intimate, personal feel. It's not a movie that makes grand statements about what life is and how we should live it. It's about what happens when a young, fairly uninteresting guy who never wanted to cause a fuss or take risks is faced with a situation where everyone is fussing over him as he faces the biggest risk of his life. And 50/50 does this with tremendous heart and humor that never feels manipulative, jokey or contrived, with terrific performances by the entire cast.

Men usually only shed tears at movies involving sports, but 50/50 will have both men and women laughing and crying, which is often the hallmark of a great film. But it's hard not to see 50/50 in terms of the evolution of its co-producer Seth Rogen. While there's still enough dirty humor to show that movies' biggest manchild hasn't fully grown up, 50/50 shows that he also has a grasp of emotionally complex, adult moments, while staying true to the popular Apatow theme that it's your buddies, not your significant others, who always have your back. While cancer is serious business, 50/50 shows that, with the right touch, it can also be hilarious.

Check out Jonathan Kim's new Netflix-based show, ReThink Reviews on TYT, here

For more ReThink Reviews, visit ReThinkReviews.net
To subscribe to ReThink Reviews on YouTube, go here. To follow ReThink Reviews on Facebook, go here.