If you enjoy sushi, consider yourself to be a foodie, like food/cooking shows, or are simply fascinated by people who have mastered their craft, David Gelb's documentary Jiro Dreams of Sushi should top your list of movies to see next. It follows 85-year-old Jiro Ono, who is widely considered to be the world's greatest sushi chef and is the first (and oldest) sushi chef to earn an ultra-rare three-Michelin-star rating. The film takes you inside Jiro's 10-seat Sukiyabashi Jiro restaurant, which is unassumingly located in a Tokyo subway station and only serves sushi, requires reservations months in advance, and where a meal costs upwards of $300. In addition to exploring Jiro's philosophies on his work and introducing you to the apprentices and vendors that allow Jiro to make the world's finest sushi, Jiro Dreams of Sushi reveals the quietly fraught relationship between Jiro and his eldest son, Yoshikazu, who has the unenviable responsibility of carrying on his father's legacy -- if Jiro would ever retire and give Yoshikazu a chance to run the show. And, of course, Jiro Dreams of Sushi is full of mouth-watering, cinematically shot images of sushi, which are sure to have your stomach grumbling insistently. Watch the trailer for Jiro Dreams of Sushi below.
But how much artistry can go into raw fish on top of rice, and how could twenty morsels of it (the size of a Sukiyabashi Jiro meal) ever be worth $300? I posed this and other questions to director David Gelb, whose fascination with sushi began as a child during business trips to Japan with his father.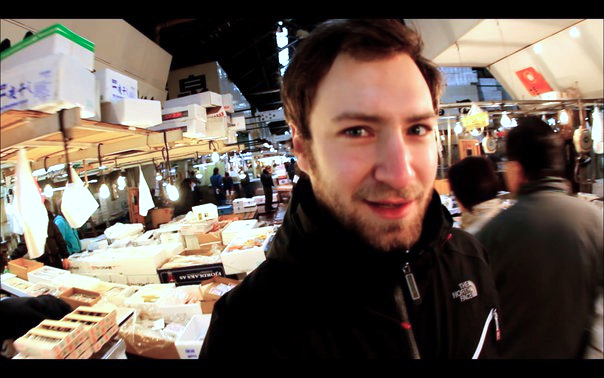 David Gelb, director of the documentary Jiro Dreams of Sushi. (photo courtesy of Magnolia Pictures)
Jonathan Kim: What was your view of sushi before you started the film, and what was it by the time you finished?
David Gelb: I thought the sushi chef does everything himself, but while making the film I realized more and more that sushi is a team effort. Behind the scenes there is a network of masters all dedicated to perfecting the single ingredient they provide, be it shrimp, rice or tuna. Jiro as the chef is conducting an orchestra of masters, bringing out the best of what his vendors can provide by balancing them perfectly.
JK: Why did you decide to highlight sushi instead of another type of food that would seem to have more potential for artistry and creativity since there are so many more ingredients that could be used?
DG: Sushi seems simple, but at its highest levels it is just as much an art as any other cuisine. A sushi course of twenty different pieces at Sukiyabashi Jiro may seem simple, but every piece has a rigorous preparation process that brings the fish to its height of deliciousness. It's a subtle, nuanced art.
JK: It's clear that Jiro is working on a different level than other sushi chefs, but most people probably think of sushi as just raw fish on rice. What do you think makes Jiro's work so head-and-shoulders above the rest?
DG: Sushi is so much more than just fish and rice. Jiro has spent decades perfecting the preparation of each fish to bring it to its ideal level of deliciousness. He's spent decades mastering the texture, flavor and temperature of the rice. On top of that, he's built relationships with the best fish dealers in the world, so every ingredient is sourced by a true master. Then, like a conductor of an orchestra, Jiro leads his team to prepare the sushi so it reaches the customer at the height of deliciousness. This kind of sensitivity can only be achieved through countless years of trial and error. He's mastered the perfect bite.
JK: What would you say to someone who thinks the idea of spending $300 on a dinner of raw fish and rice is ridiculous?
DG: I might ask that person why a Picasso costs hundreds of thousands of dollars when it's just paint and canvas. Jiro gets the absolute best ingredients in the world and draws on over half a century of experience to create the perfect piece of sushi. The sushi is art.
JK: What do you think chefs of other types of food can take away from Jiro Dreams of Sushi?
DG: Jiro's philosophy applies to all cuisine, not just sushi. Master French chef Eric Ripert told me that after he watched the film he shut down the kitchen at La Benardin and forced the assistants to watch the whole film. Finding the perfect balance between the ingredients is the goal for all cuisine.
JK: Has anything changed with Jiro and his restaurant since production ended?
DG: To this day, Jiro and his son, Yoshikazu, execute the exact same routine, but always looking for one step of improvement.
JK: Considering the Japanese penchant for privacy, respect, and not speaking ill of family and elders, was there anything about the relationship between Jiro and his sons you wanted to get more of but couldn't?
DG: Jiro is an incredibly candid man. Some of his friends joke that he's not Japanese because he is so open and honest in his speech. And we are fortunate that this is true, because he's an extraordinary man with a lot of wisdom to impart. His way of life applies to everything. As Jiro says in the film, "You have to love what you do, you have to fall in love with your work." I think that sentiment is inspiring no matter what your job is.
Jiro Dreams of Sushi is currently plaing in New York at the IFC Center 5 and Lincoln Plaza. It opens March 16 at the Nuart Theatre in Los Angeles and will be rolling out to the rest of the country from March 23-June 10. To find out when/if it will be playing near you, click here.

To subscribe to ReThink Reviews on YouTube, go here. To follow ReThink Reviews on Facebook, go here.