As a kid growing up in Greenwich Village, I had trouble with math and reading, but I got praise and attention from my parents for my art. On a trip to the Museum of Modern Art with my father in 1948, when I was 10, I was charmed by the primitive paintings of the self-taught French artist Henri Rousseau. I loved the look of the untutored creations pictured in a family book about American folk art. I said to myself, "I can do that. I can't paint realistic, but I can paint primitive." I painted a picture of a motherly-looking figure -- the mother I wish I had -- at our old gas stove: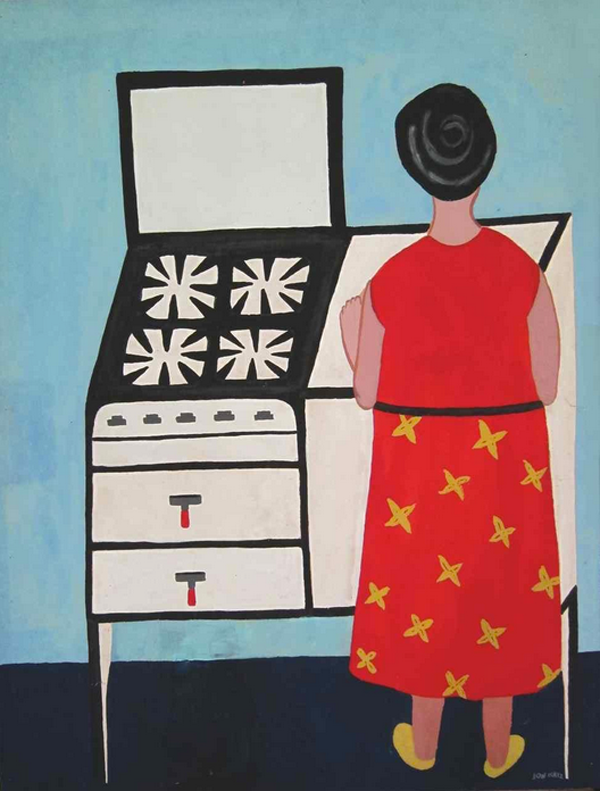 J. N. Katz, "Woman at Stove" (1948, age 10)
I painted another picture of the same motherly figure at an open refrigerator: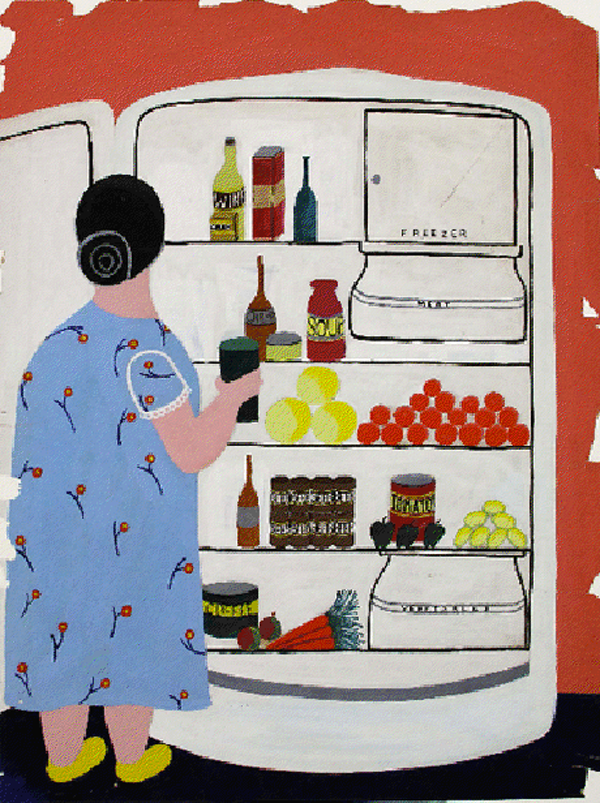 J. N. Katz, "Woman At Refrigerator" (1948, age 10)
A couple of years later, around 1950, when I was about 12, I painted a picture of grocery store shelves, entranced by the look of items for sale. I tested myself to see how small I could write the product names. I was a pop artist before pop artists: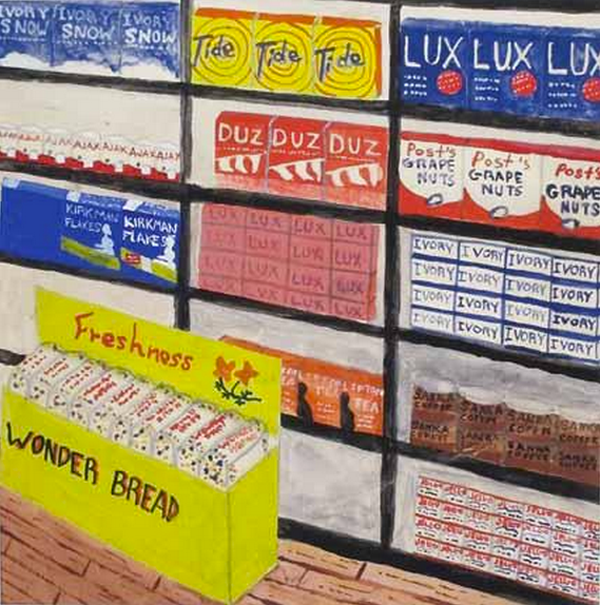 J. N. Katz, "Grocery Store" (1950, age 12)
As a young teenager I showed a portfolio of my work, and I was accepted as an art major at the public High School of Music and Art. In 1955, when I was 17, I painted a picture of a shy, downward-glancing nun in Greenwich Village. I didn't know it then, but that nun was the perfect visual image of my repressed gay self. That nun was me: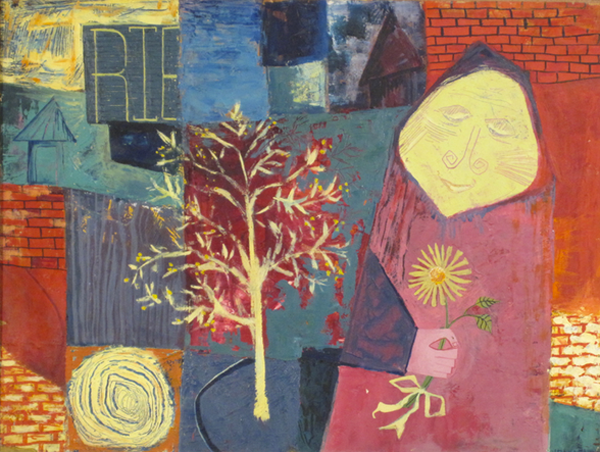 J. N. Katz, "Nun in Greenwich Village" (1955, age 17)
In the 1960s I used my ability at art to make a living as a textile designer, starting at the Jack Prince Studio, where the owner and many of the other male artists were gay. But publicly, I was still playing straight.
It took another decade, but I finally left sexual repression behind and joined the fledgling gay liberation movement. In June 1972 I took a deep breath and used my real name as the author of Coming Out!, a documentary play produced by New York City's Gay Activists Alliance. The play, based on my first foraging for our suppressed gay history, generated positive reviews, and I was offered a contract for my first book on LGBT history, Gay American History: Lesbians and Gay Men in the U.S.A. (1976). I left art behind, and over the next three decades I produced three other books on sexual history.
It wasn't until 2004, when I became single again after 26 years, that I returned to art, first drawing at a group convened by SAGE (Services and Advocacy for GLBT Elders), then at figure-drawing groups at New York's gay center, the Fashion Institute of Technology, and at an erotic drawing workshop produced by the organization now called the Leslie-Lohman Museum of Gay and Lesbian Art. For many months I attended three 3-hour figure-drawing sessions a week.
In 2007, for some of the sessions in my home, I hired models and was joined by eight gay male artists. In other "Artists Draw Artists" sessions, we artists took turns taking off our clothes and posing for each other. That, for me, was an amazing, liberating experience. I felt good enough about my then-69-year-old body to pose naked before seven other gay guys of assorted ages and shapes. I didn't care enough about my body's imperfections to let them stop me from joining the naked gang. It felt daring and affirmative. Like many of us, I've had a long, hard struggle to feel at one with my body, the body with which I was born.
In all the figure-drawing sessions, I tried to capture the eros in the room on paper, working with colored pencils and the tempera paint used in my childhood. Sometimes I added glitter glue to my homoerotic paintings, using art supplies made for kids.
Working at home at a painting started in a short, 15- or 20-minute pose, I attempted to keep and enhance the lively, spontaneous quality that resulted from working fast, from a model. I tried to express the unique quality of the body and character of each model as I, a gay man, experienced them: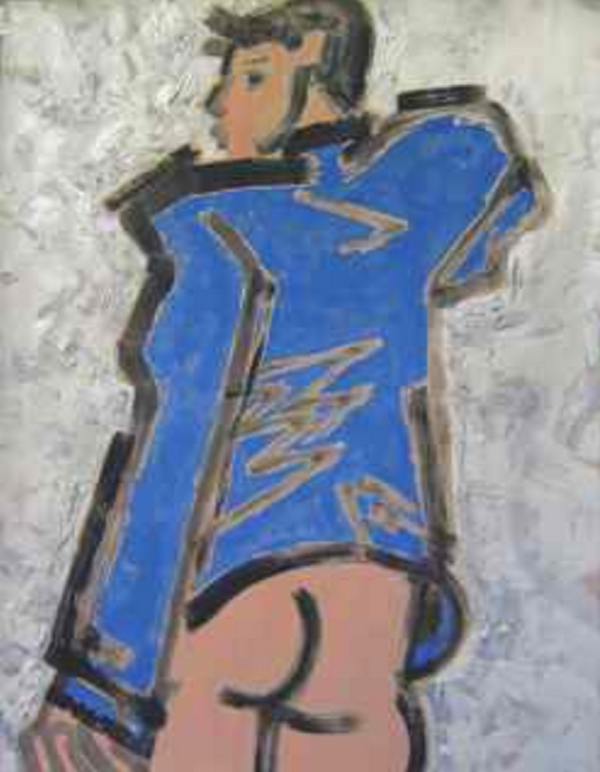 J. N. Katz, "Youth in Blue Coat" (Sept. 22, 2010, age 69)
In my last book, Love Stories (2001), about sexual and affectionate intimacies between 19th-century men, and in my recent paintings, I looked at and affirmed the fundamental value of male bodies, their sensuality and sexuality. Like Walt Whitman, "I believe in the flesh and the appetites," and I tried to put body and desire on paper.
I could not have imagined my paintings of nude and partly nude males, much less realize, publish and exhibit them, without the existence of a political movement that affirms feeling good about our bodies and our sexuality, so these paintings are about flesh and sex, but they are also about politics and power. I'm still looking for original, vital, creative ways to put desire, sex and politics together in my art. For 30 years I studied sex in history. Now I'm drawing and painting sex.
Check out some of Jonathan Ned Katz's recent work:
PHOTO GALLERY
Jonathan Ned Katz's NYC Show
The first solo show of Jonathan Ned Katz's artwork will be on exhibit at the Leslie-Lohman Museum of Gay and Lesbian Art in New York, Feb. 15 to March 30, 2013. A reception for Katz will be held at the Museum (26 Wooster Street) on Saturday, Feb. 16, from 6 to 8 PM. Katz's book about his early interest in art, Coming of Age in Greenwich Village: A Memoir With Paintings, is available at Blurb.com/bookstore and at the museum. His art is displayed at jnkart.com.