Hollywood star Annette Bening came to town last week. She wasn't shooting a film, accepting an award or even performing on the Great White Way. She was in New York City to kick off a campaign to support the arts--more importantly, the people who work in the arts.
Annette is a co-chair of the capital campaign for something called the Actors Fund. Never heard of it? Well, the Actors Fund is an organization that helps all professionals in performing arts and entertainment providing social services and emergency assistance, health care, employment and training programs, and housing support for those who are in need, crisis or transition.
When I became involved as co-chair in the Actors Fund's campaign, along with Annette and award-winning Broadway producer Kevin McCollum, I believed that as both a New Yorker and a CEO in the travel and tourism industry--an industry that benefits from tourists who come visit our city to stay in a hotel, visit the cultural attractions, eat a terrific meal and see a Broadway show--I had a unique responsibility to assist the Actors Fund community in its fund-raising efforts and because I believed in who and what the Fund represents.
"This isn't about actors alone," said Bening, "It's about the producers, the stagehands, the grips, the lighting guys," she said. "The Actors Fund is about everyone."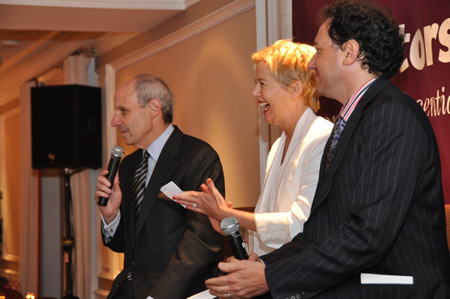 From left to right: Jonathan Tisch, Annette Bening, Kevin McCollum. Photo Credit: The Actors Fund.
Annette Bening went on to talk about an industry "buddy" of hers working in a non-acting capacity who battled a dire illness this year. He needed temporary health care assistance and the Actors Fund was there. The actress's friend isn't alone: there's the 53-year-old TV writer/producer with HIV who couldn't work; the 47-year-old film editor diagnosed with breast cancer who had no health insurance; the Broadway dresser battling depression; an opera singer with early onset Alzheimer's; a 29-year-old musician and mom in crisis when her child needed surgery; the dancer in need of a hip replacement fearful that her condition would end her career; and the 75-year-old former Vaudeville performer who lost her home.
Despite its name, the Actors Fund has never limited its attention or support to just the actors we all know and recognize -- quite the opposite. In fact, it was Hollywood star George Clooney who made certain that a recent donation of his was inclusive of the crews, not just the actors of fame like himself. George was glad to know the Fund supports almost 11,000 people a year who work in theater, film, TV, music, dance, radio and opera. Simply put, it's a national human services organization.
So why launch in New York City?
New York City has always been a destination of choice for international and domestic tourists here to appreciate the arts and enjoy our many cultural attractions. Even President Obama and First Lady Michelle Obama come to New York City to take in a show. Broadway was well represented at the launch cocktail reception: stars like Lynn Redgrave, Bebe Neuwirth, Mike Nichols, John Goodman, Brian D'arcy James, Angela Lansbury, B.D. Wong and Brian Stokes Mitchell gathered to support the Fund (and also gave the Loews Regency Hotel the look of a Tony Awards' pre-party.) But New York City is not only our nation's theater capital, it is also a place with a robust television and film production industry.
In the five boroughs, there are over 40,000 location shoots annually including commercials, feature films, television shows and series, music videos, documentaries. This accounts for $5 billion in revenue and entertainment production employment of approximately 100,000 people. Further, a recent study from the Off Broadway Alliance pointed out that even Off Broadway business generated a citywide economic impact of $461.3 million during the 2007-08 season. As the City becomes more acutely aware of the shortfalls of relying on one industry for its financial well being, the importance of arts and entertainment to our economy (as well as our psyche) is becoming more apparent.
At a time when people in our communities are in greater need, the Fund's goal is to raise $12.5 million dollars over the next 18 months to strengthen and increase its services. The good news is $7.4 million has been raised already. The better news is that when the goal of $12.5 million is reached, more and more young people can confidently venture into the performing arts knowing that after its 127 years of tradition, the Actors Fund is still coming together to support them.
One of those aspiring young people was with me at the reception. My son has had a passion for theater and the arts since a very young age so it was wonderful for us to be there together. That night, in speaking with the men and women who earn a living in the industry, he was reminded of two important lessons: there is no substitution for hard work and that within every community there is responsibility -- probably the best lesson the Actors Fund could have taught him -- and all of us.