New York City Mayor Bill de Blasio has made affordable housing a priority of his administration but to live up to the progressive ideals of his campaign, he needs to make real affordability the focus of his housing agenda and the future of our city.
With nearly half of all New York City residents living near the poverty line -- and with the income inequality gap at its worst in New York City, we're at a breaking point, and more luxury condos with no real affordable units are not the answer.
While we support the idea of more affordable housing, we at New York Communities for Change, along with the Metropolitan Council on Housing and our partners in the Real Affordability for All Coalition, are trying to protect and create economically diverse communities in which real affordable housing is available across income levels and to the most vulnerable residents.
The fight is aimed at building and preserving real affordability in private developments and in public housing.
We have been in the forefront in the campaign to make sure at least 50 percent of new housing is affordable. Anything less falls fall short of addressing the scope and severity of the real affordability crisis in housing, and it will mean the de Blasio administration has failed to tackle inequality and keep New York City livable for millions of residents.
And we will continue to fight the fight. We are planning a tenant roundtable for mid-August and a big march in Harlem on Aug. 20 to keep up the pressure for real affordable housing.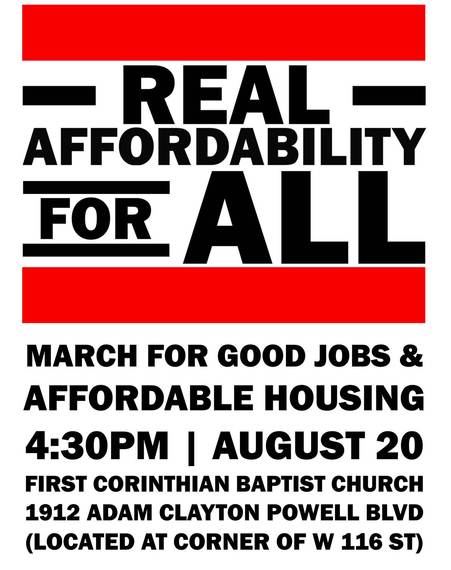 The march will follow a rally at First Corinthian Baptist Church at 116th St. and Adam Clayton Powell Blvd. We chose Harlem because rapid gentrification has forced out many residents and tenants, some of whom were pressured to leave their apartments. U.S. Census figures show big drops in the number of African-Americans in Harlem and other traditionally black neighborhoods, while, according to the New York Times, median housing prices in central Harlem increased by 20 percent. Of course the people of Harlem welcome those who want to move in, but neither they nor we want hard-working lifelong residents pushed out to make way for the newcomers.
While many developers pooh-pooh our model of 50 percent real affordability, it not only is achievable, but must be achieved. Equitable development will help create good jobs and put people to work building real affordable housing in neighborhoods that desperately need it.
In East New York, Brooklyn, for example, at least 50 percent of new apartments should be affordable to working people who earn modest salaries: fast-food workers, retail workers, car wash workers, domestic workers, and others who struggle to put food on the table one of the richest big cities in the world.
If that does not happen, gentrification will continue and the poor and middle class will be pushed out. The same is true in Astoria Cove, Brooklyn Bridge Park and many of the other planned developments springing up all over the city.

It is important that the de Blasio administration understands that it is up to the city to make sure that developers are required to deliver 50 percent real affordability. Let me repeat that: required, not voluntary.
If that does not happen, New York City will only exist for the wealthy elite. Real affordability is a legacy issue for Mayor de Blasio and the success of his mayoralty will be judged and defined by it.
Millions of vulnerable and struggling New Yorkers are depending on the mayor and his commissioners to do what is right and just. These people were overlooked during the Bloomberg years. It's time to stand up for them. Come march with us on August 20th, let's make sure City Hall acts now! Together we will fight to save our neighborhoods and our communities.