It's been a little over a month since the super Typhoon Haiyan hit the Philippines. Yet despite the millions of aids pouring in from various countries, survivors are still struggling to get back on their feet.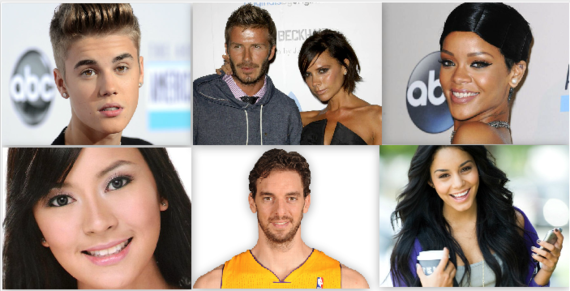 Various forms of emergency relief and support were sent in the form aircraft, relief goods and financial aid were sent from various countries, non government organizations, private citizens and even celebrities urged their Twitter followers to help, others even turned their selfies into "unselfies."
While the spotlight is starting to fade as to the real situation of the survivors, there are still a handful of celebrities who never cease to use their global reach for good and constantly urge their fans to continue supporting the relief operations for the typhoon Haiyan survivors. Most of them didn't just tweet out support but even went out of their ways and got involved in activities that will help raise funds to benefit the survivors.
Below is the list of those celebrities who never cease to remind us that we can all contribute towards helping those who badly needed our help and that we should not forget too soon.
The celebrity couple teamed up with the British Red Cross as Victoria donated many of her shoes and David's designer clothes to raise money for those suffering in the Philippines after Typhoon Haiyan.
2. Pau Gasol
NBA star and UNICEF Ambassador Pau Gasol pledged $1,000 for every point he scored at the Los Angeles Lakers game on November 22 to which he raised a total of $24,000.
3. Rihanna
Multi-awarded singer and UNICEF Ambassador Rihanna understands that icon also means bring a role model to her fans.
"Emergencies make headlines, but the recovery continues long after the news cameras leave," Rihanna said in a statement.
Having been a fan and supporter of UNICEF's work over the years, I am honored to join them in helping children who have been impacted by Typhoon Haiyan. More than five million kids in the Philippines need our help. UNICEF is there for them today, and for the long road ahead, and so am I.
Together with Robinson Cano and Tulsa Shock star Skylar Diggins, the celebrities donated over $100,000 through the fundraising and social awareness campaign called "There for the Philippines".
4. Vanessa Hudgens
In this video, the actress and singer urges her fans from all over the globe to help raise funds for the typhoon Haiyan survivors who badly need clean water, shelter and medicine.
5. Justin Bieber
The pop singer took on Twitter to urge the "Beliebers" to help the typhoon Haiyan survivors. He even teamed up with Prizeo to reward one of his lucky fans who supports the cause to win an exlclusive studio hangout with him.
6. Bianca Gonzalez
The Filipina celebrity endorser was so quick to turning to her Twitter and Instagram to raise awareness and funds for the typhoon Haiyan survivors by selling some of her shoes and constantly posting uplifting #DaysofHope messages with the theme #BangonPinas (rise again Philippines).
These celebrities use their fame to remind us that we can help in various of ways, not only through monetary but most importantly by imparting prayers and encouraging words.
Also, call your friends to see how they are, you see that simple act of kindness could uplift a grieving spirit.
And please, hug your loved ones, while you still can.