According to the Bureau of Labor Statistics, Americans spend an average of 8.7 hours per day working.
This means that you could be spending up to 43.5 hours per week in your office. The only place you spend more time each week is your bed (53.9 hours/week).
And the thing is, most office furniture is as uncomfortable as sitting on a rock. If you're going to spend so much time in the office, wouldn't you want your work environment to be more comfortable?
We've got all of the creature comforts in our homes, so why not have a slew of gadgets (or at least a few) to make work more comfortable, and easier, in our offices?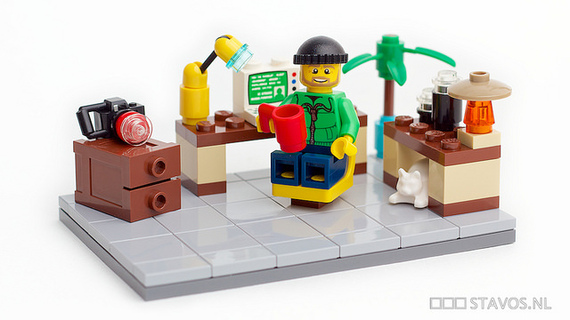 Image Credit, Creative Commons: stavos
Here are 6 gadgets you've been missing in your office to help you make it a more comfortable place:
A natural light smart LED tilting-head desk lamp
There is nothing worse than bad lighting when trying to read fine print or staring at a glaring computer screen all day. It results in headaches, eye problems and generally makes our job harder. The LED Desk Lamp can help by providing a natural-looking light with four different modes. All four can be manually adjusted to get the light you require when you require it; you can choose different modes for different tasks.
Premium screen protectors

Accidents happen. You accidentally trip on your shoelaces and drop your laptop. The cat you checked out from your office's cat library goes crazy and scratches the heck out of your screen. We've all been there. Getting a screen protector, like those from BodyGuardz, can protect your screen from even the most outrageous of accidents.
Sort it out wall caddy

Research shows that having a tidy, organized office promotes healthy choices and higher expectations. Having a wall caddy can get the clutter off your desk and organized in an out-of-the-way location. Wall caddies have compartments to keep all our office papers and files tidy and in one place.

Hang your office, work or car keys on the hooks and never misplace them again. You can also write yourself messages and reminders during the week on the dry erase calendar and attach business cards to the magnetic strip for safe keeping.

Anti-theft lunch bag

Everyone knows that putting your lunch in the communal office fridge is risky at best. Your office might have a sandwich thief, or somebody who has a name similar to yours may accidentally take your lunch. Sporting fake mold spots, the anti-theft lunch bag will be sure to keep other hands off your lunch - and give co-workers a case of the dry-heaves as they see you eating that moldy-looking PB&J.
Skylight covers

Don't forget what the sky looks like due to spending all your daylight hours in the office; bring the outdoors in. These Skypanels replace the light panels for fluorescent lights in your office's drop ceiling, giving you a view of the sky all day long, every day.
Istick multifunction desktop organizer
This multifunction organizer features a built-in USB hub, memory card reader, phone holder, pen holder and cup holder. Buy one of these and you will never have an excuse for an untidy desk or misplaced office item again.
Everyone loves gadgets, and now that you know what you're missing, office life will never be the same. Get a hold of these gadgets and you're sure to make your office a more pleasant and productive place to be. And if these gadgets aren't enough, or you want something slightly stranger, check out these weird and wonderful gadgets.