Australians will probably eat just about anything. They'll probably even eat the kangaroo and emu on coat of arms. That being said, they can be very picky with table manners, and what they find acceptable at restaurants and the dining table. In a study by YumTable, they've uncovered some of Aussies' pet peeves when dining out. Diners from Sydney were asked to dish out the dos and don'ts of dining etiquette.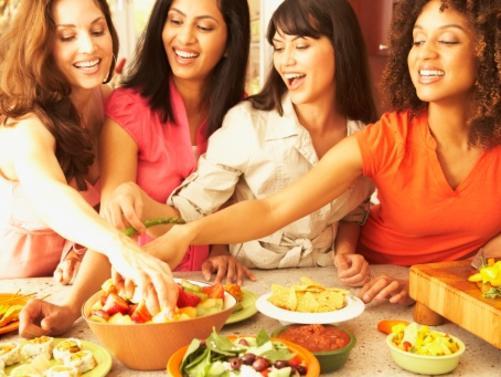 Ordering for Your Date
Whilst it's considered a big no-no for many, Sydney siders seemed to be pretty tolerant of this behavior. Just under half (44 percent) of the diners surveyed didn't mind others ordering for them.
Tip: If you're comfortable with your partner and know what they want, it's probably considered as thoughtful. If it's your first date and you're ordering for her/him, you may come off as a "know it all." If you do have dishes you think she/he would love, make a recommendation and ask whether they'd like to try it before ordering it.
No to Texting
It's time to practice the art of being present. 44 percent of Sydney siders surveyed find it aggravating when their company took a call or answered a SMS.
Dining Out with the Kids
If you're dining with kids in tow, make sure they're happy and entertained. 68 percent of diners said their top pet peeve was parents with misbehaved children.
Tip: If you are dining with kids, pick a restaurant that is family friendly with plenty of meal options your children will like. Bring an iPad or coloring books to keep them entertained, and skip three course meals and degustation menus.
Saving on the bill
Coupon-cutting may be a thing of the past, but if there is a chance to save, they will take it. 71 percent of savvy diners find it acceptable to use discount restaurant sites to get money off the bill at mid to high end eateries.
Drunkenness
If you want to go and get drunk, go to a bar. That's what the poll numbers are telling us. The second most common bad habit that diners identified was other diners being drunk, obnoxious and disorderly and disrupting their meal.
A few drinks is okay, but keep it in moderation, people.
Respect your waiters
Waiters are busy people, we get it. But clicking your fingers to try and get their attention is a bad look. More than half of Sydney siders agreed that this isn't a good look. Put up your hand or wait for them to come by. If they really seem disinterested, go up and ask them. Manners go a long way, especially if you want to revisit the restaurant.
Eavesdropping
Sometimes we can't help but listen to the cat story from the neighboring table but according to Sydney siders, it is slightly frowned upon.
So there you have it. Keep your kids in check, take post dinner drinks to the bar and keep your mobile phones in your pocket or handbag.
Share with us in the comments what are some of your pet peeves when dining out!