This is part of the #CareerAdvice series - featuring successful professionals who share their advice to people who would want to take their career to the next level.
How do you determine whether what you're doing is worth investing your time on? Alex Sion, President & Managing Director at Moven, shares how he came to decide and left a relatively "safe" corporate job and took a risk to start his own company.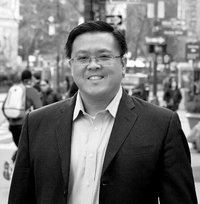 Alex Sion, President & Managing Director at Moven
Can you tell us a bit about how you started your career? What are some of your best moments in your professional life?
Right out of school, I worked in investment banking. Typical analyst program and a great way to get feet wet on living in New York and also getting a crash course in hyper-working life.
It was there - inspired by early internet pioneers like Netscape, Amazon and Yahoo - that I decided to focus my career on the disruption that I knew the internet was bound to cause.
I then quit my investment banking job and got going with my first startup company which was focused on helping big companies establish their first websites.
That was a disaster, but I learned a lot and I got "hooked" on the whole digital transformation thing. I honed my focus on digital transformation for retail financial services specifically while in the consulting industry.
In the era of Web 2.0, I went over to Citigroup as part of a small team that was chartered to come up with a big idea that would leverage digital channels to create a "new Schwab" that would be able to deliver financial advice to the mass market.
It was during that time that I learned a lot about how really big companies deal with disruption and new ideas. I also saw the potential of mobile and social to lead to the biggest wave of all...the total disruption of financial services as we knew it.
So, when the global financial crisis ground the entire banking world to a screeching halt, I went to the digital agency world at SapientNitro to monitor this transformation from a leading edge seat. It was at Sapient that I connected with Brett King, my partner and co-founder at Moven.
He and I were going around the world together and talking to a lot of the big banks. We were giving them a vision of the future that was intended to motivate/scare them into change.
It became apparent to Brett first that no big bank was going to be able to handle this wave of disruption itself. So he came up with the idea of starting the worlds first mobile-direct bank, and I was among the first people he pitched.
So I had a decision to make... sit comfortable in my Vice President seat at Sapient, or take a 50%+ pay-cut and launch head first into a start-up and put everything at risk when I was turning 40 and had two kids, a wife and a big mortgage.
Oddly enough, for me, the decision was quite simple.
I thought about it this way: If you're going to be playing "craps" at any point in your life, now's the time to play it.
The disruption of banking by mobile and social was not a bad "table" to play on.
And Brett's vision for the worlds first mobile direct bank was a pretty darn good bet to place. So, that's how I ended up being President of Moven.
If you could advise your 20-year-old-self today, what would you tell him?
Don't worry about specific results or benchmarks. (e.g. Make THIS much money or manage THAT many people or get THIS title).
Don't ever look at anyone else to pace yourself. Look at yourself. Think about the journey that you're on. Is it a trend that's going up? Will following it raise you up? If so, then trust in yourself and your skills and follow it.
What has been the most valuable advice you've ever gotten when you were facing challenges in your career?
One of our investors (who is a self-made billionaire) once told me that you've got to think of everything as an investment:
If I do this, what will I get in return and is it worth it? I think a lot of times, people think about their jobs as income vs. an investment in themselves...who they are and what they want to become.
Yeah, you get paid money for a job and you can get too focused on that. But what's that job look like if you think about it as an investment? What does it get you? Where will it take you?
That talk about investing changed my whole perspective on how to look at starting Moven, particularly when I was in mid-career.
What would you advise the millennial just starting with their career or aiming to take their careers to the next level?
Understand this: the world as we know it is fundamentally changing and you are driving this!
Businesses around the world are desperately trying to understand you. So it's a good time to dream big, act big, and speak your mind.
But don't turn this privilege into arrogance nor think of it as a license to ignore the past.
Stay humble, hungry and curious.
To learn more from Alex, connect with him on LinkedIn.
Enjoyed this? Watch out for the next #StartupMentor series or share your own. Connect with me on Twitter and LinkedIn.