This is part of the #CareerAdvice series -- featuring successful professionals who share their advice to people who would want to take their career to the next level.
Journalists, especially those who are covering tech stories, perhaps have the most exciting day-to-day activities -- from meeting inspiring entrepreneurs and founders to attending product launches and events.
Elaine Huang, Correspondent for Southeast Asia and Content Strategist at e27.co, (one of the leading tech publications in Asia Pacific), shares how she has transitioned from writing about rice and Myanmar to eventually moving to Singapore covering innovative tech startups in the region.
The Mass Communication graduate of Ngee Ann Polytechnic's School of Film and Media Studies said she discovered her penchant for writing about technology and startups after a friend introduce her to the industry and suggested she look into it.
Next thing she knows, she has joined one of the leading tech publications in Asia writing about entrepreneurs and their journey.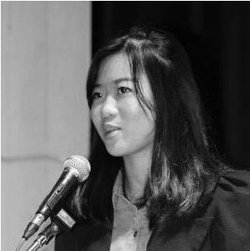 Elaine Huang, Correspondent (Southeast Asia) and Content Strategist at e27.co
Can you tell us a bit about how you started your career? What are some of your best moments in your professional life?
I was completing my internship at a wire agency in Thailand, writing about rice and Myanmar, when a friend, who was working on a venture, asked me about tech entrepreneurship in the country.
After talking to him, I realised the sort of potential tech entrepreneurs can have on deeply traditional markets like transport, housing and agriculture.
Immediately, I did a bit of research, found a few tech entrepreneurs in Thailand who were willing to speak to a young, aspiring journalist, proposed the topic to my Editor, and met these folks.
One thing led to another, and I found myself back in Singapore with a full-time job at e27.co, reporting on technology and innovation. It has been a great journey since, conversing and learning from inspiring founders across and beyond Asia.
Furthermore, there's not a dull moment covering these companies and entrepreneurs. Tech startups move so fast that there's always something exciting happening.
If you could advise your 20-year-old-self today, what would you tell her?
Learn to budget your money. Be extremely curious. Always be punctual.
What has been the most valuable advice you've ever gotten when you were facing challenges in your career?
Many people, often older and more experienced, have told me that it is okay to try new things and fail. You can always get up and try again.
What would you advise the millennial just starting with their career or aiming to take their careers to the next level?
Try new things, keep an open mind and never give up.
Follow Elaine's professional journey by connecting with her on LinkedIn.
Enjoyed this? Watch out for the next #CareerAdvice series or share your own. Connect with me on Twitter and LinkedIn.