This is part of the #CareerAdvice series - featuring successful professionals who share their advice to people who would want to take their career to the next level.
After having over 15 years of working experience in the United States, tech visionary Haider Ali Khan, co-founded Bayut.com with his brothers Zeeshan and Imran Ali Khan in 2008. He has been a vital part of the portal's growth and success as a board member. Recently, he moved to Dubai to take up the role of CEO.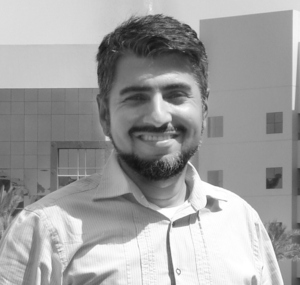 Haider Ali Khan, CEO of Bayut.com
While in the U.S., Haider Ali Khan has worked with such renowned names as Goldman Sachs, Silicon Labs and National Instruments, where he led a global team spanning China, India, Europe and the U.S.
Can you tell us a bit about how you started your career? What are some of your best moments in your professional life?
I started my career in the U.S. working for National Instruments as a computer engineer. I had quite a few options to choose from but I went for a place where I thought I would be valued and allowed to express my abilities. It wasn't about the money but it was more about learning as much as I could at an earlier stage.
I worked at Goldman Sachs and Silicon Labs but I spent most of my career at National Instruments working in different roles and learning from some of the best people in the industry. National Instruments has consistently ranked as one of the top 100 places to work at by Forbes for the last 15 years, and by many surveys as one of the top 10 technology companies in the world. The reason for its ranking has been the quality of the people that made the organization.
I worked in different roles, growing from an engineer to managing an engineering team, to leading multiple teams across different geographies. The only thing that could pull me away from such an environment was the desire to do something of my own and that is where Bayut.com comes in. Bayut.com is one of the leading property portals in the UAE which my two brothers and I started in order to make finding properties easier in the UAE.
At the same time we also launched Zameen.com, the largest property portal in Pakistan. Some of the best moments I have had in my career are the people I have gotten to know over the years.
I have had some great mentors and they have really helped me shape who I am today. Also managing teams across Europe, China, India, and the US has given me a great sense of the differences in cultures and how to not only work across geographies but cultural boundaries as well.
If you could advise your 20-year-old-self today, what would tell him?
I would tell myself to always be free-spirited and get a good mentor early on. It's surprising how willing successful people are to give back and especially in helping those starting off their careers.
It took me a little while to realize the value of having a good mentor, so I would encourage my 20-year-old-self to find someone who has had success in my area and not be shy to ask them for guidance.
I would also encourage myself to seek out opportunities and not wait for things to happen. This requires building strong relationships and a network so that you are always in the loop with what's happening.
The most important factor for leaders building a team is looking for like-minded folks whom they can trust.
Obviously, all members of the team need to have the required credentials, but having a strong relationship will take care of the trust element and these people will seek you out on their own as well. I learned this through experience and this is something I would encourage any 20-year-old starting their career to work on along with their day-to-day stuff.
What has been the most valuable advice you've ever gotten when you were facing challenges in your career?
Everyone goes through difficult challenges during their careers and you get advice based on the situation. However, the most valuable advice I have ever received in my career was to always look for feedback. It's surprising how a lot of people don't take feedback well.
Many times when you face a challenge, the best thing you can do is go and talk to your manager or colleagues to get different perspectives. If there is any element in the feedback which requires you to improve in any area, don't take it the wrong way.
A lot of careers don't advance because people start taking these things personally and that is exactly the opposite of what they should do.
All leaders love to work with people who focus on the task at hand without bringing emotions and feelings into it.
Look for opportunities to improve and let the person giving you feedback know that you are thankful to them for helping out. In doing so, you are not only going to make yourself better but you will also gain a lot of respect from the person giving you feedback.
What would you advise the millennial just starting with their career or aiming to take their careers to the next level?
Work on your communication skills. A lot of brilliant minds get left behind because they are not effective at communicating their ideas. Learn early on about how to take your idea and convince others of its usefulness.
Don't ever think that people see things the way you do. In fact, the only one who sees the things your way is you.
If you aspire to become a leader, don't be shy and be an honest person who speaks their mind and presents information in a concise manner to get their point across. Observe the two ends of the spectrum and you'll find people who don't say anything at all or people who don't know when to stop.
In both of these cases, you would not want them in a conversation or meeting.
Be somewhere in the middle and know when to jump in and what to say. Communication is a skill not taught well during your formal education but you realize the importance of this when you enter the professional world.
If you want to succeed, you have to master this skill and never stop working on it.
Finally, I would highly encourage you to listen patiently as well. It's not only a great opportunity to learn new perspectives, but over time, you will figure out how listening helps you get the best out of people you lead.
To sum it up, listen to everyone as you yourself would like to be heard, and speak in a manner that makes everyone take notice.
Learn more from Haider Khan by connecting with him on LinkedIn.
Enjoyed this? Watch out for the next #CareerAdvice series or share your own. Connect with me on Twitter and LinkedIn.