PHILIPPINES - If you're looking to get National Statistics Office (NSO) certified documents such as birth certificate, marriage, Certificate of No Marriage (CENOMAR) in the Philippines, there's no need to queue to your local Census Office anymore as the e-Census, NSO's online facility for submitting requests for issuance of civil registry records as well as issuance of no marriage record (CENOMAR), allows you to do just that!
Valid and NSO-authenticated documents are very important if you're looking to get a new passport or police clearance in the Philippines, so I've tried the platform and got my birth certificate in 4 days!
Despite the positive outlook about the country's e-commerce, most online transactions in the Philippines are still in its nascent stage often combine with hybrid transactions such as paying for the transaction in an actual bank (as opposed to having all transactions online), just what I've experienced when I tried to book bus seats online on our way to Baguio. Below are the steps I've taken and I've got my NSO-certified birth certificate today!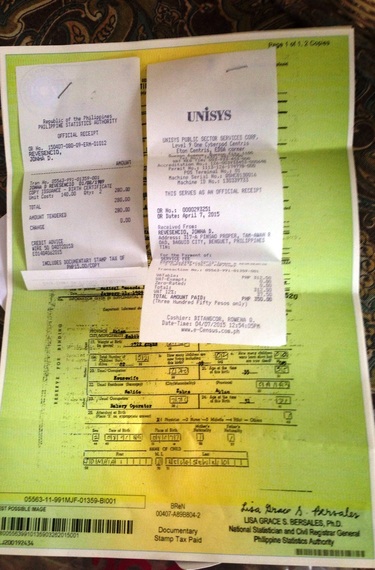 Author's NSO-Certified Birth Certificate
Fill up the online application form
In the online application form, you will need to type in the following details correctly - name, delivery address, telephone number (that's where they'll contact you for delivery! and valid email address (that's where they will update you about the payment and dispatch details).

Online Application for NSO Certified Birth Certificate in the Philippines

Once you're ready with all of required information, simply click on "Click here to request now" on the right portion of your screen. You will then be taken to the Terms and Conditions and simply click on "I agree" to proceed.

Rates:
Birth Certificate: Php 315 per copy
CENOMAR: Php 415 per copy
Documentary Tax: 15 per copy

Provide correct contact and delivery details

Make sure you've got your Tax Identification Number (TIN) and fill in the contact and delivery details. Be sure to double check before you proceed to the next step. Next step includes all the personal details to match it with their records.

Applying Online for NSO Certificate, Be Sure to Provide Correct Contact Details

You may pay via credit card or visit BDO or Unionbank branch

You may have the option to pay using your credit card, visit a local BDO or Unionbank branch or pay online (haven't tried this one as I don't have a credit card!), so I chose to pay at a BDO ATM machine in SM City.

The process was pretty simple, I've received an automatic email from e-census with instructions on how to pay through BDO, along with the Batch Number which I needed to key in the ATM machine as well as the exact amount that I needed to pay, which was then deducted from my BDO Savings account.

Dispatch email will be automatically sent

After 2 days, I've received the Dispatch confirmation.


Dispatch notification of NSO Birth Certificate

Wait for your birth certificate 2-5 days
Depending where you are in the Philippines, you might need to wait 3-8 days to get your documents in the mail. Since I live in one of the main cities in the North Luzon, I was able to receive my NSO Birth Certificate through 2GO Logistics after 2 days.
Over-all, I've received my birth certificate in 4 days after using their e-census online platform!