This is part of the #CareerAdvice series - featuring successful professionals who share their advice to people who would want to take their career to the next level.
From digital agency to eventually working with the global team for one of the largest tech computer tech companies in the world, Nazia shares some of the most important lessons she has learned in her career.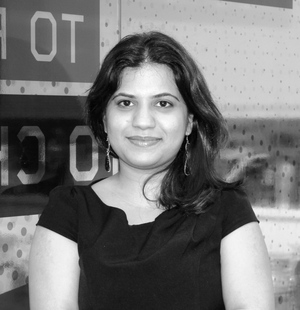 Global Engagement Programs Manager, WW Social Media Team at Lenovo
Can you tell us a bit about how you started your career? What are some of your best moments in your professional life?
I started my career off as a trainee in Microsoft, working in Developer Audience Marketing at Microsoft Asia Pacific. That was my first foray into the digital landscape. From there on, I landed in Digital Media planning & learned a great deal working agency side at Zenith Optimedia.
For past 3 years I have been at Lenovo, working in the Global Social Media Team.
I would say joining agency side was a crucial moment in my career. It gave me a solid foundation working with different clients, under tight deadlines and the opportunity to try new things.
During my time at Lenovo have built on this foundation, and enjoyed the experience of a lifetime to be part of a global social team set up from scratch, writing my own job description, and taking on cutting edge projects within the social space.
As part of the global social team, I have recently worked on a global for Lenovo YOGA called #YOGAmyway. This has been Lenovo's biggest social campaign to date, running across more than 40 countries.
Travelling to world class shows like CES and attending a global product launch in London have been particular highlights, and I learned a lot about planning & executing on such a scale.
Last year I also started doing some public speaking at social & digital conferences. I have done conferences in Singapore, Hong Kong & Malaysia so far. It was a bit overwhelming at first, but it feels great to share your experience and story with an audience.
If you could advise your 20-year-old-self today, what would you tell her?
Anything is possible! I have had a good career so far, but sometime my own fear of failure has held me back. So I would tell myself to take more risks and keep trying new things. One of my favorite quotes is by the writer Marianne Wilson:
"Our deepest fear is not that we are inadequate. Our deepest fear is that we are powerful beyond measure.It is our light not our darkness that most frightens us.

We ask ourselves, who am I to be brilliant, gorgeous, talented and fabulous? Actually, who are you not to be?"
I am usually quite a vocal person, so the ability to listen to others and understand their thinking is one of the greatest assets I think you can develop in your career.
Only in the past 2 years have I really focused on developing and maintaining good professional relationships with a strong level of trust and understanding, and this has really started to pay dividends.
Last but not the least, don't forget to have fun. Sometimes we take things too seriously at work, and it's always a good idea to relax and not worry too much about small things.
What has been the most valuable advice you've ever gotten when you were facing challenges in your career?
I would say it's not one single piece of advice but rather an attitude to your career. My dad is a scientist and a huge inspiration to me. The passion he has for his field, his curiosity and persistence are qualities I have tried to emulate in my own career.
If there is a key piece of advice I would say that, when choosing a role, always look for a company with a strong vision and product portfolio.
In a big organization there are always changes, so keep your focus on the company vision and what it stands for.
What would you advise the millennial just starting with their career or aiming to take their careers to the next level?

I would say be passionate about whatever you are doing. Be willing to try and learn new things. Your 20's is when you can take risks and pursue what you are passionate about.
The one thing I would say is that it's just not about doing your job well, but making things happen in this work era. So to stand out it's really about being original and innovative rather than waiting for direction every step of the way.
The other key thing is to value and cherish the people you work with in your team. Your twenties are the crucial time to develop solid work relationships and build your reputation in the industry.
At the same time remember that work is just a part of life, so spend time with your partner, family and friends, and don't feel guilty about taking holidays.
Remember to have fun. Sometimes we tend to forget to have fun.
Follow Nazia's professional journey by connecting with her on LinkedIn and Twitter.
Enjoyed this? Watch out for the next #CareerAdvice series or share your own. Connect with me on Twitter and LinkedIn.