This is part of the #CareerAdvice series - featuring successful professionals who share their advice to people who would want to take their career to the next level.
Starting his first business at the age of 15, Paul Malicki, now CMO of taxi booking app, Easy Taxi, has learned the value of hard work at such a young age.
He now shares with us the importance of finding your passion as soon as possible and try not to follow the herd in order to carve your own career.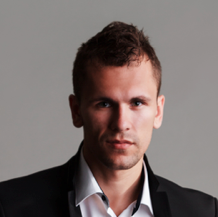 Paul Malicki, Global CMO, Easy Taxi
Can you tell us a bit about how you started your career? What are some of your best moments in your professional life?
I started my first business at the age of 15 together with my 18 years old brother. The seed investment of 1.2 million dollars came from family and a nearby bank.
Since then, I remember that I've always enjoyed working. I remember working at my grandfather's farm and this has helped me gain respect for work and realize that most of the things in life, you learn through working for it. I've finished 3 degrees while I was doing various jobs to learn more and that's when I found out what is that I'm really passionate about.
Then my startup career begun. First in Sweden, then in the Philippines and finally coming to Brazil, where I overlook the marketing and new business development of a truly global company.
Still, the best moment in life came when I came into realization how much I love digital marketing. It became my obsession - a love at a first sight.
If you could advise your 20-year-old-self today, what would tell him?
Work hard, learn fast, and test new things. It's only the hard work that can advance you career. And only by becoming an expert in your area you will increase your value on the job market.
What has been the most valuable advice you've ever gotten when you were facing challenges in your career?
Someone once asked me, "Do you really think your company appreciates your engagement and commitment?" In fact they didn't, so I moved on and I changed my job, with positive outcomes.
Find a company that has strong leadership. Leaders produce other leaders. And if you want to be a leader, there is no time to waste.
What would you advice the millennial just starting with their career or aiming to take their careers to the next level?
When you are a student, make good contacts with the smartest guys in the class and beyond. Those guys will occupy important positions in top companies in the future. Always learn more and stay hungry.
A resume doesn't reflect some (soft) skills, so having all relevant certifications in place is a big value added. Start working as early as possible. Not only you will learn more, but also have a full CV ahead of your first job. Work hard and show your involvement.
One day someone will come to you inviting you to become a shareholder of the company. Last, but not least, don't be afraid to start your own business.
Many universities promote the corporate career as a preferred choice - this is wrong. Ask yourself a question, do I want to follow the herd or become somebody? Corporate teams demotivate, working for startups will boost your confidence.
Follow Paul Malicki's professional journey by connecting with him on LinkedIn and Twitter.
Watch out for the next post of the #CareerAdvice series and be sure to connect with me on Twitter @jonharules, LinkedIn and my blog, Social Media in Asia.