Our world has become more connected with the advent of social media. With the help of our smart phones, anyone can possibly influence another through the thoughts that we share and every platform has provided an opportunity to make a difference.
For Todd Anthony Tyler, one of the leading fashion photographers and best known for being the resident photographer and judge on Asia's Next Top Model, he uses social media not only to reach out to his fans around the world but also, to inspire others to use their influence to make a difference.
Known for transforming models into icons, the creative director and talented photographer shares how important it is to make giving back as part of our lifestyle.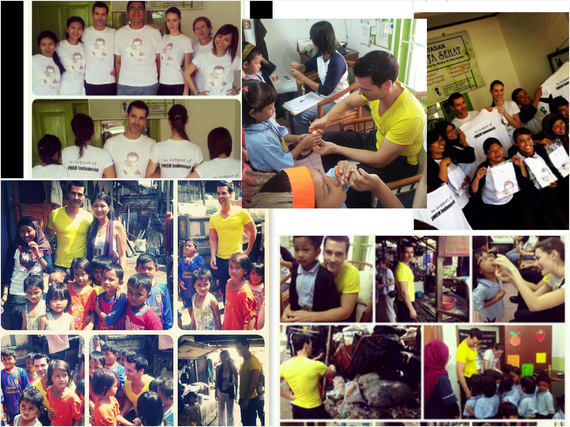 "We don't live in a bubble and the world is increasingly a smaller place to live in. We should have global thinking in our actions and make it part of our lifestyle to give back when we can to help others in need. I do believe in what comes around goes around!"
1. Tell us a bit about what you do, since when did you become so passionate and involved in great causes?
At this point in my career I am best known from being on the TV show Asia's Next Top Model. At the heart of what I do I am a fashion photographer and creative director with over 20 years experience in the fashion business on both sides of the camera. At the moment, I continue to photograph and work on expanding my TV career with perhaps some acting.
As a person I have always been interested in philanthropic causes. It is partially perhaps how I was raised but I also just have something built into my character that I want to be involved in positive change and help others. When I was younger, I was more focused on animal type causes -- saving the whales, halting the eradication of endangered species. Then as I become more aware of the change in the environment I become more active in supporting environmental causes donating to different agencies each month. For a time my focus was also on Africa and helping children and women in the country. One thing I was particularly interested in was a project to provide cooking stoves to those in need in Africa.

With the rise in my recognition and celebrity status that came with that I really wanted to do something good with it -- to continue to be someone helping to make positive changes but now able to be more fully active as in my actions can reach more people and make them also aware.
I am still very concerned about the environment in part because I think even small changes made by us all collectively can go a long way in reducing any environmental trauma or damage we might cause in our ways of living. However, one of greater attention to me right now is supporting children's and women's groups in Asia. Children are of course our future and mothers can be huge influences on raising healthy and strong individuals but may not always posses the resources or knowledge on how to help their children best. With that in mind, I think education is also an important tool to provide children with.
Two of the main groups I am working with right now are an organization called Happy Hearts Fund, a nonprofit organization which helps build schools in Indonesia and Foundation for Mother and Child Health which also works with educating children and helping mothers become better equip in raising their kids.
2. How do you think others can get involved as well?
Every organization needs financial assistance so that is one way that people can become involved -- it is understandable though that at times people can be questioning where the money goes and there has been some cases which bring people to a pause on financial donations. I think researching on Google can go a long way now in helping you research before giving money.
Just recently with the situation in Philippines and the recovery efforts following the storm it was pointed out to me that providing something specific like a boat for example is something that could be done in lieu of just giving money -- this is without doubt though more of undertaking and requires some organization.
Besides money, people can volunteer when needed and can just simply also make concerns of theirs more noted in their own sphere of influence -- social media doesn't need to be just about what you had for lunch today -- it can also be a way to communicate good ideas or highlight causes.
To find out more about Todd Anthony Tyler and his expanding work in fashion photography and philanthropy, follow him on Twitter and connect with him on his site.