Selfie has reached epidemic proportions. We all have a friend or two who always do it. For some, it has become part of their daily routine to share their "selfie" photos.
Now, picture my frustration when I tried to search for important updates and reports of the whereabouts of Typhoon Haiyan, which has caused devastating damages in various cities in the Visayas area of our country, and found selfie photos instead.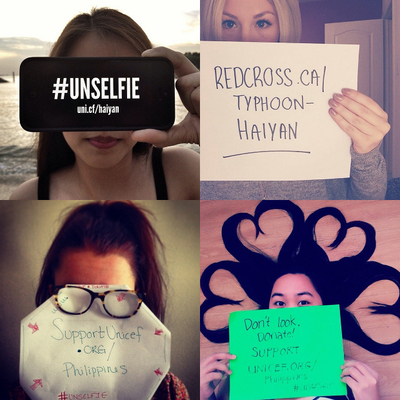 However, UNICEF, together with its partner agency in the Philippines, came up with an idea on how to mobilize social media users to support the disaster relief operations for the survivors of typhoon Haiyan (locally known as Yolanda) through its campaign #Unselfie.
What's considered to be vain and selfish act of taking "selfie" photos may now actually become an unselfish act of helping increase awareness on how others can help the survivors of the typhoon Haiyan. Instead of posting "selfie" photos, more and more netizens are encouraged to share photos of themselves covering their faces while holding a sheet of paper containing a simple call to action to donate in charity institutions with the URL of the donation page to send aid.
It's about time that we change the way we think about giving especially in the digital age. There's nothing too small or too big as it's always the thought and effort that truly counts. Through simple acts such as posing an #unselfie, taking some time to call our friends and relatives to see how they are -- all of these simple acts of kindness can do wonders especially during these times of calamities.
If posting "selfies" on social networking sites isn't your thing, you may also check out the various ways on how to help Typhoon Haiyan survivors here.