Last week, I attended Christine Hassler's first book workshop for her newly released Expectation Hangover. If you haven't heard of her yet, you're welcome! Christine is a renowned Life Coach with a focus on radical self-reflection through practical direction.
I'd never been to any kind of workshop of this sort before, but I have to say I was absolutely blown away. It was a very surreal night. For anyone who hasn't started going to networking events, lunch-and-learns, book workshops, or speaking events for something they are passionate about - start now! Really, what are you waiting for?
It's truly an incredible feeling to be surrounded by others who share your passion, are asking the same questions, and are looking for similar answers in their life/love/career/you name it! Christine's book workshop was nothing short of this.
A mix of meditations, thoughtful insights, partner exercises, and deep dives into some courageous attendees' Expectation Hangovers, Christine's workshop filled my journal with pages and pages of notes to walk away with and filled my mind with new insights and tools to take on my own personal Expectation Hangovers in life.
One of the best questions she asked all night was the following:
What are 3 things you can add, delete, and modify about your every day routine to start living a happier, healthier life?
Think about your day. Think about every little thing you do. Now think about your life, your dreams, your aspirations. How are you going to get there? Is there something, even the tiniest thing, that you can change about your life to help get your there?
For me, I decided to take on this challenge that very next morning! To start leading a healthier, happier life that will ultimately push me towards living out my fullest potential means that I will:
Delete my awful snoozing habit
This is not the first time I've taken on that challenge, but I'm on a mission to slowly but surely get rid of this habit completely. It adds absolutely no value to my life or sleep, and it takes away some precious morning time!
Add some more "me" time
This is something I've been struggling with a lot lately. Working from home for one job and for myself for the other, I always feel like there's more I can do. I have a horrible need to make each moment of my day productive, many times at the detriment of some much-needed "me" time. I'm actively trying to give myself time to do small things I enjoy like walking to the river in the morning for some hot water with lemon and a great book in tow (it's a no brainer what that book happens to be at the moment!).
Modify my morning routine
Somehow, all three of the things I wanted to tackle fit together pretty nicely. There was a clear need for change in my morning routine, involving everything from my snoozing to my "me" time. Going to bed an hour earlier and instead taking that extra hour in the morning has been an incredible change. I don't feel the need to rush right off to checking my email in the morning (which is a big problem! Stop doing it!). Instead, I make myself some tea, do my devotional, take some time to pray and meditate, and go for a walk. This time has made an unimaginable difference in my day, and I'd highly recommend it if you tend to be a little anxious or productivity-driven like I am.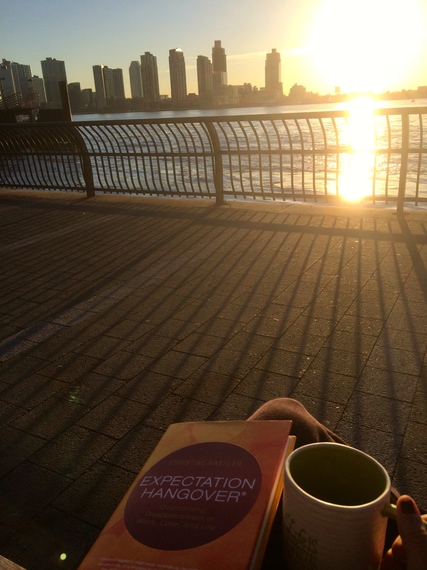 So, what's your answer?
What can you add, delete, and modify in your life each day to start living life to your fullest? I'd love to hear your thoughts & decisions in the comments!
This post was originally published on Quarter for Your Crisis, an online community built to inspire and empower people to turn their passions into a greater purpose.