Growing up, hearing "You asked for it!" usually indicated you were about to receive some kind of punishment for something. You were in trouble. You got a little too careless or cocky. You were a little too stubborn or you did something wrong. Whatever it is, clearly this bad thing is happening to you because you asked for it.
This is completely opposite of all the advice were given as young adults, especially women. You need to ask for it. You need to be a little more confident and take a little more risks. You need to shoot a little higher with your goals and aspirations. No one is just going to give you something you want -- especially if they have no idea you want it!
This goes for everything: asking for a promotion or a raise; asking for more responsibilities at work or in an organization in which you're involved; asking for more love or more adventure with friends.
You need to ask for ALL of it!
And not just for the reason that your friends, family, significant others and coworkers are not mind readers. No, it goes way beyond that.
Want to know why you need to ask for it?
Because asking for it puts it out into the Universe. It vocalizes it. It sets real intentions and desires. It shows courage and determination. It shows passion and promise.
It shows the universe you're ready.
And you know what happens when you ask for it? The universe conspires to help you get it. It may sound a little hokey-pokey to you at first, but what's the harm in trying it? It's incredible what opportunities can arise by simply going after what you want and making sure everyone else knows what that is. No one is magically going to give you all your wildest hopes and dreams out of nowhere. You need to ASK.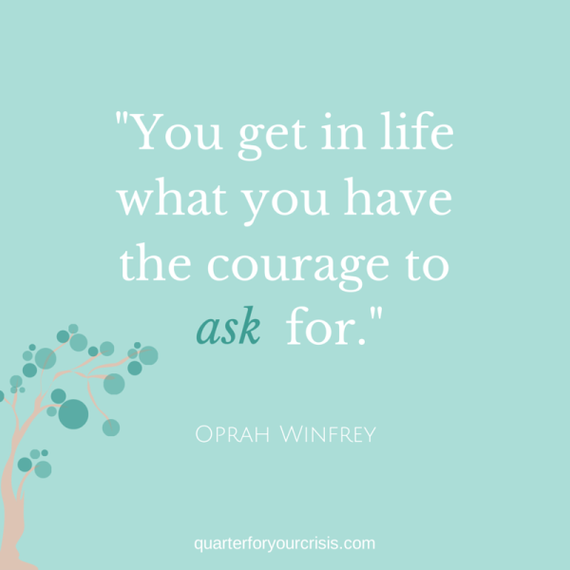 Ask for all of it -- and don't stop there. Work at it. Show everyone how badly you want that to happen and how much it means to you. I promise you it works. There's a reason why there are a ton of books and articles published that are all about teaching people how to ask. We have it ingrained in us from a young age that "asking for it" is bad -- it means we're in trouble.
We need to flip this mindset on its head and reclassify how asking can affect our life. It puts everything into motion. It starts the gears. It works. And it all starts with an Ask.
So what are you waiting for?
This post was originally published on Quarter for Your Crisis, an online community of like-minded individuals who are looking to turn their passions into a purpose and lead more authentic & meaningful lives.