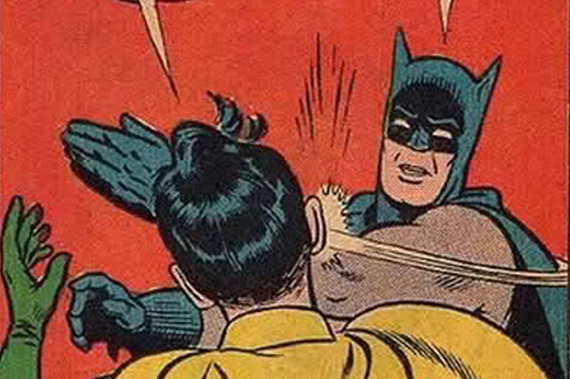 Some people in this world can simply be described as "slappable." You know, like middle-aged men who call their 20-something girlfriends "baby" or couples who push their lapdog around the neighborhood in a stroller.
But annoying as these everyday slap-magnets are, many times it's the characters in our fictional realms that really get under our skin.
In the wondrous, and always sharply opinionated, world of comic book fandom, there are few characters as polarizing as Batman's sidekick, Robin. Plenty of fans out there would like nothing more than to see his grappling hook malfunction over shark-infested waters.
The original Robin, Dick Grayson, became an independent superhero (Nightwing) in the '80s, but some readers still refuse to consider him anything but a never-ending punchline.
So a few years ago when an old panel of Batman slapping him across the face found its way to the Internet, it became one of the most popular memes in history. Hordes of quick-witted fanboys had a heyday, generating countless parodies and plummeting the famous sidekick into the sweaty bowels of disregard.
However, as of late, the original Boy Wonder appears to have done something essential to all great superheroes: rise from the ashes. This summer, DC Comics put a new spin on the daily adventures of Dick Grayson. Now an international superspy with more swagger than Miles Davis, he's the last guy you'd want to call a "fun-size" superhero.
Tim Seeley, co-writer of the series Grayson, explained the reasoning behind the new direction.
DC Comics wanted to freshen up some of their characters, and Dick was one of 'em. They asked me what I'd do with him as a spy so I came up with some ideas and threw them back, not really expecting to get the gig. But, here I am, teamed with Tom King, writing the adventures of the undercover Boy Wonder.
Even though he's older, tougher, and qualified for a substantial government pension, this isn't a complete character overhaul. According to Seeley, "Our approach is to keep everything about Dick that has made him so damn cool for 74 years, but just put him in a new situation. So his personality is intact, it's just his life that's changed."
Readers seem to be responding to this new version too -- the first issue of Grayson sold over 81,000 copies.
When asked what the newly-minted superspy would do if slapped by the Dark Knight these days, Seeley said, "[Laughs] Oh, there'd be words. There'd be words."
Thus, it appears that Dick has finally won over the hearts of his haters and outgrown his slappable persona. But, there's a catch. Dick was the first of several Robins -- currently, we're on our fifth incarnation. With 80 percent of the Boy Wonder lineage still residing in a slappable zone, there won't be any shortage of new memes in the foreseeable future.
And while I'm a big fan of Robin and everything Dick Grayson, that's perfectly fine with me. Some of the Batslaps out there are pure comedic gold.
Bonus: Tim Seeley was awesome enough to provide his own version of the infamous meme below. If you feel the urge to mischievously laugh at the expense of the Boy Wonder, head over to Imgflip to generate yours.